(25-31 December)
We recommend that you read the Scripture passage and short reflection in our Advent Readings on the Sunday that begins each week. That way, you can reflect on it throughout the week. Below are some additional resources for consideration, wondering, and worship during this season. Enjoy!
We are stretching out our Christmas focus for the whole week! Common themes include: Jesus is here!, Jesus as the light of the world – the people who walked in darkness have seen a great light, Mighty Counsellor, glory to God in the highest!
Isaiah 9:2-7 Ihāia 9:2-7

Psalm 96 Waiata 96
Titus 2:11-14 Taituha 2:11-14
Luke 2:1-20 Ruka 2:1-20
Note: For those who follow the Lectionary Calendar and Church Year, Advent 2021 marks the beginning of cycle or "Year C". The weekly Scripture passages in our readings are from each Sunday of Advent. If you would like additional Bible readings, you can follow along with the daily recommended readings for this season.
From: Anglican Church in Aotearoa, New Zealand and Polynesia
You can download the 2021 (for Advent and Christmas) and 2022 (up to Epiphany) versions of the lectionary.

Another resource is the Vanderbilt Divinity Library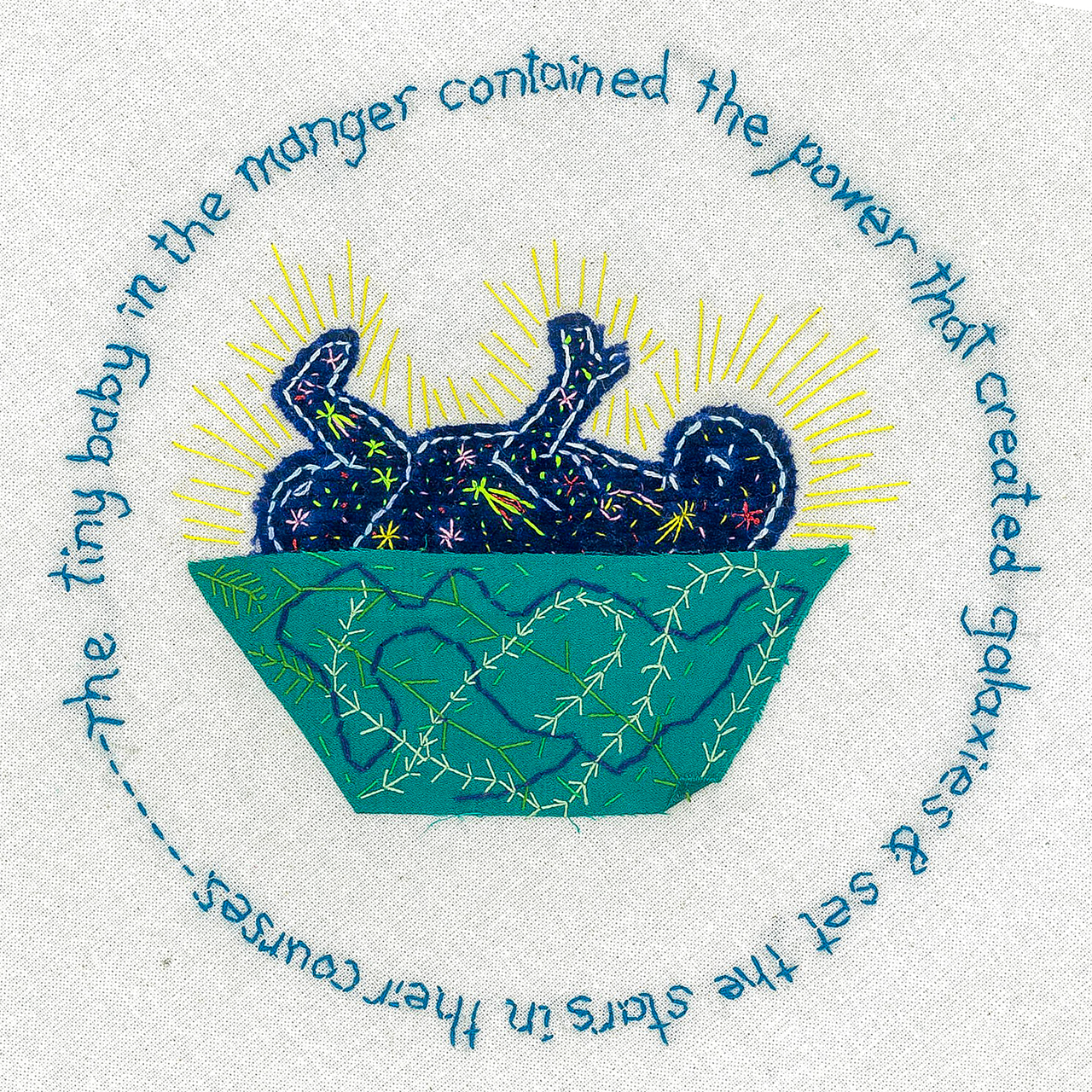 This quote from Madeleine L'Engle captured my imagination, so I set to stitching it as prayerful meditation. I find the birth of Jesus anchors me deeply in the humanity of Christ and yet somewhere there is, there must be, space to contemplate the divinity. To think of this baby, God and human, as the eternal Word who spoke all things into being, part of the Trinity, whose imagination set stars and atoms in their courses. God come, to us, God with us - humanity and holiness in a squalling infant. I'm not sure I will ever get beyond the mystery and wonder of it.
Miriam Fisher, Education Lecturer
---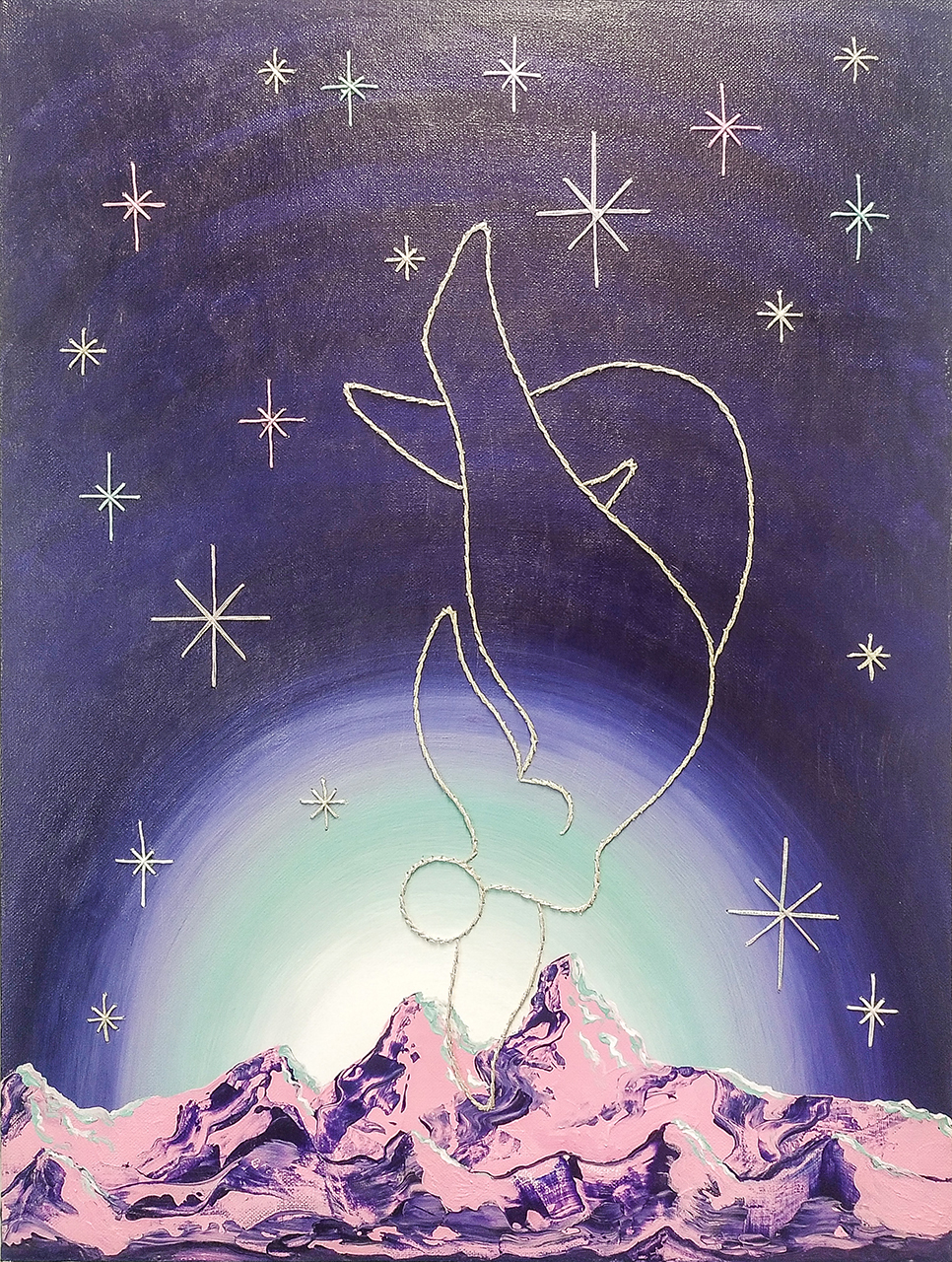 I have always been enraptured with the incarnation of Christ. In this painting, I wanted to interpretively visualise the moment when Emmanuel becomes a tangible reality. This 'divine touchdown' communicates something of the awesomeness of this event – the stars are rocked, the dawn breaks – as well as the zeal and willingness with which God becomes human. I love these words from Karl Barth, "He [Jesus] is pleased to be nothing but the One who is supremely compromised" by fellow humanity. We have seen a great light, let all rejoice, for to us a child is born (Isaiah 9:2-7; Psalm 96).
Jess Hall, Library and Administration Assistant
---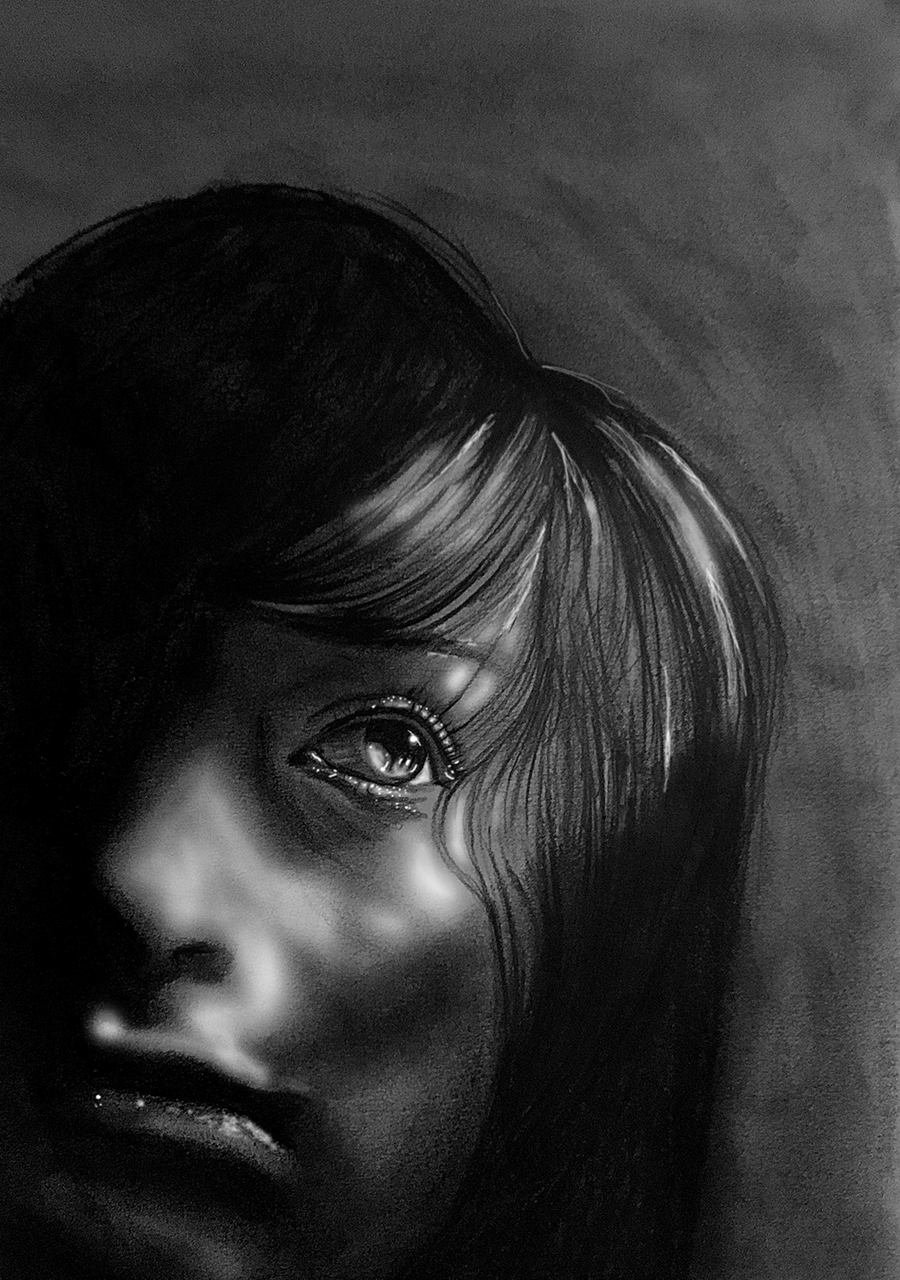 The people who walked in darkness have seen a great light; those who dwelt in a land of deep darkness, on them has light shone.
Sam Burrows, Education Lecturer

One of my all time favourite movies is a 1992 Australian B Grade movie by director Baz Luhrmann called "Strictly Ballroom." I won't tell you anything about it except to say that the one line that has stuck with me for nearly 30 years is: "A life lived in fear, is a life half lived." It's an old Spanish proverb. I suggest you watch the movie; it will make you laugh, cry and probably cringe.
The first time I encountered real fear, was in January 2005 and by the end of that month I was crippled by it. I had plunged into a darkness that was both heavy and overwhelming. I lived in that darkness of uncertainty, anxiety and loss of hope for many months.
I have been reminded of this period when I "walked in darkness" many times these last two years as I have pastorally encountered students describing the blanket of darkness they feel settled over them as they have struggled with their own anxiety and uncertainty. The unknown future of these Covid times have left some questioning their hope.
The Christmas of 2005 was the first time Isaiah 9:2-7 came alive for me. It was very powerful. God used this Scripture to shine His "great light" into my darkness. The words from the prophet Isaiah, spoken thousands of years ago to God's people, were an injection of hope for me. The hope of Emmanuel, God with us. The only three times Emmanuel is used in Scripture is Isaiah 7:14, 8:8 and Matthew 1:23.
Isaiah 9:6-7 (The Message)
For a child has been born—for us!
the gift of a son—for us!
He'll take over
the running of the world.
His names will be: Amazing Counsellor,
Strong God,
Eternal Father,
Prince of Wholeness.
His ruling authority will grow,
and there'll be no limits to the wholeness he brings.
He'll rule from the historic David throne
over that promised kingdom.
He'll put that kingdom on a firm footing
and keep it going
With fair dealing and right living,
beginning now and lasting always.
The zeal of GOD-of-the-Angel-Armies
will do all this.
For a child will be born – for us!

The gift of a son – for us!
And there will be no limits to the wholeness he brings!
These verses were a healing balm of light and hope to this weary soul. This Amazing Counsellor, Strong God, Eternal Father and Prince of Wholeness is the One promised and birthed; One far greater than we can imagine or hope for. Emmanuel is the One who comes afresh to us this Advent, in 2021. Shining his great light into our darkness. Bringing hope and wholeness.
To him who is able to keep you from stumbling and to present you before his glorious presence without fault and with great joy – to the only God our Saviour be glory, majesty, power and authority, through Jesus Christ our Lord, before all ages, now and forevermore! Amen. (Jude 24-25)
Gill Pawson, Campus Manager - Christchurch

We have prepared an activity based on the theme of each week of Advent. You can download this week's right here.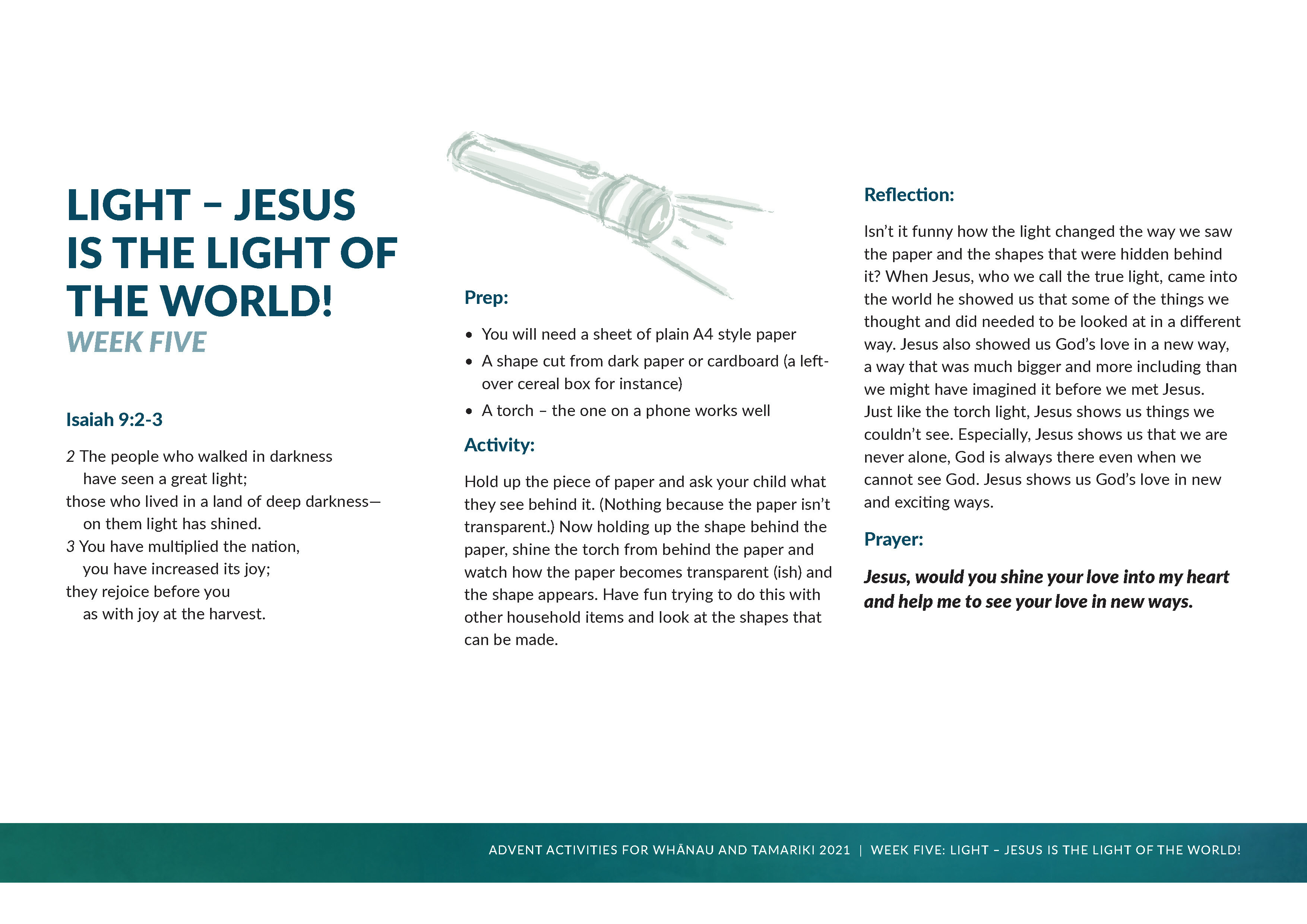 These may need amending to suit the age and stage of those in your whānau but we hope they will offer you an opportunity to engage in this season simply and meaningfully with your tamariki. You might come up with new variations!

We would love to see pictures of you and your whānau engaging with Advent – please share them on Facebook or Instagram and tag us so we can see!



An advent karakia:
As we get ready for Christmas we remember, loving God, that in Jesus you came to live with us and rescue us. Jesus, we think of you as a little vulnerable baby, and we remember you know what it is like to be a child like us.


Some churches and families light candles in an advent wreath for the first four Sundays of Advent. In this tradition, each candle represents a different theme in the weeks leading up to our celebration of Christ's arrival: Hope, Peace, Joy, and Love. The first candle is lit on the first Sunday, and then every subsequent Sunday another candle is lit until all are lit. On Christmas Eve or Day some also light a Christ candle.
Burning candles are a symbol of our prayers rising to God. And they represent God's presence with us. They also invite us to pause and reflect.
Make a wreath at home with 4 (or 5) different candles, or light one single candle each week while you read and reflect on Scripture and Jesus' arrival.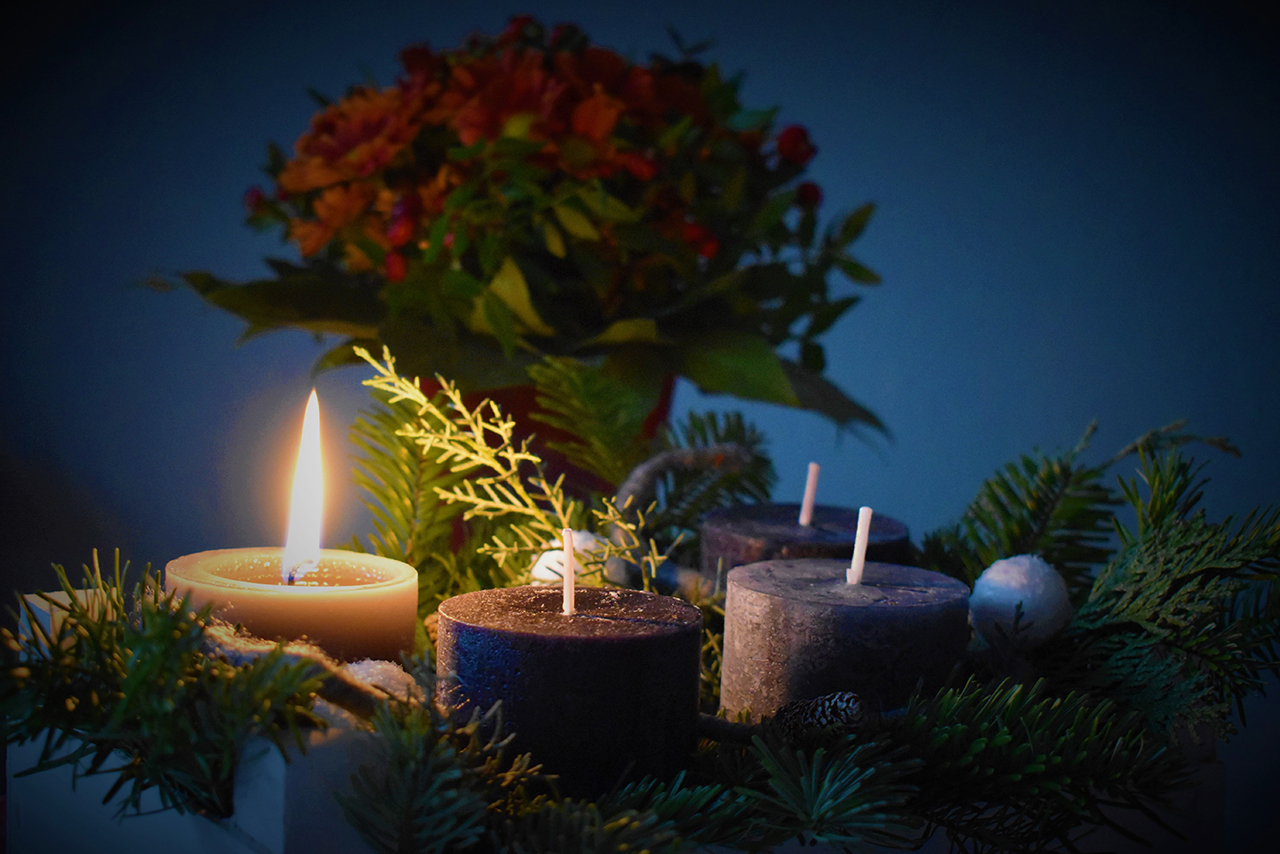 You can read this prayer or say one of your own:

CHRIST CANDLE

Light the candle.
God who brings us hope and reconciliation, who draws us to yourself, we thank you that your light has come to us in Emmanuel. Today, let us give thanks with joy for the coming of Christ into the world. May that light spread into every part of the world, so that peace and kindness may transform the world from darkness into light.

We call out to the Everlasting Father when we're in deep darkness because the child has been born who is the light of the world!

Jesus, shine your light into our darkness!
We join our song with all of creation – the glad heavens, the rejoicing earth, the roaring sea, the exulting field and the singing forest. We tell of God's salvation, declare Christ's glory, revere him above all gods, and sing for joy! For the Lord is coming again.
Great are you Lord and greatly to be praised! We worship you in holy splendour.
We wait for your blessed hope. We wait for the manifestation of your glory - our great God and Saviour Jesus Christ.
God, your grace has already appeared and brought salvation to us all! We wait for you to come again.
As we read and remember the story of your first coming – your first advent – strengthen us in our inner beings that we might be as attentive and responsive as the shepherds, as faith-filled as Joseph, as courageous and trusting as Mary and as quick to praise as the angels.
We, too, want to stand in amazement and ponder these things in our hearts. "Glory to God in the highest heaven, and on earth, peace among those whom he favours." (Luke 2:14)