(19-24 December)
We recommend that you read the Scripture passage and short reflection in our Advent Readings on the Sunday that begins each week. That way, you can reflect on it throughout the week. Below are some additional resources for consideration, wondering, and worship during this season. Enjoy!
Common themes for the fourth week of Advent include: God's love becomes human, the promised child will bring peace, behold – here comes Jesus, my soul magnifies the Lord.

Micah 5:2-5a Mika 5:2-5a

Luke 1:39-56 Ruka 1:39-56
Hebrews 10:5-10 Ngā Hiperu 10:5-10
Revelation 22:6-21 Whakakitenga 22:6-21
Note: For those who follow the Lectionary Calendar and Church Year, Advent 2021 marks the beginning of cycle or "Year C". The weekly Scripture passages in our readings are from each Sunday of Advent. If you would like additional Bible readings, you can follow along with the daily recommended readings for this season.
From: Anglican Church in Aotearoa, New Zealand and Polynesia
You can download the 2021 (for Advent and Christmas) and 2022 (up to Epiphany) versions of the lectionary.

Another resource is the Vanderbilt Divinity Library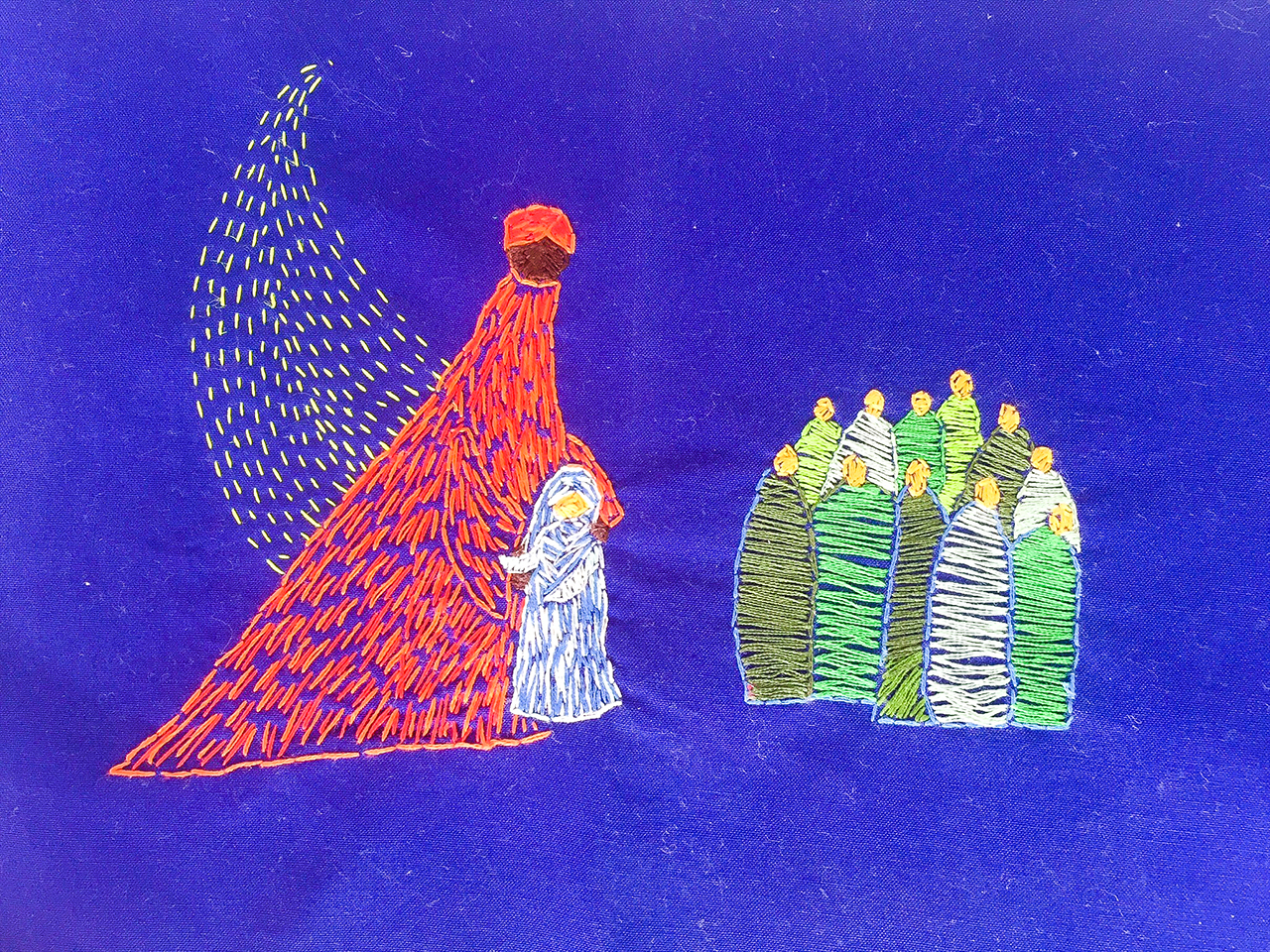 The invitation to Mary - Mary's yes was a lifetime yes. A yes to rumours and suspicion of her, a yes to faith in God's messenger. I often think of the tension between the wonder of this invitation and the loneliness of it. This piece is about Mary drawing into the promise of the divine messenger and ways in which we, believers, are invited to be hid in Christ. This piece invites me to lean towards the promises of God and find shelter in those places even when they feel lonely. It is her wondering, Magnificat, and her deep trust in God.

Miriam Fisher, Education Lecturer
As I thought about the joy and wonder of our Saviour's birth, I realised that it was the promise of his salvation that gives even more joy. As I thought of the precious baby Mary brought into the world, I also remembered that this baby was her Saviour too. The two koru represent the time when Mary, as a mum, just loved this babe; her son, her Redeemer, and ours. It also made me think of how closely the emotions of love, compassion and brokenness, and sometimes joy, sit.
Wendy Fowler, Education Lecturer

Advent is about anticipation…
Anticipation when used as a noun can be defined as "the state of being happy and excited about something good that is expected or predicted to happen in the future". In contrast, you can experience anticipation as an expectation or prediction that things will not turn out for good. Much like my brother's prediction of the loss of the All Black's against England in the 2019 World Cup after half time. I have experienced both states of anticipation; one more than another at times depending on what was happening in my life as a solo parent with two children.
Thinking of both my children when they were young - the weekend was full of anticipation for the arrival of whānau, Nana and Grandpa. Nana for her superior cooking skills (honed over many dinosaur years I would repeat loudly and often to my children) and Grandpa for his solid presence, humour, seemingly deep pockets for his mokopuna and his indomitable knowledge of all sports. These happy times were in stark contrast to my children anticipating visits and gifts from their father, who often did not fulfil his promises and cancelled.
This is the world in which we live of course. A world of broken promises and dashed expectations. Across Aotearoa, nearly 25% of all families are single parent families. One quarter of the nation's families are predominantly without a father. The absentee father in our homes across the nation is a huge problem.
In the Bible the role of fathers is important - in being the leader and protector of the family. My father was this to my children, his mokopuna. My whole whānau helped me raise them. I am reminded that had Joseph not believed the message of the angel that Jesus was conceived by Wairua Tapu, that Mary could very well have been a solo parent herself. What would have become of her and Jesus?
Thankfully, we already know. On reflection, the relationships we experience as individuals and in families, as man and wife, siblings, two parents or one parent and child/ren, are all oiled by expectation. We expect good things of the people that matter to us. Are we right to have these expectations of people? What happens when inevitably, those expectations can't be satisfied? Throughout his work, C. S. Lewis explores the idea that our desire to expect, to anticipate, to predict something good that will happen in the future comes from our desire for heaven. In Mere Christianity Lewis suggests that if we find in ourselves "a desire which no experience in this world can satisfy, the most probable explanation is that I was made for another world."[1] He offers that this ultimately points us towards one true object of that deepest desire, the Creator, Christ.
This Advent we are dramatically called to expect, to anticipate, to desire something big! The anticipation of the creation of a new world. A new world in which absent fathers, broken promises, unfulfilled expectations do not exist. This something big will be a time of restoration, fulfilment and the anticipation of a big promise (Luke 1:39-56). A promise in which C.S. Lewis describes as the one true object of that deepest desire, within us, will be satiated in the fulfilment of the birth of the baby Jesus.
Lorraine Taogaga, Kaiwhakaako reo Māori – Māori Language Teacher
[1] C. S. Lewis, Mere Christianity (London: Fount, 1997) 113.

We have prepared an activity based on the theme of each week of Advent. You can download this week's right here.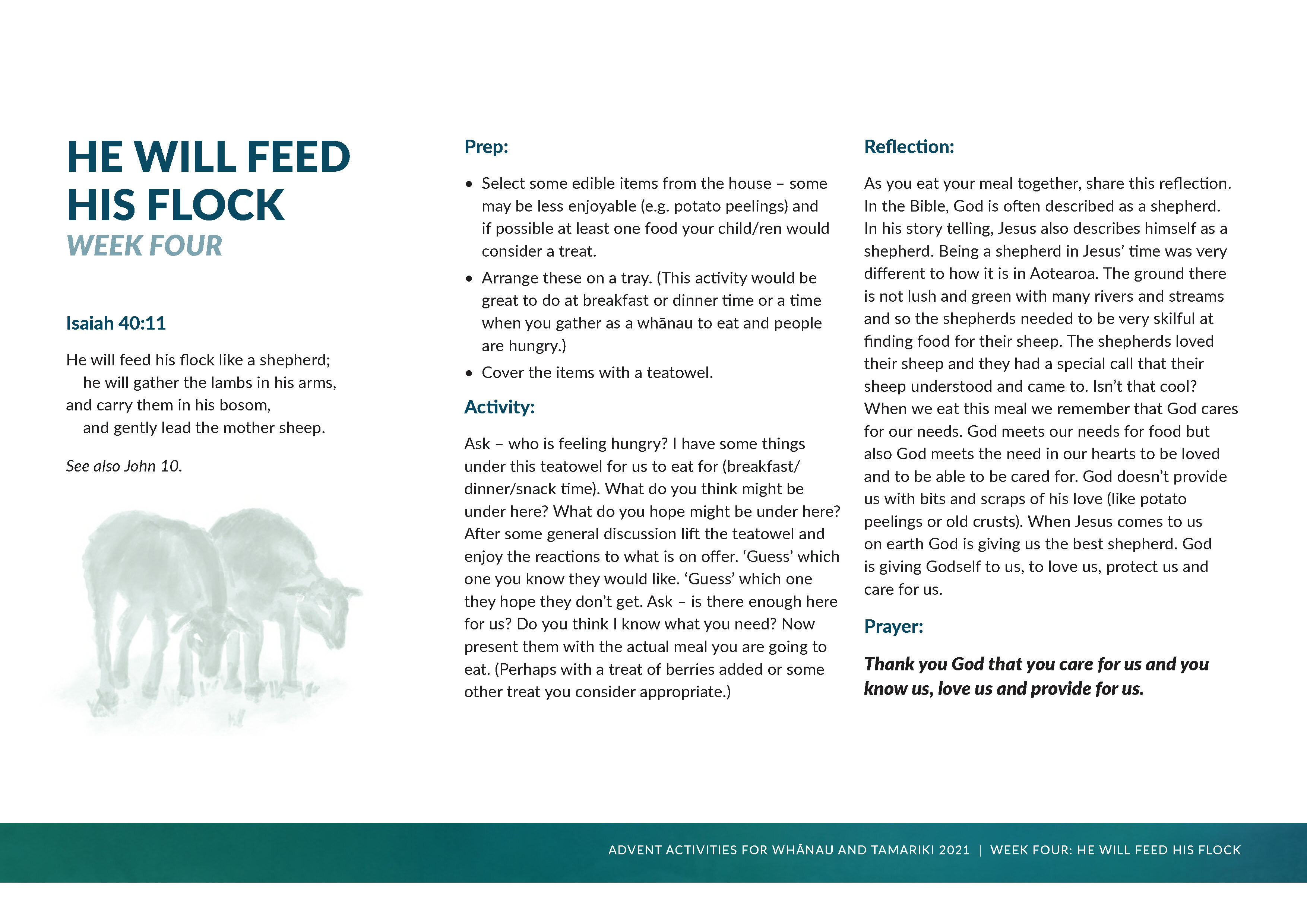 These may need amending to suit the age and stage of those in your whānau but we hope they will offer you an opportunity to engage in this season simply and meaningfully with your tamariki. You might come up with new variations!

We would love to see pictures of you and your whānau engaging with Advent – please share them on Facebook or Instagram and tag us so we can see!



An advent karakia:
As we get ready for Christmas we remember, loving God, that in Jesus you came to live with us and rescue us. Jesus, we think of you as a little vulnerable baby, and we remember you know what it is like to be a child like us.


Some churches and families light candles in an advent wreath for the first four Sundays of Advent. In this tradition, each candle represents a different theme in the weeks leading up to our celebration of Christ's arrival: Hope, Peace, Joy, and Love. The first candle is lit on the first Sunday, and then every subsequent Sunday another candle is lit until all are lit.
Burning candles are a symbol of our prayers rising to God. And they represent God's presence with us. They also invite us to pause and reflect.

Make a wreath at home with 4 different candles, or light one single candle each week while you read and reflect on Scripture and Jesus' coming.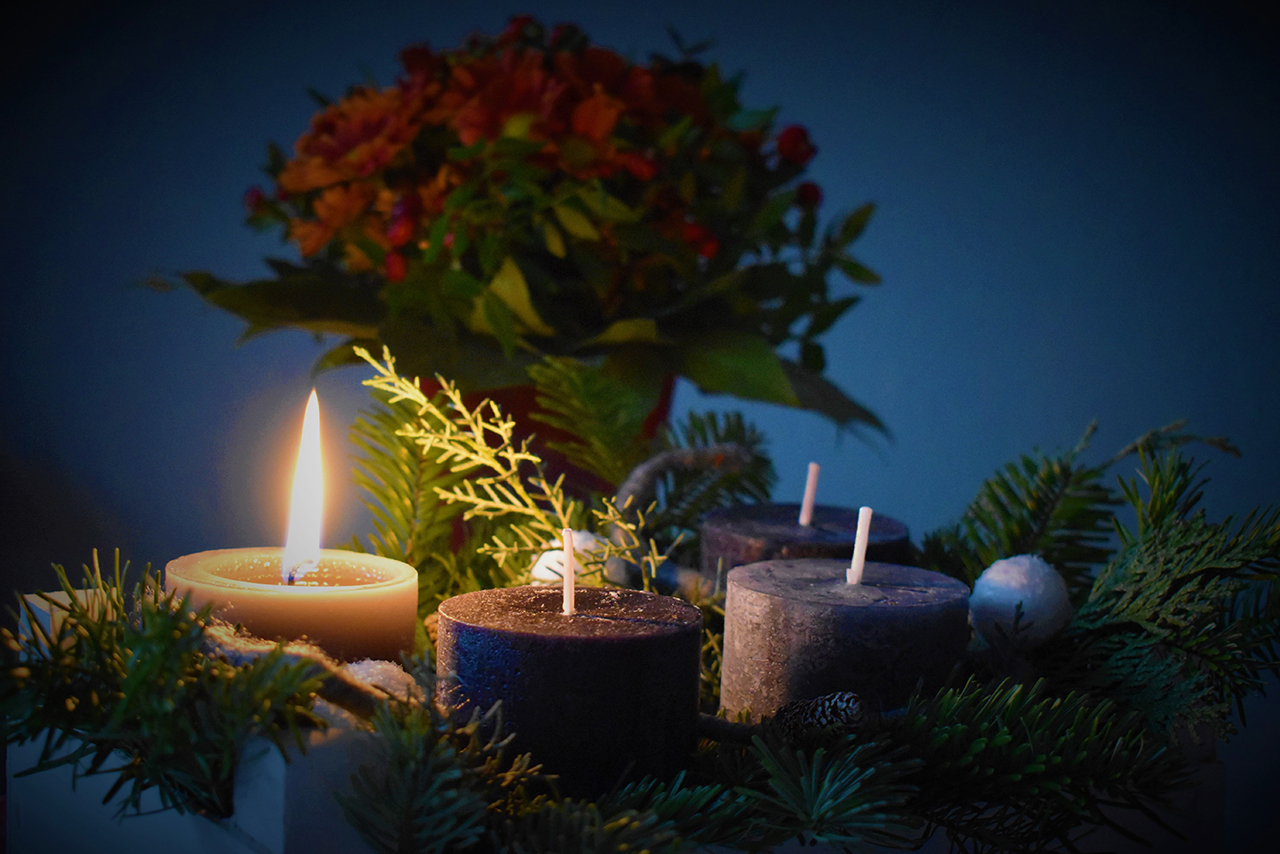 You can read this prayer or say one of your own:

LOVE

Light the candle.
Loving God, as I light this candle of love, I remember again how Jesus came to us through love – that you so loved the world, that you gave Jesus for us. I pray that I might continue to know the sustaining, all-embracing love of God in my life at this time; and that I might express that enduring love to those around me. Amen.

O EMMANUEL

O come, O come, and be our God-with-us
O long-sought With-ness for a world without,
O secret seed, O hidden spring of light.
Come to us Wisdom, come unspoken Name
Come Root, and Key, and King, and holy Flame,
O quickened little wick so tightly curled,
Be folded with us into time and place,
Unfold for us the mystery of grace
And make a womb of all this wounded world.
O heart of heaven beating in the earth,
O tiny hope within our hopelessness
Come to be born, to bear us to our birth,
To touch a dying world with new-made hands
And make these rags of time our swaddling bands.
Shared with permission from Malcolm Guite