(5-11 December)
We recommend that you read the Scripture passage and short reflection in our "Advent Readings" on the Sunday that begins each week. That way, you can reflect on it throughout the week. Below are some additional resources for consideration, wondering, and worship during this season. Enjoy!
Common themes for the second week of Advent include: preparation, repentance, peace, and sin/salvation.

Malachi 3:1-4 Maraki 33:14-16
Luke 1:67-79 Ruka 1:67-79
Philippians 1:3-11 Piripai 3:9-13
Luke 3:1-6 Ruka 3:1-6
Psalm 80 Waiata 80
*Note: For those who follow the Lectionary Calendar and Church Year, Advent 2021 marks the beginning of cycle or "Year C". The weekly Scripture passages in our readings are from each Sunday of Advent. If you would like additional Bible readings, you can follow along with the daily recommended readings for this season.
From: Anglican Church in Aotearoa, New Zealand and Polynesia
You can download the 2021 (for Advent and Christmas) and 2022 (up to Epiphany) versions of the lectionary.

Another resource is the Vanderbilt Divinity Library


Advent celebrates the coming of Christ—who brings salvation, healing, and restoration for humanity and the whole cosmos.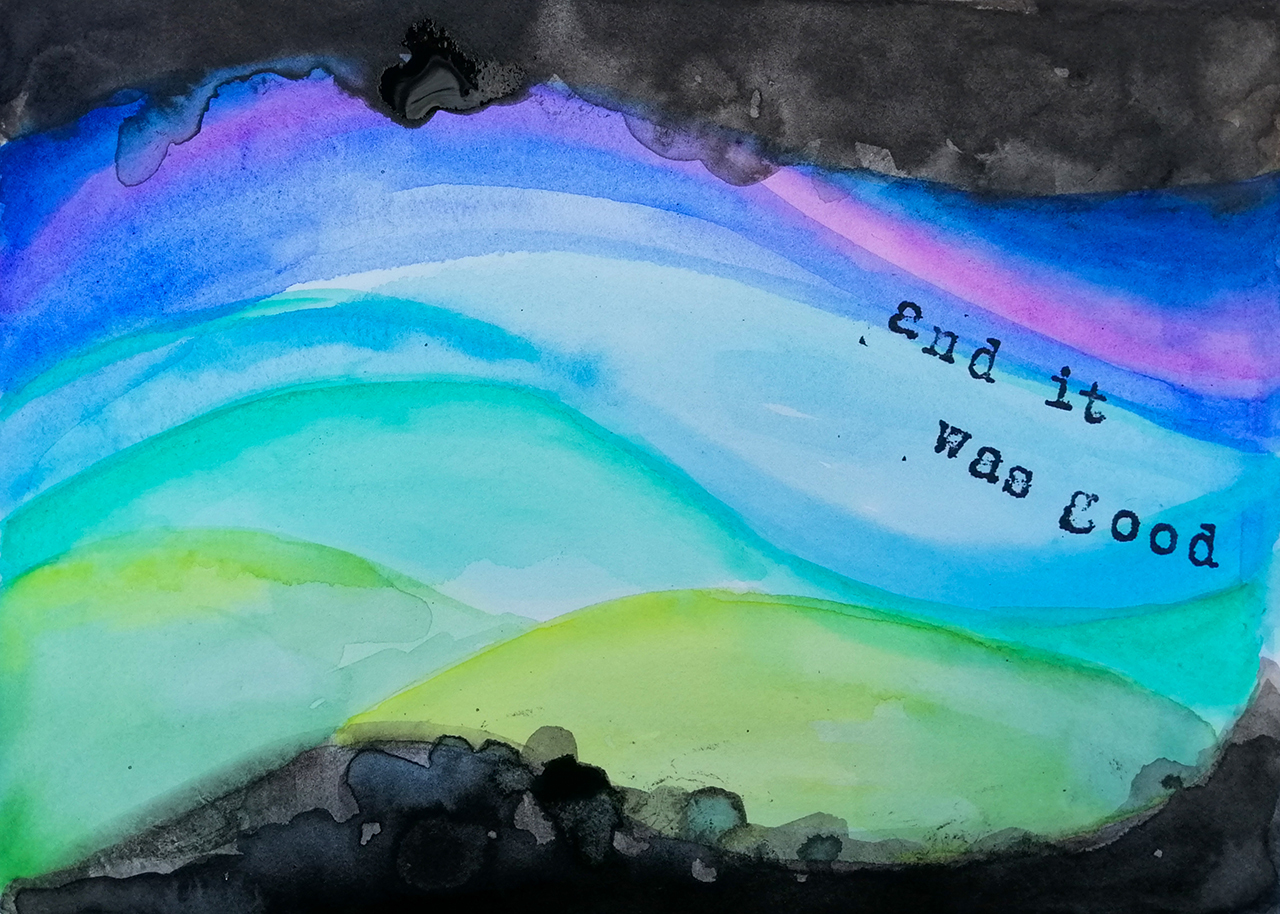 God's very good creation.

Chaos of sin... God's creation is disordered, but not destroyed.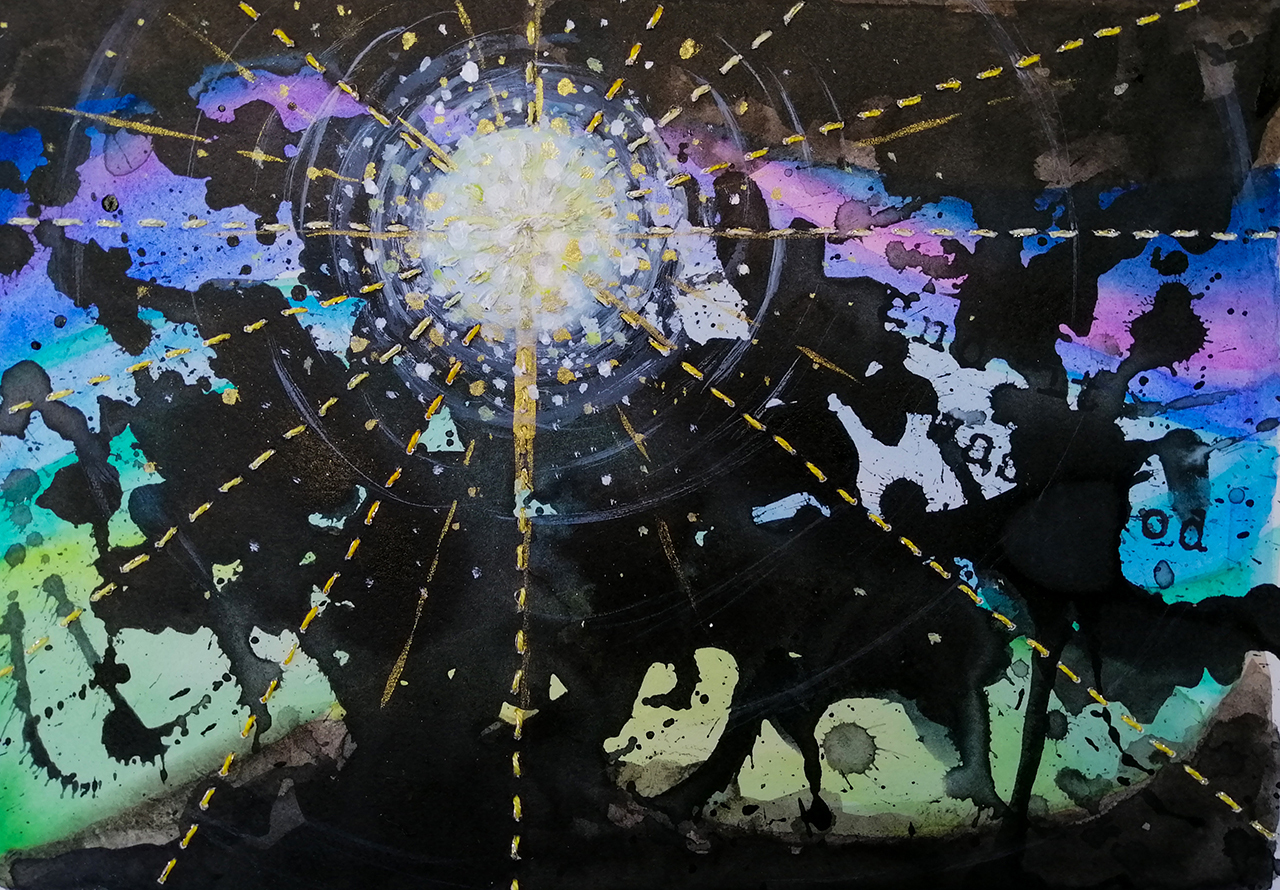 Christ's advent brings redemption to all. The stitching represents Christ's all-pervasive salvation that encompasses all creation.
Karyn Ellwood, Theology Student

John the Baptist didn't suddenly fall into his role. From birth, there was an expectation surrounding him. But still – imagine being John in that moment the Scriptures say, "the word of God came to John the son of Zechariah in the wilderness." Imagine it; being brought into this relationship with God, so much so that you are entrusted with heralding the message of God's salvation, preparing the way for the Saviour himself. What a calling!
Oftentimes in our quest for humility, we tend to downplay what we have been called into, and the danger of this is that it robs us of the wonder of our calling. Yet, perhaps, humility is better found when we focus on the awesomeness and wonder of our calling and allow the knowledge of that grace and salvation to overwhelm us in a myriad of ways.
Because the truth is, we don't have to imagine what it would have been like for John when he was finally called. We only need to remember…
We too have been called into this relationship with our creator. And we too have been called to herald the good news of God's salvation. This is our reality!
Think about it.
Dwell on it.
Breathe it in.
As we look forward to this special time of year, take time to remember the reality of where you are in life (saved) and how you got there. It is a simple act, but it is often one that slides into the realm of normality – so "normal" that we forget to do it. But, one could argue, being saved by God and called as a messenger of God's salvation is anything but normal.
May the Word of God come to you wherever you are as you wait for his coming
May the weight of God's calling be a source of joy and encouragement
May the reality of God's salvation be a sweet and tender touch to your soul
May you look forward to heralding this to the world.
Amen.
Naylor Owen, Manukau Campus Co-ordinator & Student Support


We have prepared an activity based on the theme of each week of Advent. You can download this week's right here.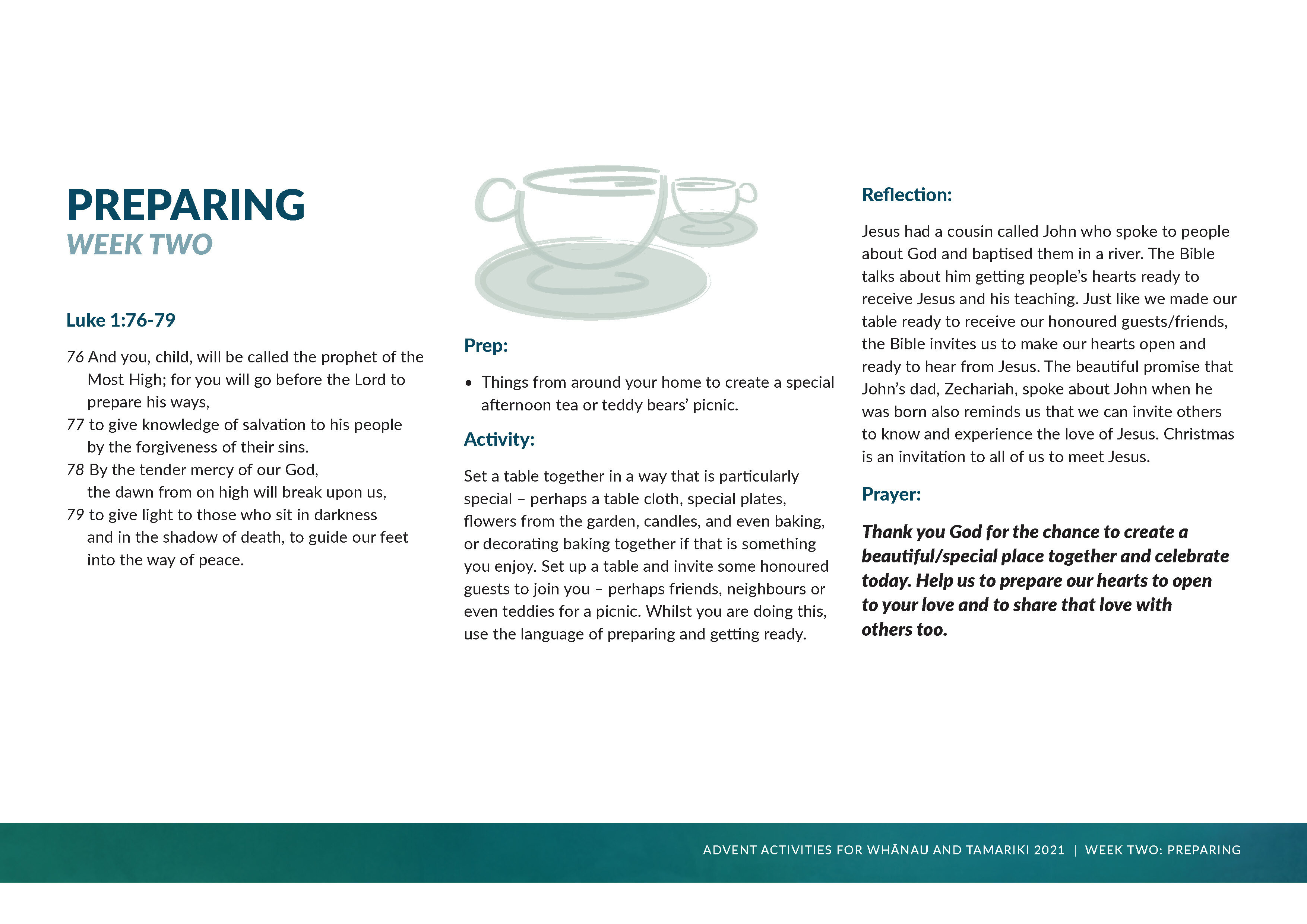 These may need amending to suit the age and stage of those in your whānau but we hope they will offer you an opportunity to engage in this season simply and meaningfully with your tamariki. You might come up with new variations!

We would love to see pictures of you and your whānau engaging with Advent – please share them on Facebook or Instagram and tag us so we can see!



An advent karakia:
As we get ready for Christmas we remember, loving God, that in Jesus you came to live with us and rescue us. Jesus, we think of you as a little vulnerable baby, and we remember you know what it is like to be a child like us.


Some churches and families light candles in an advent wreath for the first four Sundays of Advent. In this tradition, each candle represents a different theme in the weeks leading up to our celebration of Christ's arrival: Hope, Peace, Joy, and Love. The first candle is lit on the first Sunday, and then every subsequent Sunday another candle is lit until all are lit.
Burning candles are a symbol of our prayers rising to God. And they represent God's presence with us. They also invite us to pause and reflect.

Make a wreath at home with your bubble with 4 different candles, or light one single candle each week while you read and reflect on Scripture and Jesus' coming.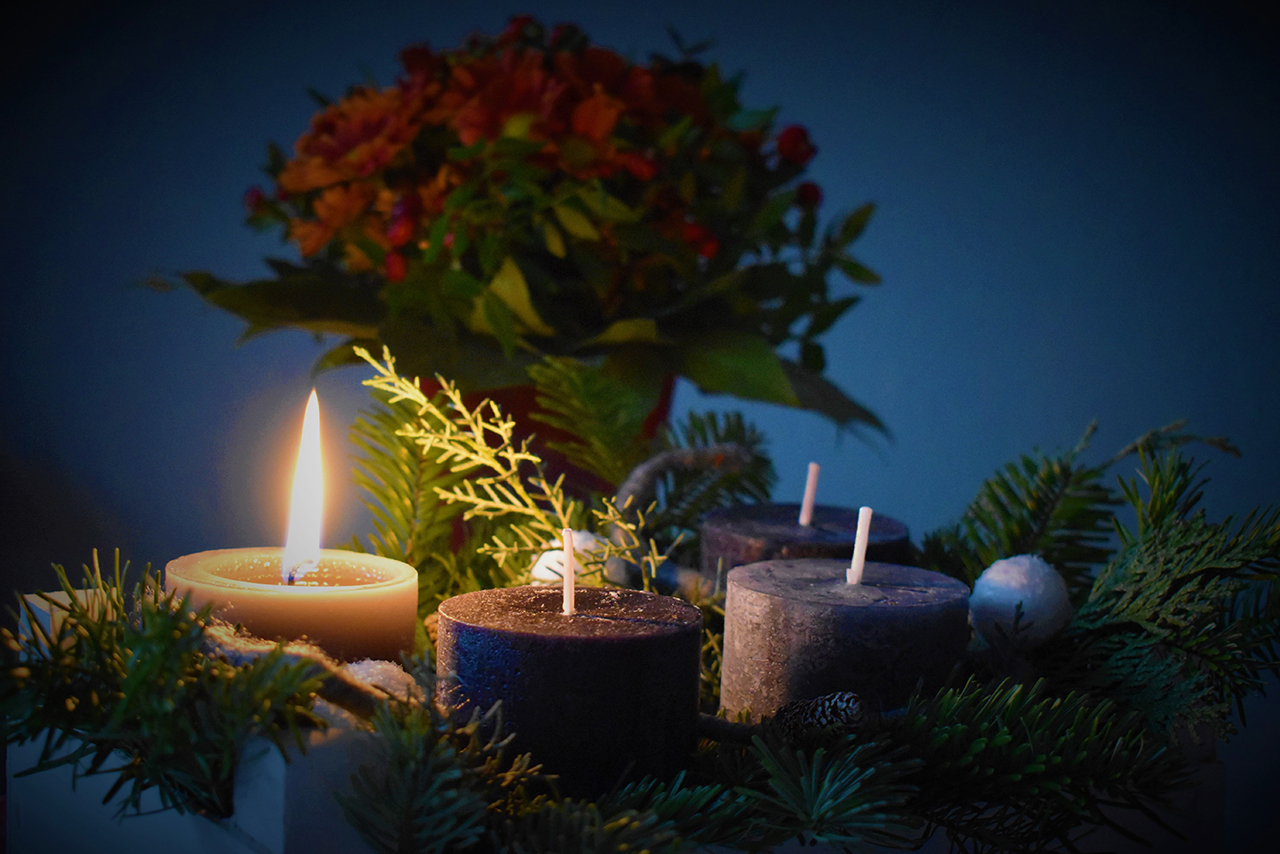 You can read this prayer or say one of your own:

PEACE

Light the candle.
Heavenly Father, in lighting this candle, I pray that I will know a fresh sense of peace, a new vision of peace, knowing that you are God – Earth-maker, Pain-bearer, Life-giver. In looking to you, I pray that I may know a taste of this peace that passes all understanding, as I look forward to your coming, as the Prince of Peace. Amen.

He Came Bringing Salvation
A Prayer of Thanks
"By the tender mercy of our God, the dawn from on high will break upon us, to give light to those who sit in darkness and in the shadow of death, to guide our feet into the way of peace."
(Luke 1: 78-79 NRSV)
Jesus, you came to us through the tender mercy of God. Through your coming the dawn broke into our lives as individuals, families, churches, communities. You are the Light who shines on those who are hidden in darkness, bowed down by trouble. You guide us in the paths of peace. Again, this year, we look to your coming, to the breaking of the dawn, the light in the darkness.