(12-18 December)
We recommend that you read the Scripture passage and short reflection in our Advent Readings on the Sunday that begins each week. That way, you can reflect on it throughout the week. Below are some additional resources for consideration, wondering, and worship during this season. Enjoy!
Common themes for the third week of Advent include: rejoice, do not fear, God is here, good news!

Zephaniah 3:14-20 Tepania 3:14-20
Isaiah 12:2-6 Ihāia 12:2-6
Philippians 4:4-7 Piripai 4:4-7
Luke 3:7-18 Ruka 3:7-18
*Note: For those who follow the Lectionary Calendar and Church Year, Advent 2021 marks the beginning of cycle or "Year C". The weekly Scripture passages in our readings are from each Sunday of Advent. If you would like additional Bible readings, you can follow along with the daily recommended readings for this season.
From: Anglican Church in Aotearoa, New Zealand and Polynesia
You can download the 2021 (for Advent and Christmas) and 2022 (up to Epiphany) versions of the lectionary.

Another resource is the Vanderbilt Divinity Library


This image was inspired by several of this week's Scripture passages.
Luke 3:16
John answered them all, "I baptize you with water. But one who is more powerful than I will come, the straps of whose sandals I am not worthy to untie. He will baptize you with the Holy Spirit and fire".
Isaiah 12:3
With joy you will draw water from the wells of salvation.
Zephaniah 3:14, 17
Sing, Daughter Zion, shout aloud, Israel!
The Lord your God is with you, the Mighty Warrior who saves.
This graphic aims to capture the blues of the water, the fire of the Holy Spirit, the singing and shouting, the safety of our protector, and an imperfect star. Even though we are not perfect or can feel unworthy, we find joy in hearing and knowing the good news. 'The Holy One of Israel is in our midst'

Pio Mulipola, Graphic Designer

"Rejoice in the Lord"
For those who know me, it would come as no surprise that one of my favourite bands is U2. I'm not a hardcore fan where I have travelled around the world to see their concerts; in fact, I've only been to two! On both occasions I've taken my buddy Matt. Matt's been a part of my life for 26 years. I first met him when he was 5 when I became his community support worker for the IHC. Even though to begin with I was paid to care for him, he and his family became an important part of my family. I love Matt; we've had a lot of joyful times together. Two of those times were at U2 concerts in 2010 and 2019. Matt rejoiced at both of those concerts because they played his favourite song, "Elevation". I rejoiced because they played Matt's favourite song and I didn't have to explain why they didn't on the way home.
One of my favourite songs from U2's "No Line on the Horizon" album is "Magnificent".[1] They don't play this one at their concerts, but as I listened to it recently, I began to reflect upon the fact that it is a hymn of praise. Part way through the song, as the energy builds, Bono sings:
I was born I was born to sing for you,
I didn't have a choice, but to lift you up
And sing whatever song you wanted me to
I give you back my voice from the womb
My first cry, it was a joyful noise…
There is no option but to joyfully praise God—the cry of a new-born baby is a joyful noise as it takes its first breath. The song centres on a response to God's magnificent promise which is found in the unifying love of Christ. Further in the song Bono sings:
Only love
Only love can leave such a mark
But only love
Only love unites our hearts
Justified 'til we die
You and I will magnify
Oh, oh, oh magnificent
Magnificent.
The Apostle Paul talks about rejoicing too, followed by words of comfort in some times of trial in Philippians 4: 4—7:
4 Rejoice in the Lord always. I will say it again: Rejoice! 5 Let your gentleness be evident to all. The Lord is near. 6 Do not be anxious about anything, but in every situation, by prayer and petition, with thanksgiving, present your requests to God. 7 And the peace of God, which transcends all understanding, will guard your hearts and your minds in Christ Jesus.
At this time in the history of the world, when we face all sorts of challenges because of the Covid pandemic, where we navigate uncertain times never experienced by many of us in Aotearoa New Zealand, or indeed much of the world, we are reminded that we should not be anxious, and that we are called to a posture of gentleness with one another – unified in Christ. May these words of comfort, which call us to not be afraid, also be filled in awe of the Magnificent promises for which we hold. And while things seem uncertain and fraught at times because of how we need to be for now, may there be times of rejoicing; much like Matt's when U2 played his favourite song.
Fiona Sherwin, Student Support Manager
[1] U2, Magnificent, No Line on the Horizon (Universal - Island Records, 2009).

We have prepared an activity based on the theme of each week of Advent. You can download this week's right here.



These may need amending to suit the age and stage of those in your whānau but we hope they will offer you an opportunity to engage in this season simply and meaningfully with your tamariki. You might come up with new variations!

We would love to see pictures of you and your whānau engaging with Advent – please share them on Facebook or Instagram and tag us so we can see!



An advent karakia:
As we get ready for Christmas we remember, loving God, that in Jesus you came to live with us and rescue us. Jesus, we think of you as a little vulnerable baby, and we remember you know what it is like to be a child like us.


Some churches and families light candles in an advent wreath for the first four Sundays of Advent. In this tradition, each candle represents a different theme in the weeks leading up to our celebration of Christ's arrival: Hope, Peace, Joy, and Love. The first candle is lit on the first Sunday, and then every subsequent Sunday another candle is lit until all are lit.
Burning candles are a symbol of our prayers rising to God. And they represent God's presence with us. They also invite us to pause and reflect.

Make a wreath at home with 4 different candles, or light one single candle each week while you read and reflect on Scripture and Jesus' coming.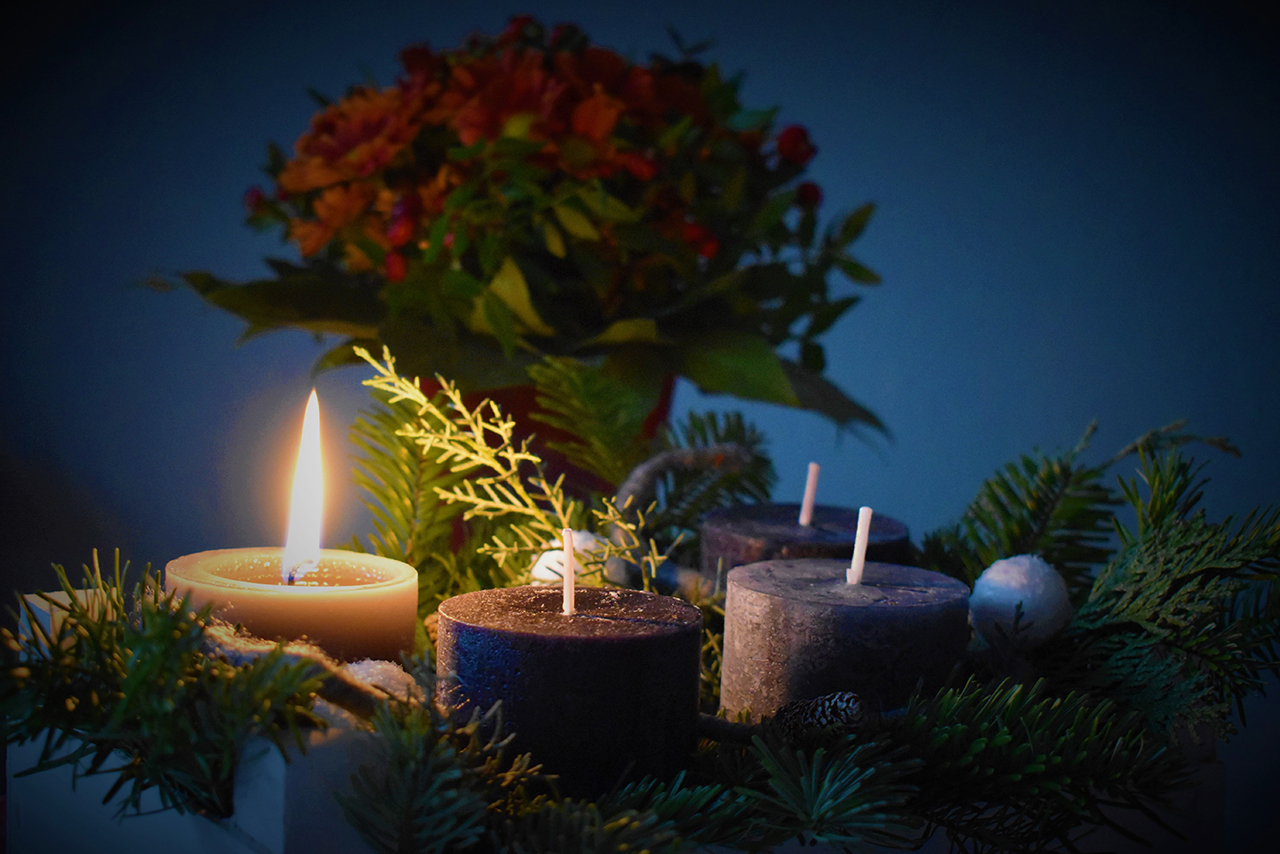 You can read this prayer or say one of your own:

JOY

Light the candle.
Thank you, God, that through your Son, light shone in the darkness. I thank you that the angels rejoiced at the good news of Jesus' impending birth; and I too can know joy at your light and hope entering the world. Amen.

Joy to the world! The Lord is come
Let earth receive her King!
Let every heart prepare Him room
And heaven and nature sing
Heavenly Father - thank you for sending your son to be God-with-us. Jesus, our Lord and King has come. We prepare our hearts and lives to welcome him.
Jesus - come and fill us with your joy! We sing out with all of creation at this very good news – you, the Lord, are near.
Holy Spirit - tune our ears that we may hear heaven and nature singing out. Fill our lungs with your breath and our lips with your praise so that we can join in their song.
Joy to the world! The Lord is come!