From Break-o'-Day Meditations, Easter Camp 1949

WHOLLY FOR GOD
Sing: "King of my life" (First verse and chorus only).
Read: Psalm 73:23-28.


Alone with God – this is a word of the deepest importance. May we seek grace from God to reach its depths. Then shall we learn that there is another word of equally deep significance – Wholly for God. As we find that it is not easy to persevere in this being "Alone with God," we begin to realise that it is because the other is king: we are not "Wholly for God." Because He is the Only God, and He alone the Adorable One, God has a right to demand that He should have us wholly for Himself. Without this surrender He cannot make His power known. We read in the Old Testament that His servants, Abraham, Moses, Elijah, and David, gave themselves wholly and unreservedly to God, so that He could work out His plans through them. It is only the fully surrendered heart that can fully trust God for all He has promised.
Nature teaches us that if anyone desires to do a great work he must give himself wholly to it. This law is specially true of the love of a mother for her child. She gives herself wholly to the little one whom she loves. And shall we not think it reasonable that the great God of Love should have us wholly for Himself? And shall we not take the watchword, "Wholly for God," as the keynote for our devotions, every morning as we rise? As wholly as God gives Himself to us, so wholly He deserves that we give ourselves to Him.
Let us in the inner chamber meditate on these things alone with God, and with earnest desire ask Him by His almighty power to work in us all that is pleasing in His sight. Wholly for God! What a privilege. What wonderful grace to fit us for it Wholly for God! What separation from men, and work, and all that might draw us away. Wholly for God! What ineffable blessedness as the soul learns what it means, and what God gives with it.



From Bible Study Notes, Easter Camp 1938
The Perils of Canaan.
READING: Josh. 5:13-15; 6:1-5. It is to be remembered that Israel's warfare was not against Canaanites as men, but with the Satanic powers which controlled them. God commanded extermination for two reasons.
1. They were demon-worshippers. 2. They were unspeakably immoral.
For the sake of the human race they must be cut off. Canaan meant MORE conflict, not LESS. Eph. 6:12, 13.
1. THE INITIAL CONQUEST. 5:13-15. JOSHUA.
Beware of Self-reliance. This was not the conquest of Jericho but of Joshua. In Canaan, Christ is absolute Lord and Master of the campaign. Joshua must yield his sword to the Man with the drawn sword – Christ, and accept His plan of campaign if success is to follow. As Israel begins this war, God reveals Himself as a Man of war. His revelation of Himself is always adapted to our circumstances. He is Captain of the Lord's hosts (not Israel's hosts). Wherever there is a Jericho, the Lord's hosts are present to give victory. What a relief to Joshua when the Captain assumed all responsibility! And what a relief to us when we cast all the responsibility on Christ. But He must conquer us before He can conquer our foes.
II. THE INITIAL MENACE. 6:1-5. JERICHO.
Beware of Self-effort.
Although the Lord had given Jericho to Joshua, v. 2, its walls still remained intact. Jericho was key to Canaan. They could not go back, it must be victory or death. Joshua and Israel stood up to the tremendous test of implicit obedience to the Captain's seemingly absurd plan of attack. (God's method of attack always does seem futile to carnal wisdom.)
i. The Obedience of Faith. March once round the walls for six days and seven times on seventh day. Absurd. ii. The Silence of Faith, v. 10. No challenge, no taunt. Fools for Christ, they inwardly relied on His promise.
iii. The Patience of Faith, v. 14. "So did they six days." A tremendous test for young men itching to make battle.
iv. The Shout of Faith, v. 16. Before the walls fell. The outward expression of their inward faith.
v. The Glory of Faith, v. 19. All the glory was to be God's. When your Jericho, so impregnable, falls before your shout of faith, see that you give God the glory.
III. THE INITIAL REVERSE. 7:1, 5-11, 24. AI.
Beware of Presumption.
This was the only battle lost in seven years of warfare. Ai, key to the interior of Canaan, small though it was. Let us beware of thinking any sin small.

CAUSES OF DEFEAT:
Presumption, engendered by success. They underestimated the foe "they are but few." They acted in carnal wisdom and sent spies. They acted as though THEY had captured Jericho. The hour when flushed with recent victory is the hour of greatest danger.
Prayerlessness, Joshua prayed after instead of before. He did not consult the Unseen Captain, or He would have revealed the mound in Achan's tent.
Purloining – Achan's sin. Not in ignorance, Secret Sin in the devoted thing. Affected the whole camp. Our individual sin affects the whole church.

CORRECTION OF DEFEAT:

Sin searched out and judged.
Obeyed Captain and sent up whole host. Crushing defeat.
They got the spoil in which Achan would have shared had he been content to wait for God's time.
IV. THE INITIAL COMPROMISE. 9:3-15. GIBEON.
Beware of Snares.
Once again they are flushed with success at Ai. Nations of Canaan, terror-stricken, abandon tribal warfare and unite against Israel. Gibeonites use strategy. Ambassadors sent with old sacks, old wine bottles, old garments, mouldy bread. Israelites were suspicious, but the evidence was too strong. Tragic blunder. "They asked not counsel" v. 14 of their Captain. Satan is more subtle in his wiles than his assaults. Their story was so reasonable, appearance so consistent, that Israel trusted their own discernment. They discovered 3 days later that they were their neighbours – but by that time they had made a league with them. Ever after they were a burden to Joshua and curse to Israel. Beware of snap decisions. Such are some of the Perils of the Promised Land, but over all these we may be "MORE THAN CONQUERORS."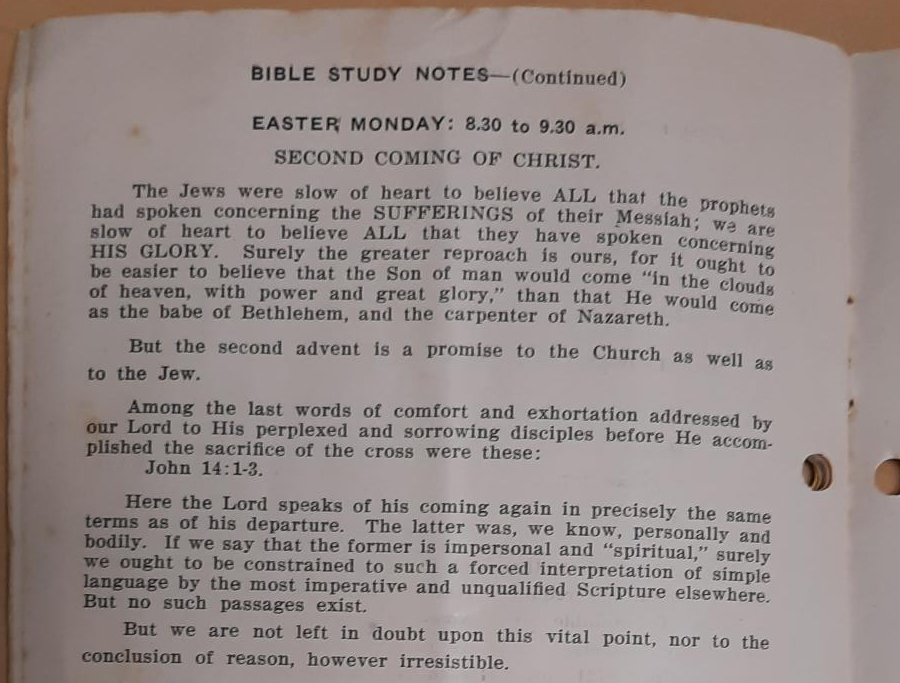 From Bible Study Notes, Easter Camp 1927, Easter Monday
SECOND COMING OF CHRIST.
The Jews were slow of heart to believe ALL that the prophets had spoken concerning the SUFFERINGS of their Messiah; we are slow of heart to believe ALL that they have spoken concerning HIS GLORY. Surely the greater reproach is ours, for it ought to be easier to believe that the Son of man would come "in the clouds of heaven, with power and great glory," than that He would come as the babe of Bethlehem, and the carpenter of Nazareth.
But the second advent is a promise to the Church as well as to the Jew.
Among the last words of comfort and exhortation addressed by our Lord to His perplexed and sorrowing disciples before He accomplished the sacrifice of the cross were these: John 14:1-3.

Here the Lord speaks of his coming again in precisely the same terms as of his departure. The latter was, we know, personally and bodily. If we say that the former is impersonal and "spiritual," surely we ought to be constrained to such a forced interpretation of simple language by the most imperative and unqualified Scripture elsewhere. But no such passages exist. But we are not left in doubt upon this vital point, nor to the conclusion of reason, however irresistible. In the very moment of our Lord's disappearance from the sight of His disciples, "two men stood by them in white apparel.
Acts 1:11.
Titus 2:13.
To the same purport is 1 Thess. 4:16, 17
Phil. 3:20, 21 R.V.
1 John 3:2.
Rev. 22:12


For this "blessed hope" we are taught to "watch," Mark 13:33, 35, 37; Matt. 24:42; 25:13; "wait," 1 Thess. 1:10, and be "ready." Matt. 24:44. The last prayer in the Bible is one for Christ's speedy return Rev. 22:20.

By these Scriptures it abundantly appears that the second advent will be personal and bodily: that, therefore, it does not mean the death of the believer, nor the destruction of Jerusalem, nor the descent of the Holy Spirit at Pentecost, nor the gradual diffusion of Christianity, but that it is the "blessed hope" of the Church, the time when sleeping saints will be raised, and, together with saints then living, who will "be changed" (1 Cor. 15:51, 52), caught up to meet the Lord; the time when we who are now the sons of God will be like Him, and when faithful saints will be rewarded for works done after salvation, for His name's sake.

The following Scriptures will further bring into view the contrast between the two advents of our Lord.
Compare:

First advent- Luke 2:7. Heb. 9:26. Luke 19:10. John 3:17. John 12:47
Second advent- Matt. 24:30. Heb. 9:28. 2 Thess. 1:7, 8. Acts 17:31.

These verses show that both the promises to Israel and to the Church imperatively require a return of our Lord to the earth.