From Break-o'-Day Meditations, Easter Camp 1949
TRUE WORSHIP

Sing: "Man of Sorrows."
Read: Psalm 28:1-2, 6-9.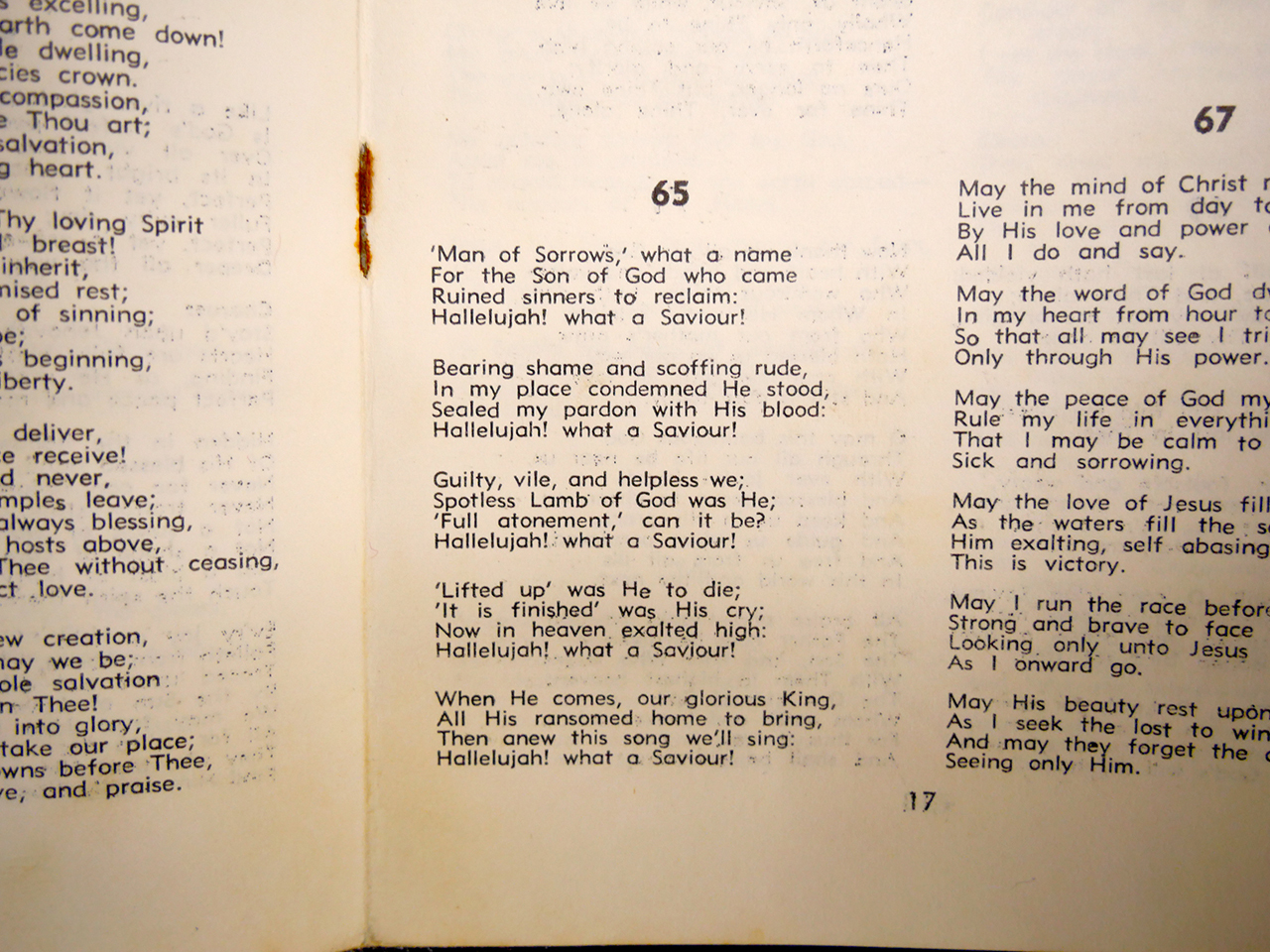 Why is it that prayer and intercession are not a greater joy and delight? And is there any way in which we may become fitted to make fellowship with God our chief joy, and as intercessors to bring down His power and blessing on those for whom we pray?
There may be more than one answer to the question. But the chief answer is undoubtedly: We know God too little. In our prayer, His presence is not waited for as the chief thing on which our heart is set. And yet it should be so. We think mostly of ourselves, our need, and weakness, our desire and prayer. But we forget that in every prayer God must be First, must be All. To seek Him, to find Him, to tarry in His presence, to be assured that His Holy Presence rests upon us, that He actually listens to what we say, and is working in us – it is this alone that gives the inspiration, that makes prayer as natural and easy to us as is the intercourse of a child with his father. And how is one to attain to this nearness to God and fellowship with Him? The answer is simple: We must give God time to make Himself known to us. Believe with all your whole heart, that just as you present yourself to God as a supplicant, so God presents Himself to you as the Hearer of prayer. But you cannot realise this except as you give Him time and quiet. It is not the multitude or the earnestness of your words in which prayer has its power, but in the living faith that God Himself is taking you and your prayer into His loving heart. He Himself will give the assurance that in His time your prayer will be heard. Begin this day with the word: "Unto Thee will I cry, O Lord my rock." "Blessed be the Lord, because He hath heard the voice of my supplications."



From Bible Study Notes, Easter Camp 1938
Theme: "OUT OF EGYPT INTO CANAAN" or "THE WAY TO A LIFE OF VICTORY." READING: Exodus 12:1-13; 14:10-14.
The history of Israel is typical history. See 1 Cor. 10:6, 11. It has its parallel in the experience of the believer in his progression from the natural (unconverted) state, through the carnal to the spiritual plane. 1 Cor. 2:14, 15; 3:1. In Heb. 3:17-4:1, the exodus from Egypt and entrance into Canaan's rest is used as a type of the believer's entrance on a life of rest and victory.

I. DELIVERANCE IMPOSSIBLE. Egypt, where Israel was kept captive, is illustrative of the Kingdom of darkness where Satan, like Pharoah, leads the unconverted captive at his will.
Slavery. God's chosen people were at first free in Egypt, but little by little their slavery became more galling till it was intolerable. Ex. 1:14. So with Satan's subtle slavery. How could deliverance from his mighty power be effected? Impossible. "The way of transgressors is hard."
Compromise. God intervenes through Moses and sends plagues on Egypt, but Satan-like, Pharoah resisted God to the last. Satan never releases his victims without a tremendous struggle. When he saw he could no longer detain them, he suggested four successive compromises.
(a) In the land. God had said "in the wilderness" - as far away as possible. (b) Not very far away. God demands a clean break. (c) Ye that are men. Their families would draw them back. (d) Let your flocks be stayed. The pull of worldly possessions. Moses flatly refused and demanded unconditional liberation. Beware of Satan's compromises.
II. DELIVERANCE POSSIBLE. Ex. 12:1-13. The basis of Israel's deliverance was the shedding of the blood of a lamb. See Heb. 9:22. Note in connection with the Passover.
Lamb without blemish. v. 5. Value of Christ's sacrifice depends on His sinlessness.
Lamb must die. v. 6. Christ's life, though sinless, could not atone. It is blood shed that atones.
Each man slew the lamb. Our sins were responsible for Christ's death.
Blood must be personally applied. Sprinkling, Heb. 10:22, is faith applying to its own case the fact of Christ's death.
God saw the blood as He sees and rejoices in the atonement of His Son. Because of it He could "Pass Over" the house. i.e. Protect it. See Isa. 31:5.
Christ our Passover - 1 Cor. 5:7 - was offered up on the Passover Day at the time of the Passover sacrifice.
Passover followed by Leavenless Feast. So our conversion is to be followed by a life in which sin finds no place.
Israel then went out in haste.


III. DELIVERANCE ACTUAL. No sooner had they slipped out of Pharoah's grasp than he swiftly pursues them. Another of Satan's tactics. Imagine their despair. An army behind. Mountains on the side. Red Sea before them. They were filled with fear. They could do nothing but "stand still and see the salvation of God." They crossed the Red Sea by faith. Heb. 9:29.
An obedient faith. They attempted the impossible at God's command.
A rational faith, resting not in conjecture or feeling, but in God's immutable promise.
An expectant faith, in response to which the Sea divided.
A rewarded faith. Their deliverance was all of God, and they knew it. Their deliverance was their enemies' destruction.
A rejoicing faith. On the other side, they sang the song of redemption. Ex. 15.

From Bible Study Notes, Easter Camp 1927
(For use in Bible Circles held daily 8.30-9.30 am)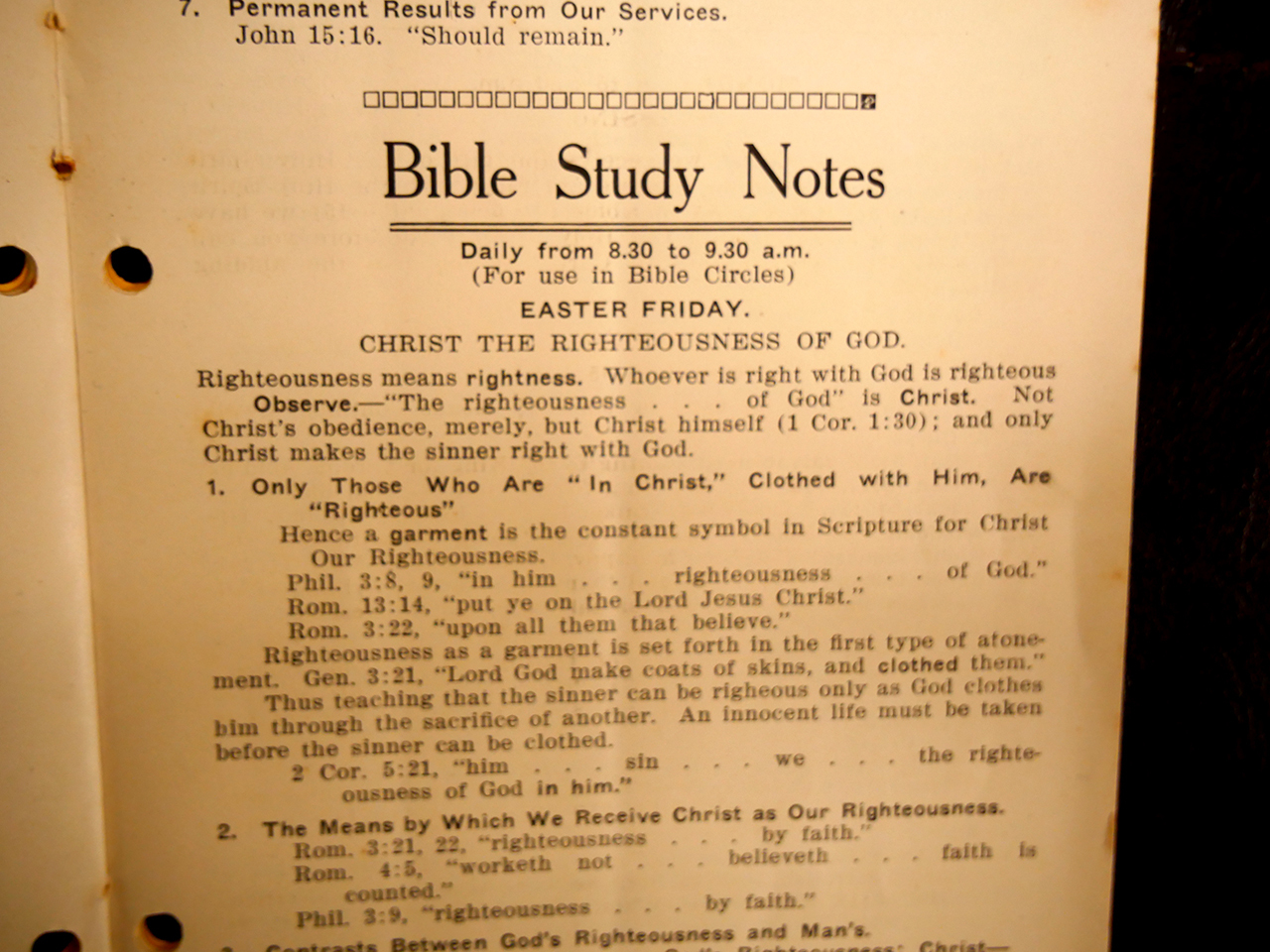 EASTER FRIDAY: CHRIST THE RIGHTEOUSNESS OF GOD.

Righteousness means rightness. Whoever is right with God is righteous.
Observe. "The righteousness…of God is Christ." Not Christ's obedience, merely, but Christ himself (1 Cor. 1:30); and only Christ makes the sinner right with God.

1. Only Those Who Are "in Christ," Clothed with Him, Are "Righteous" Hence a garment is the constant symbol in Scripture for Christ Our Righteousness.
Phil. 3:8, 9, "in him. Righteousness…of God."
Rom. 13:14, "put ye on the Lord Jesus Christ."
Rom. 3:22, "upon all them that believe."
Righteousness as a garment is set forth in the first type of atonement. Gen. 3:21, "Lord God made coats of skins, and clothed them." Thus teaching that the sinner can be righteous only as God clothes him through the sacrifice of another. An innocent life must be taken before the sinner can be clothed. 2 Cor. 5:21, "him ... sin ... we … the righteousness of God in him."


2. The Means by Which We Receive Christ as Our Righteousness.
Rom. 3:21, 22, "righteousness by faith."
Rom. 4:5,"worketh not … believeth … faith is counted."
Phil. 3:9, "righteousness … by faith."

3. Contrasts Between God's Righteousness and Man's.

Man's Righteousness: Self
Gen. 3:7, "made themselves aprons"
Isa. 64:6, "filthy rags."
Zech. 3:1, 3, "filthy garments."

God's Righteousness: Christ
Gen. 3.21, "Lord God clothed them."
Isa. 61:10, "he hath clothed me."
Zech. 3:4, 5, "I will clothe thee."

Luke 1:29, 18:11. Man says, "I'm all right," but God says, "Unclean."