From Break-o'-Day Meditations, Easter Camp 1949

SILENT ADORATION
Sing: "How Sweet the Name of Jesus sounds." (Two verses only).
Read: Psalm 62:1-8.
When man in his littleness and God in His glory meet, we all understand that what God says has infinitely more worth than what man says. And yet our prayer so often consists in the utterance of our thoughts of what we need, that we give God no time to speak to us. Our prayers are often so indefinite and vague. It is a great lesson to learn, that to be silent unto God is the secret of true adoration. Let us remember the promise: "In quietness and confidence shall be your strength."
"My soul, wait thou only upon God; for my expectation is from Him." "I will wait for the Lord; my soul doth wait, and in His word do I hope."
It is as the soul bows itself before Him to remember His greatness and His holiness, His power and His love, and seeks to give Him the honour and the reverence and the worship that are His due, that the heart wilt be opened to receive the Divine impression of the nearness of God and of the working of His power.

O Christian, do believe that such worship of God – in which you bow low and ever lower in your nothingness, and lift up your thoughts to realise God's presence, as He gives Himself to you in Christ Jesus – is the sure way to give Him the glory that is His due, and will lead to the highest blessedness to be found in prayer.

Do not imagine that it is time lost. Do not turn from it, if at first it appears difficult or fruitless. Be assured that it brings you into the right relation to God. It opens the way to fellowship with Him. It leads to the blessed assurance that He is looking on you in tender love and working in you with a secret but Divine power. And as at length you become more accustomed to it, it will give you the sense of His presence abiding with you all the day. It will make you strong to testify for God.



From Bible Study Notes, Easter Camp 1938
The Kadesh-Barnea Crisis.
READING: Numbers 13:26-33; 14:1-5; 26-34.

I. THE SIGNIFICANCE OF CANAAN. Hymnology and usage represent Jordan as physical death and Canaan as heaven. True only in a very secondary sense. Canaan signifies not "heaven," but "life in the heavenlies." Eph. 1:3 It cannot mean heaven, for there is no sin in heaven, no battles, no defeats, but these were present in Canaan. Canaan stands for a victorious Christian experience, possible here and now when a believer exchanges defeat of Wilderness life for fruitfulness and joy of Canaan life. It means enjoyment of:
LIBERTY FOR OPPRESSION. cf. Rom. 6:14, 18.
REST FOR WANDERING. cf. Heb. 4:3, 9.
POSSESSION FOR PROMISE. Promises become facts.
VARIETY FOR MONOTONY. Change and variety of food.
II. THE LEGITIMATE WILDERNESS EXPERIENCE. Contrary to popular conception, the Christian's ideal life is not a "wilderness experience" although he moves through a wilderness. There is a legitimate and an illegitimate wilderness experience. For Israel the journey from the Red Sea to Kadesh-Barnea was the only legitimate and proper wilderness experience. This finds its counterpart in experience of a young convert who, though redeemed by blood, has to learn to depend on God for daily supplies. Israel fed on bread from heaven, but sometimes longed for Egypt's dainties. Num. 11:5. They leaned too heavily on human props, and when Moses was absent, forsook God and worshipped a golden calf. In N.T. language they were yet carnal, spiritual babes. 1 Cor. 3:1.
III. THE KADESH-BARNEA CRISIS. With the Promised Land in sight, one would have expected a stampede, but no! As loth to enter Canaan as most Christians are to embark on the life more abundant. Sent spies ahead, 13:2, who returned after 40 days. Conflicting reports. Majority Report, presented by the Timorous Ten, the men of reason, urged no action. The Minority Report presented by the Trustful Two, the men of faith, urged immediate advance.
Compare:
"We are not able," 13:31 with "We are well able," 13:30
"Cities are walled and very great." 13:28 with "Their defence is departed from them," 14:9.
"We were as grasshoppers," 13:33 with "neither fear ye the people," 14:9.
"We are not able to go up," 13:31 with "Let us go up at once and possess it," 13:30.
Majority looked at the enemy through a magnifying glass of unbelief. Minority looked at God through a magnifying glass of faith. Immediately Israelites were panic-stricken and would not listen to the two. Proposed a new leader and return to Egypt. 14:2-4. N.B. There are always plenty of spies to spread an evil report of the Land and discourage from entering in. "So we see that they could not enter in because of unbelief." Heb. 3:19.
IV. THE ILLEGITIMATE WILDERNESS EXPERIENCE. Here began their sinful wilderness experience the moment they turned back at Kadesh-Barnea. God accepted their decision. Compare 14:3 with 14:29-33.
Have you come this morning to Kadesh-Barnea? Will you listen to the Timorous Ten or the Trustful Two? If you turn back to the wilderness, your experience, like Israel's, will be one of Restlessness, Discontent, Fruitlessness and Vacillation. Listen to the warning of the Holy Spirit in Heb. 4:7-12 and note that these people were never given another opportunity of entering the Land.
They came to the gates of Canaan,
But they never entered in:
They came to the very threshold
But they perished in their sin.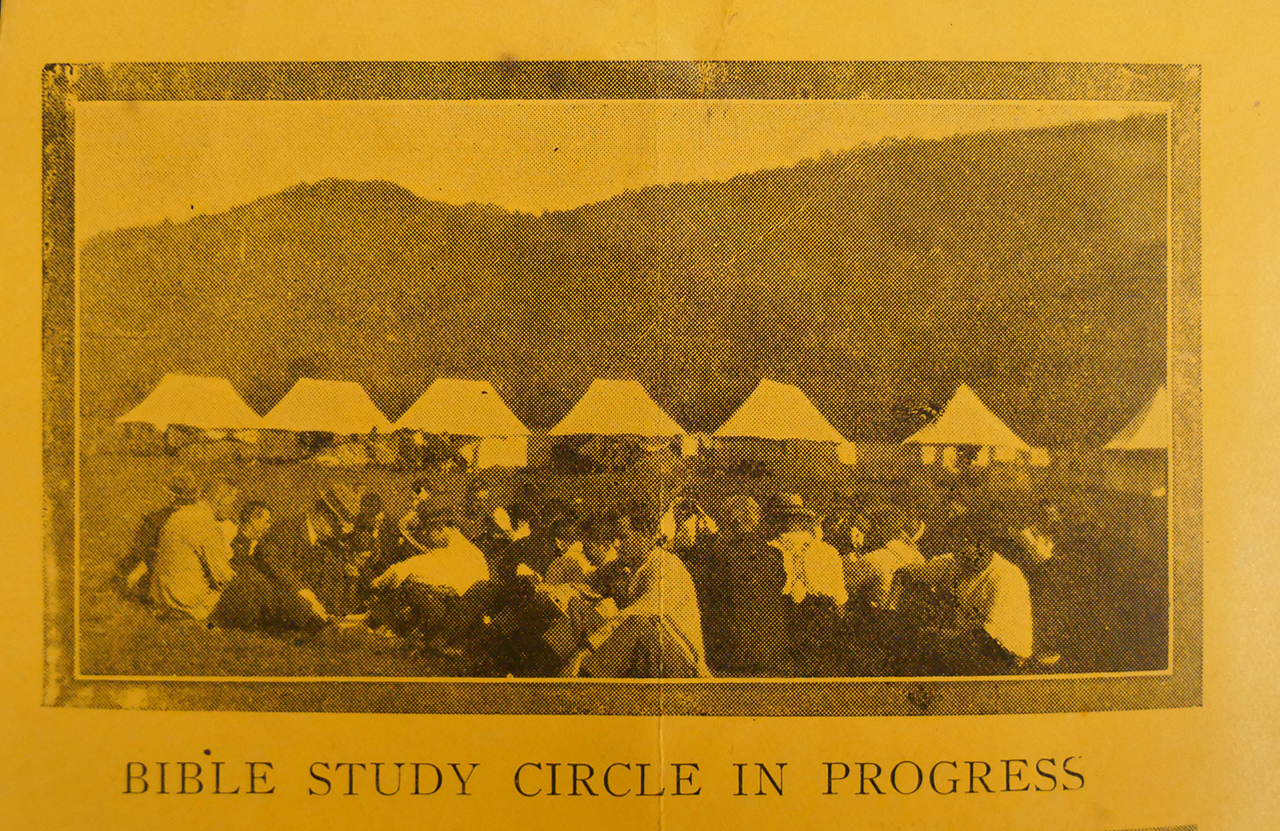 From Bible Study Notes, Easter Camp 1927
Luke 18:9, 10, "trusted ... selves."
Luke 18:13, 14, "be merciful."
Phil. 3:1, "trust in the flesh."
Phil. 3:8. 9, "righteousness …of God"

WHAT CHRIST WAS "MADE."
Nothing is more helpful to the believer who seeks complete rest in the work of Christ than to look at the things partly tragic and terrible, partly exalted and mighty which CHRIST has been "made." It is very beautiful and instructive to see that our blessed Lord took always the place of perfect submission. He "made Himself of no reputation" (Phil. 2:7) and there stopped. All else that he was and is, the Father "made" Him. He would not permit either Satan or man to confer distinction upon Him (Matt. 4:8-10; John 6:15), but found all His delight in simply doing His Father's will - equally willing to be "made a curse" (Gal. 3:13), or "a High Priest" (Heb. 6:20). He was "made":
Flesh.
John 1:14, "the Word was made flesh."
Rom. 1:3; Gal. 4:4, etc.
Sin.
2 Cor. 5:21, "made Him to be sin."
Isa. 53:6, 10.
A Curse.
Gal. 3:13, "made a curse."
Gen. 3:17, 18.
Mark 15:17.
Wisdom, Righteousness, Sanctification, Redemption,
1 Cor. 1:30.
Better Than Angels.
Heb. 1:4, "made better than angels."
Heb. 7:26.
1 Pet. 2:7.
High Priest.
Heb. 6:20, "made a High Priest forever."
Heb. 5:5,6.
Heb. 7:16.
Surety.
Heb. 7:22, "made surety … better covenant." See for illustration, Gen. 15:8-10, "whereby shall I know" – sacrifice.
Heb. 8:12. This defines the covenant for the performance of which Christ is God's surety.


Note. A surety is "one who is bound for another who is primarily liable and who is called the principal." We sometimes think of Christ as, in some way, OUR surety to the Father - as the old hymn says: "Before the throne my surety stands," - but so thinking we lose the blessed truth, which is, that Christ is God's surety TO US that he will faithfully keep the new covenant.