From Break-o'-Day Meditations, Easter Camp 1949

THE LIGHT OF GOD'S COUNTENANCE

Sing: "Speak, Lord, in the stillness" (Two or three verses only)
Read: "God is light." | John 1:5. "The Lord is my light." Psalm 27:1.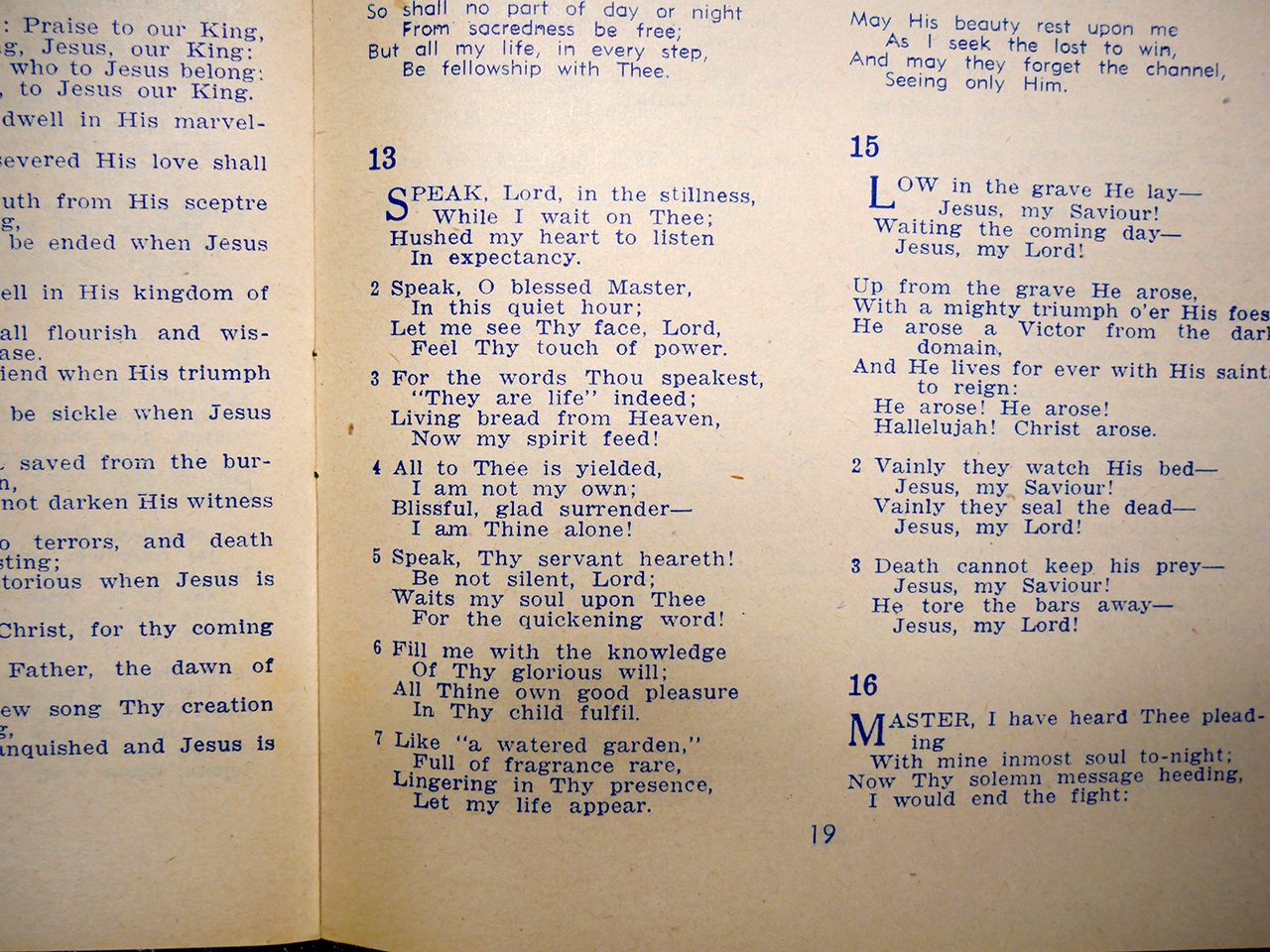 Every morning the sun rises, and we walk in its light and perform our daily duties with gladness. Whether we think of it or not, the light of the sun shines on us all day. Every morning the light of God shines upon His children. But in order to enjoy the light of God's countenance, the soul must turn to God and trust Him to let His light shine upon it. When there is a shipwreck at midnight, with what longing the mariners look for the morning! How often the sigh goes up, "When will the day break?" Even so must the Christian wait upon God, and rest patiently until His light shines upon him.
"My soul waiteth for the Lord more than they that watch for the morning" (Ps. 130:6). O my soul, begin each day with one of the prayers:
"Make Thy face to shine upon Thy servant" (Ps. 31:16).
"Lord, lift Thou up the light of Thy countenance upon us" (Ps. 4:6).
"Cause Thy face to shine, and we shall be saved" (Ps. 80:3, 7, 19).
Do not rest until you know that the light of His countenance and His blessing is resting on you. Then you will experience the truth of the word: "They walk in the light of Thy countenance; in Thy name do they rejoice all the day" (Ps. 89:15, 16). Children of God, do believe that it is the ardent longing of your Father that you should dwell and rejoice in His light all the day. Just as you need the light of the sun each hour, so the heavenly light, the light of the countenance of the Father is indispensable. As sure as it is that we receive and enjoy the light of the sun, so confidently may we count on it that God is longing to let His light shine on us.

From Bible Study Notes, Easter Camp 1938
Clean over Jordan.
READING: Joshua 3:1-6: 14-17; 10:10-11; 18-19.
God in His grace has brought the new generation once again to the borders of the Promised Land, this time at the River Jordan. Will they enter in?

1. THIS SIDE OF JORDAN. 1:15. Counting the Cost.
Difficulties to face. Jordan. 3:15. Usually a muddy stream, now a turbulent river. How can they get across? Humanly impossible. Jericho. 3:16. A strongly fortified city in front of them even if they do cross Jordan. Humanly impregnable. Can you see Jericho looming ahead? Public confession of Christ? An apology? A letter? Some neglected service? Restitution? It may seem humanly impossible but with God all things are possible.
Instructions to follow. People must wait in tents till priests bearing the ark advanced 2000 cubits. Hitherto guided by Pillar of cloud and fire, now by the ark. Supernatural gives place to spiritual exercise.
Sanctification to accomplish. There is a human side to sanctification. See 2 Cor. 7:1. Sanctify to separate. God's tomorrow of wonders depends on our today of sanctification. Are you willing to separate from any sin, habit, association, friendship or worldly pleasure, contrary to God's will?
2. ON THE BRINK OF JORDAN. 3:8. The step of Faith. See priests advance till 2/3rds of a mile ahead of host. Reach Jordan's turbulent waters. Satan's suggestion, "what if nothing happens?" At first touch of feet, God responds to their faith and waters recede.
NOTE. Ark went first. Christ is to us what the Ark was to them. Jordan always flows between us and Canaan – cold and forbidding. The Israelites did not GROW out of the wilderness into Canaan. They STEPPED out by faith, and as they acted, God opened a way.

3. IN THE MIDST OF JORDAN. 3:17. Buried with Christ. Typical significance seen in Rom. 6:3-4, the believer's descent into Jordan. Two truths needing clear distinction.
SUBSTITUTION - Christ died FOR me.
IDENTIFICATION - I died WITH Christ.

i. How am I saved from penalty and guilt of sin? By believing Christ died FOR me. Because I feel it? No. I rest on what the Bible says. This is substitution.
ii. How can I be saved from the tyranny and dominion of sin? By believing I died WITH Christ (as in i). Rom. 6:6 R.V. But I don't feel it! I must rest again on what the Bible says. This is not an attainment true of a few believers, but a fact true of all. It is true whether I believe it or not. God says, "Your old man" - the traitor within – "was nailed to Christ's cross." The Holy Spirit is here to make it actual. Rom. 8:13. Do you concur in God's sentence on your old man? Crossing Jordan takes place the moment I consent to die, and hand over my old sinful nature to the Holy Spirit for execution, for self cannot execute self.
iii. How can I enjoy this experience? In response to my reckoning. Rom. 6:11. Reckoning is not imagining something not really true, but counting on something that is really true. It has nothing to do with the feelings but is an attitude of mind which counts true what the Bible says is true, whether I feel it or not.
4. UP OUT OF JORDAN. 4:16.
Risen with Christ. Not only was I crucified and buried with Christ, I was RAISED with Him too. How do I know? Because I feel it? No! Because the Bible says so and I reckon it true. From Calvary there flow two streams:
i. Death - Breaking the power of sin.
ii. Life - Enabling a walk in newness of life. As you reckon, God will make this true in experience. When the paralytic stretched forth his hand, God imparted the power.

Example: Lincoln's Act of Emancipation of Slaves.
i. Slave must HEAR (not feel) the good news.
ii. Must BELIEVE the fact.
iii. Must RECKON fact true in his case.
iv. Must REFUSE to be a slave.
v. Behind his reckoning was all the power of U.S.A. Similarly, I reckon myself ALIVE to God. Rom. 6:11. No more "I can't" when asked to undertake service.
5. CLEAN OVER JORDAN. 3:17.
Newness of Life.
i. What definiteness! Clear boundary between Canaan and Wilderness
ii. What finality! "Clean over." River of Christ's death separating from old life.
iii. What newness! Better food. Better Rest. More Victory. Are you willing to cross Jordan now? Say "Lord, feeling or no feeling. I now commit myself to Thee to bring me clean over Jordan, henceforth to walk in newness of life."



From Bible Study Notes, Easter Camp 1927
OUR LORD'S DAY (the Resurrection Morn)
WHAT THE BELIEVER HAS BEEN "MADE."
In the last lesson we saw what Christ was "made" for us; in this we are to see what we have been "made" in Him. We often see people, proud of being what they call "self-made," but the believer can never boast of being self-made. Everything that the child of God is, he has been made by God, and he has nothing whereof to glory, "save in the cross of our Lord Jesus Christ" (Gal. 6:14), and must say with Paul, "By the grace of God I am what I am." (1 Cor. 15:10).

1. Made Righteous.
Rom. 5:19. "made righteous." 9 Cor. 5:21.
All our righteousness - our best deeds - are "filthy rags," (Isa. 64:6), but in Christ every believer is made perfectly, spotlessly righteous. Nothing we can do can make the righteousness of God more perfect.

2. Made Free.
Gal. 5:1. "free from the Law." Rom. 6:18. "free from sin"

3. Made Near to God.
Eph. 2:13. "made nigh." Eph. 1:6.


4. Our Acceptance with God.
Eph. 1:6. "made us accepted."
How many uninstructed saints are wondering if they are really accepted of God, when all the while he has made them accepted.


5. Our Riches.
Titus 3:7, "made heirs." If the believer wishes to know how rich he is, let him study:
Rom. 8:17, "joint heirs with Christ." Heb. 1:2, "heir of all things."
And, too, we are "made meet" (fit) for the inheritance. Col. 1:12.


6. Our Position.
Eph. 2:6. "made us sit in Him." Observe, this is not some future blessedness, it is our present position.

7. Our Rank in the Kingdom.
Rev. 1:6, "made us kings and priests." The poorest, humblest believer on earth is, in God's sight, and before the hosts of heaven, a king and priest.