As we move back into "Ordinary Time" on our liturgical calendar, we remember that all of those who attend or attended Easter Camps have left their special gatherings and are going back into their regular living and working rhythms. This is an exhortation from the 1946 Easter programme for what all might consider as they left Easter Camp. We, too, might find some gleanings and encouragements here!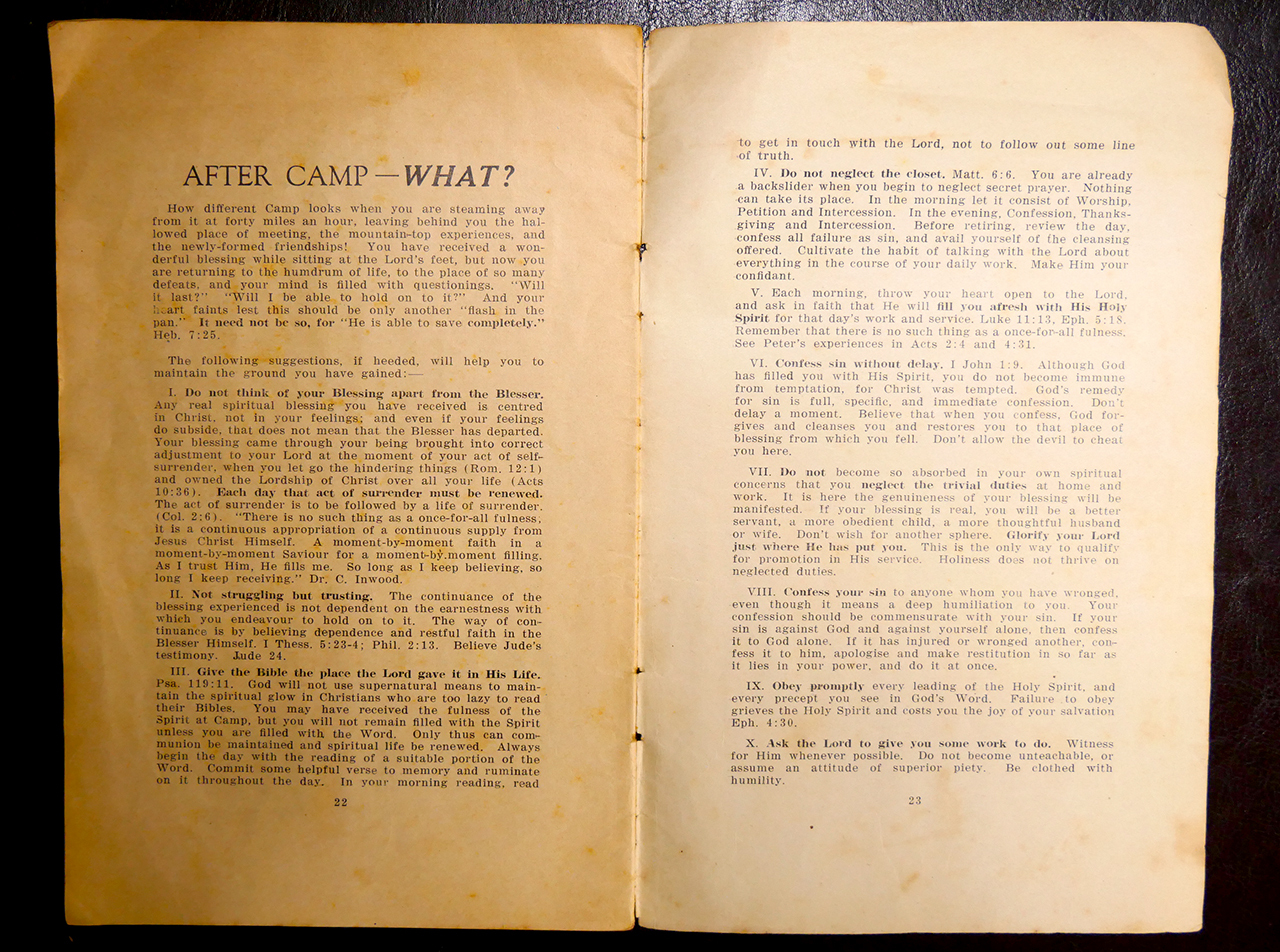 AFTER CAMP - WHAT?
How different Camp looks when you are steaming away from it at forty miles an hour, leaving behind you the hallowed place of meeting, the mountain-top experiences, and the newly-formed friendships! You have received a wonderful blessing while sitting at the Lord's feet, but now you are returning to the humdrum of life, to the place of so many defeats, and your mind is filled with questionings. "Will it last?" "Will I be able to hold on to it?" And your heart faints lest this should be only another "flash in the pan." It need not be so, for "He is able to save completely." Heb. 7:25. The following suggestions, if heeded, will help you to maintain the ground you have gained:
I. Do not think of your Blessing apart from the Blesser. Any real spiritual blessing you have received is centred in Christ, not in your feelings; and even if your feelings do subside, that does not mean that the Blesser has departed. Your blessing came through your being brought into correct adjustment to your Lord at the moment of your act of self-surrender, when you let go the hindering things (Rom. 12:1) and owned the Lordship of Christ over all your life (Acts 10:36). Each day that act of surrender must be renewed. The act of surrender is to be followed by a life of surrender. (Col. 2:6) "There is no such thing as a once-for-all fulness, it is a continuous appropriation of a continuous supply from Jesus Christ Himself. A moment-by-moment faith in a moment-by-moment Saviour for a moment-by-moment filling. As I trust Him, He fills me. So long as I keep believing, so long I keep receiving." Dr. C. Inwood.

II. Not struggling but trusting. The continuance of the blessing experienced is not dependent on the earnestness with which you endeavour to hold on to it. The way of continuance is by believing dependence and restful faith in the Blesser Himself. I Thess. 5: 23-4; Phil. 2:13. Believe Jude's testimony. Jude 24.

III. Give the Bible the place the Lord gave it in His Life. Psa. 119:11. God will not use supernatural means to maintain the spiritual glow in Christians who are too lazy to read their Bibles. You may have received the fulness of the Spirit at Camp, but you will not remain filled with the Spirit unless you are filled with the Word. Only thus can communion be maintained and spiritual life be renewed. Always begin the day with the reading of a suitable portion of the Word. Commit some helpful verse to memory and ruminate on it throughout the day. In your morning reading, read to get in touch with the Lord, not to follow out some line of truth.

IV. Do not neglect the closet. Matt. 6:6. You are already a backslider when you begin to neglect secret prayer. Nothing can take its place. In the morning let it consist of Worship, Petition and Intercession. In the evening. Confession, Thanksgiving and Intercession. Before retiring, review the day, confess all failure as sin, and avail yourself of the cleansing offered. Cultivate the habit of talking with the Lord about everything in the course of your daily work. Make Him your confidant.

V. Each morning, throw your heart open to the Lord, and ask in faith that He will fill you afresh with His Holy Spirit for that day's work and service. Luke 11:13, Eph. 5:18. Remember that there is no such thing as a once-for-all fulness. See Peter's experiences in Acts 2:4 and 4:31.

VI. Confess sin without delay. I John 1:9. Although God has filled you with His Spirit, you do not become immune from temptation, for Christ was tempted. God's remedy for sin is full, specific, and immediate confession. Don't delay a moment. Believe that when you confess, God forgives and cleanses you and restores you to that place of blessing from which you fell. Don't allow the devil to cheat you here.

VII. Do not become so absorbed in your own spiritual concerns that you neglect the trivial duties at home and work. It is here the genuineness of your blessing will be manifested. If your blessing is real, you will be a better servant, a more obedient child, a more thoughtful husband or wife. Don't wish for another sphere. Glorify your Lord just where He has put you. This is the only way to qualify for promotion in His service. Holiness does not thrive on neglected duties.

VIII. Confess your sin to anyone whom you have wronged, even though it means a deep humiliation to you. Your confession should be commensurate with your sin. If your sin is against God and against yourself alone, then confess it to God alone. If it has injured or wronged another, confess it to him, apologise and make restitution in so far as it lies in your power, and do it at once.

IX. Obey promptly every leading of the Holy Spirit, and every precept you see in God's Word. Failure to obey grieves the Holy Spirit and costs you the joy of your salvation Eph. 4:30.

X. Ask the Lord to give you some work to do. Witness for Him whenever possible. Do not become unteachable or assume an attitude of superior piety. Be clothed with humility.