Conversation on Leadership with Aimee Mai, CEO of Christians Against Poverty

Sustain is a network of Christian women in leadership. Our aim is to link women leaders together, offering support, strength, encouragement and companionship as we journey together. Guest speakers are invited to share their leadership experiences at Sustain meetings in Auckland and Christchurch, held four times a year.
About our Speaker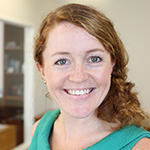 Aimee Mai is CEO of Christians Against Poverty. She is passionate about living a life of purpose not comfort. Inspired by the person of Jesus and her belief that everyone has value – not based on our place in the world, how much money we make, our education, our background or who we know – she gave up her career almost 10 years ago to work in a 'for purpose' organisation that had just started in New Zealand. An organisation that believes in offering the very best service to those with the least here in Aotearoa. After serving in a number of roles, Aimee became CEO in 2013. Under her leadership, CAP has experienced rapid growth and expansion throughout New Zealand. Today, Aimee counts it a privilege to partner with churches all over Aotearoa to serve those who are struggling in our nation through providing practical help and sharing the transforming love of Jesus. Aimee grew up with her three sisters on a dairy farm just outside of Gisborne. She now lives in South Auckland with her husband Ben.
Any woman involved in a leadership role, or heading that way, is most welcome to join us.
Please contact Linda Flett at lflett@laidlaw.ac.nz for more information.
| | |
| --- | --- |
| Where | Henderson Campus |
| When | 7:30pm - 9:00pm |
| Cost | $10 koha or $5 student (payable at door) |
| RSVP | RSVP to engage@laidlaw.ac.nz |