Sustain Meeting (Auckland)

Free Speech v Hate Speech
A Conversation with Professor Paul Moon
The debate around hate speech and freedom of expression has reignited in recent times. The Christchurch mosque attacks and a tweet by rugby league star Israel Folau have seen a polarity of opinion on the freedom of speech in the media and across social media platforms.
How do we as people in leadership respond to this debate? How do we balance the tension between curbing extremism and hate, with freedom to express and debate?
We have invited Professor Paul Moon to talk on this topic at our next Sustain meeting on Wednesday 7 August. This talk is open to both women and men.
About our Speaker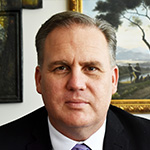 Professor Paul Moon is Head of the History Department at Auckland University of Technology and is the author of several acclaimed books on aspects of New Zealand history.
He has a bachelor's degree in History and Political Studies, a Master of Arts with first-class honours, a Master of Philosophy with distinction, and a Doctor of Philosophy. He was elected a Fellow of the Royal Historical Society in University College, London, and specialises in the philosophies of British colonisation during the eighteenth and nineteenth centuries. He is currently writing a major biography of James Busby, the British Resident to New Zealand in the 1830s.
About Sustain
Sustain is a network of Christian women leaders. Our aim is to link women leaders together, offering support, strength, encouragement and companionship as we journey together. Guest speakers are invited to share their leadership experiences at Sustain meetings, held four times a year.
For more information contact Linda Flett, [email protected]