A Conversation on Leadership with Maree O'Brien

Sustain is a network of Christian women leaders. Our aim is to link women leaders together, offering support, strength, encouragement and companionship as we journey together. Guest speakers are invited to share their leadership experiences at Sustain meetings in Auckland and Christchurch, held four times a year.
About our Speaker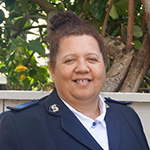 Maree O'Brien and her husband Andrew serve together as Officers in Charge of the Manukau Central Corps of the Salvation Army. A love for sharing life with people has been a core value of their married life and they have discipled many young people in their home over the years. Since 2017 they have found themselves doing this on a larger scale amongst the community in Manukau. Maree was initially hesitant to take the step into church leadership, happy for her husband to be "the minister".
Come and hear Maree talk about her journey into leadership.
For more information contact Linda Flett, [email protected]