Conversation on Leadership with Kate Schwass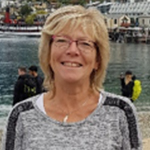 Sustain is a network of Christian women in leadership. Our aim is to link women leaders together, offering support, strength, encouragement and companionship as we journey together. Guest speakers are invited to share their leadership experiences at Sustain meetings in Auckland and Christchurch, held four times a year.
Kate is married to Michael and they have four adult children and ten grandchildren with number 11on the way! She has lived in Christchurch for the last 38 years. For most of that time she has worshipped at Hope Presbyterian church and was on staff, leading Women's Ministry and serving as a Worship Leader, along with a few other jobs. Kate has been in Ministry and Leadership for about 30 years. In 2002 she went to Laidlaw College to do her Diploma in Ministry, which she loved. Kate has her own business enabling personal development through Strengthsfinder coaching, supervision, leadership and workplace support. She notes, "It is such a privilege to work with a diverse group of people helping them to be more self-aware and to bring encouragement and resources into businesses, not for profit, schools and universities."
Any woman involved in any leadership role is most welcome.
Please contact Gill Pawson at chch@laidlaw.ac.nz for more information.
| | |
| --- | --- |
| Where | Christchurch Campus |
| When | 7:30pm - 9:00pm |
| Cost | FREE & open to the public |
| RSVP | RSVP to chch@laidlaw.ac.nz |