Leadership in the midst of the aftermath of the Christchurch mosques attack
A Conversation on Leadership with Carolyn Kelly

Our speaker, Rev Dr Carolyn Kelly, was involved in reaching out to Muslim students after the tragic events of 15 March. We have invited her to come along and explore with us these questions:
how do we show hospitality to others from different backgrounds and faiths without compromising what is core to our faith?
how, as Christian leaders, do we guide others towards this end?
How do we lead well in response to contemporary issues around faith, religion, ethnicity and gender
About our Speaker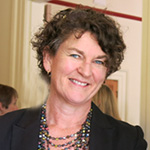 Carolyn is lead Chaplain at the University of Auckland, working with a team of chaplains to engage with the large, diverse community of staff and students. She is an ordained Presbyterian minister, with a background in theology and the arts, teaching, parenting and ministry, here and overseas. She currently lives in Central Auckland.
About Sustain
Sustain is a network of Christian women leaders. Our aim is to link women leaders together, offering support, strength, encouragement and companionship as we journey together. Guest speakers are invited to share their leadership experiences at Sustain meetings in Auckland and Christchurch, held four times a year.
For more information contact Linda Flett, [email protected]