17 December 2014
2014 Graduation Celebrations
Christchurch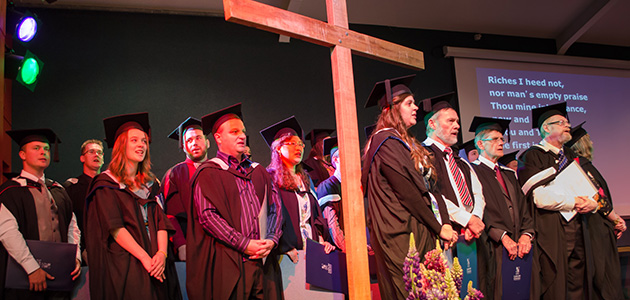 On Friday night 5 December, 40 students graduated from the Christchurch campus (7 in absentia). It was an historic occasion as three of those graduating were the first to attain a Bachelor of Counselling through the Christchurch campus. It was fitting that the guest speaker was Lex McMillan, Head of the School of Counselling.
Another first was the receiving of The Arnold Turner Scholarship Award by a 2nd year student, Toupili Pamatangi. This was the first time a Christchurch student has received this scholarship, which is awarded to a student transitioning to their third year. The award acknowledges Toupili as a top performer who has shown academic excellence and overall performance and contribution to the Laidlaw community.
---
Auckland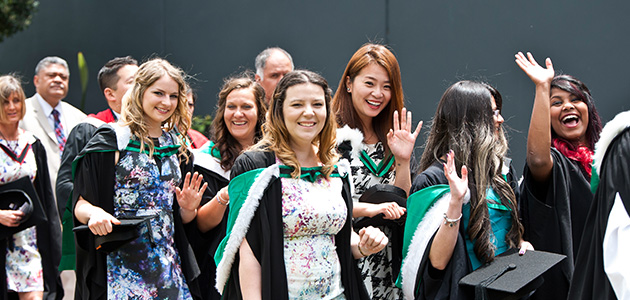 The news reports on Saturday 6 December focussed on the traffic snarl up on Auckland's motorways after an accident on the Harbour Bridge. Meanwhile, out West, a far more significant occasion was taking place as 109 students crossed the stage to receive their certificates, diplomas and degrees. Some graduates and guests a little out of breath thanks to the traffic chaos. In total 147 students graduated in Auckland (38 in absentia).
The graduates and staff in academic dress, those wearing national costumes, the flowers, and leis provided the event with colour. Sound came from the conch shell blown as the graduands processed in, the waiata sung by a local intermediate school, the congregational singing, and the cheers and occasional haka breaking out as students received their awards.
Dr Ian Payne addressed the 1,000 or so people gathered. Ian was a BCNZ student in 1982 before heading off to do more advanced studies. Formerly Principal of Pathways Bible and Mission College in Auckland, Ian has served as Principal of the South Asia Institute of Advanced Christian Studies (SAIACS) in Bangalore, India since 2008, a college founded by a graduate of this College.
We also celebrated the granting of Master of Theology degrees to alumni of this College: Ian Waddington (1995), Rosina Cornelissen (2007), Stephen Gerbault (2007), Phil Harvey (2008), Siew Gaik Lim (2009), and Christine Welten (nee Batchelar, (2011).
These ceremonies are the climax of our College year and were great occasions to celebrate. We warmly congratulate all our new graduates on their achievements and pray God's blessing on them as they head off to represent God in the world in churches and schools, as counsellors and pastors, teachers and leaders in whatever sphere of influence they serve in.
---
Auckland Graduation Ceremony Video