07 December 2014
A week's visit, a life-long partnership
by Dr Rod Thompson
25 October - 1 November 2014 was an exciting week full of conferences, seminars, meetings and lots of meals … with students and visitors from Ghana, the Philippines, Russia, Indonesia, Mongolia, China and the USA. All of this took place in Seoul, South Korea, where I was hosted at the Presbyterian University and Theological Seminary (PUTS), by Rev. Kyoung Gyun Han, the Asian Ministries Coordinator of the Presbyterian Church of Aotearoa New Zealand. It was a wonderful trip for me, my first to Korea, during which I signed a Memorandum of Understanding (MOU) on behalf of Laidlaw College with Dr Myung Yong Kim, the President of PUTS.
Our two Colleges share so much in common: a commitment to mission, a desire to see students and scholars shaped by the Gospel of Jesus Christ, a recognition that international educational partnerships are crucial in the current era, and an intent to share our resources in ways that enhance our mission and the lives of our students and staff.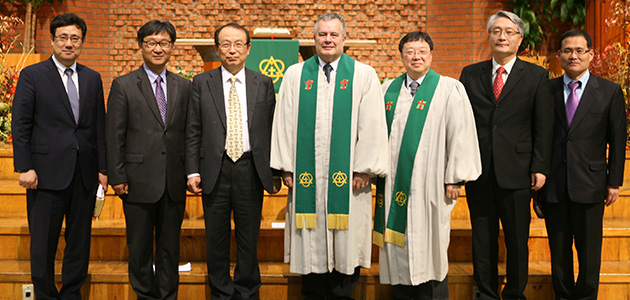 My impression was that the Korean church is focused, determined and seriously committed to playing a significant role in world mission. Devotion to prayer and study are part of that commitment. However, I also enjoyed the good humour and hospitality of my Korean hosts. I look forward to further opportunities to learn from Korean brothers and sisters about what God is doing in their beautiful country and, through them, across the nations of the world.