19 February 2014
Our Graduates: Laidlaw's rich heritage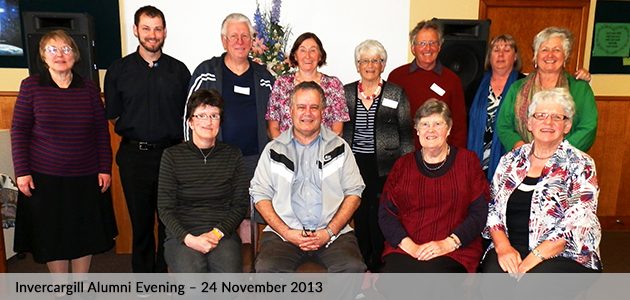 Rosanne Thompson reflects on the series of regional alumni conversation evenings that took place around New Zealand towards the end of last year.
"One of my favourite aspects of Rod's role as National Principal is the privilege of meeting amazing people so it was a real treat and joy to travel around this beautiful country in late November/early December 2013 to Invercargill, Dunedin, Nelson, Lower Hutt, Palmerston North, and yes, even Auckland meeting up with alumni and a few of our many faithful donors to the College.
Our main purpose was to enable alumni to have informal conversations with us, allow for an opportunity to hear from Rod sharing a vision for Laidlaw, ask questions, and be encouraged to keep journeying with Laidlaw and other alumni via current publications, Facebook, email updates for alumni, attending alumni gatherings, and by becoming a member of the College. Support from our alumni is vital to the ongoing task of equipping our students to be "compelled by the gospel" for and in all of life - at home, workplace environment, in the local neighbourhood or serving overseas.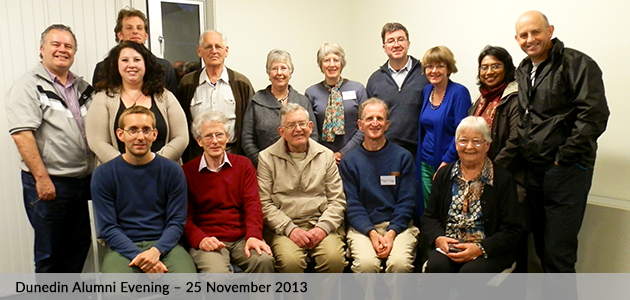 Hearing what alumni have done after studying at BTI/BCNZ/ Laidlaw absolutely inspired and humbled us. What a rich heritage and legacy to be thankful for. Many times as I listened to our alumni share a little of their life story I thought how I wished our current students could hear their stories. We were delighted by the turnouts at each gathering with about a dozen in Invercargill, Dunedin, Nelson, and Lower Hutt and over twenty in Auckland and Palmerston North. On each occasion there was a mix of ages from younger more recent alumni to our oldest Nelson attendee who was 87. It was lovely to hear the buzz of conversation as people met for the first time or caught up with people they knew. As each region is unique, so are the problems facing these areas so it was good for us to try and gain some understanding of local and regional issues. Despite cold weather in Invercargill and Dunedin, we felt warmly received. We were blessed by wonderful hospitality by all our hosts who also provided lovely suppers.
Rod and I intend making these visits a part of the annual calendar adding other regions to the itinerary. We felt this inaugural trip was extremely worthwhile and look forward to these gatherings and times of conversation in the future."

Two new regional alumni conversation evenings have been scheduled. One in Whangarei on Thursday 27 March and the other in Hamilton on Thursday 10 April. If you live in either of those areas we would love to catch up with you! Please see our website for more details and to register.