09 March 2014
Edition 15 of Encounter out now!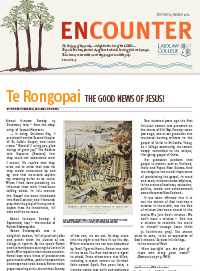 Edition 15 of Encounter – the missions edition – has just been released. Reflecting on missions (the task of sharing the good news of the gospel) both in New Zealand and overseas, it highlights resources available for the workplace missions context; explains what NZCMS is up to and profiles the work of Colleen Redit (graduate from 1964) in India. We hope you enjoy it!

Click here to read a digital copy.
If you would like to subscribe to Encounter, contact jmackie@laidlaw.ac.nz.