25 November 2014
Edition 17 of Encounter out now!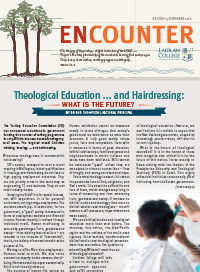 This edition is a must-read, exploring a rather pressing question: what is the future of theological education in New Zealand? Dr Rod Thompson discusses the implications of the Tertiary Education Commission's recent announcement to reduce government funding for a number of tertiary programmes in 2015, including theology and biblical studies. Two of our current students, and one of our graduates share why they chose to study theology and Dr Martin Sutherland leaves us with this challenging thought: "whatever its shape, the success of theological education will be gauged by one measure: does it strengthen the church for God's mission in a new day?"
Please click on this link to read a digital copy.
For further clarity around some changes that are being made to the current structure of Laidlaw College as a result of Government funding reductions in 2015, please see the letter below from Dr Rod Thompson.
If you have trouble opening any of these links or would like to subscribe to the paper version of Encounter, email jmackie@laidlaw.ac.nz with your postal address details.