10 June 2014
If you haven't subscribed to STIMULUS you're missing out!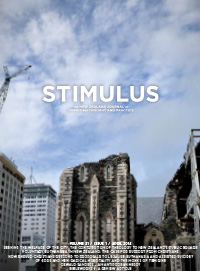 For those of you who haven't yet heard of STIMULUS: The New Zealand Journal of Christian Thought and Practice, or haven't yet had the pleasure of reading this stimulating publication (pun intended), we would like to introduce you the latest issue, and hopefully whet your appetite for more!

The April 2014 issue is, in the words of Tim Meadowcroft: "engaged, intentionally or otherwise, with that most fascinating of subjects: ourselves. It is a wondering about who we are as human animals on this planet at this time. But beyond that, it is a wondering at who we are as people of faith – indeed, people of a particular faith – who share our place with other humans."
With articles exploring the role of theology in the public square and the debate around voluntary euthanasia in New Zealand, to our relationship with science, history and our fellow human beings, you will not be left without food for thought. Our hope is that the set of writings in this issue will stimulate readers to ponder more deeply our humanity in the light of God, and allow this understanding to shape our interactions with those around us.
If you would like to get a taste of a few of these articles before purchasing a copy, or subscribing to Stimulus, you can read them here.
Laidlaw College publishes three issues of Stimulus a year, drawing from a wide variety of (peer reviewed) material from authors outside of Laidlaw College, as well as from our own faculty. Stimulus aims to be "… part of the gospel imperative to transform minds and put faith in God into practice", and the number of renewed subscriptions to Stimulus in 2014 so far, is testament to its ongoing success as a provider of provocative and challenging material for thoughtful readers.
If you like what you see, why not SUBSCRIBE TODAY!
If you have any enquiries, or would like more information, please contact the Editor of Stimulus, Philip Church on +64 9 836 8432 or email stimuluseditor@laidlaw.ac.nz