17 February 2014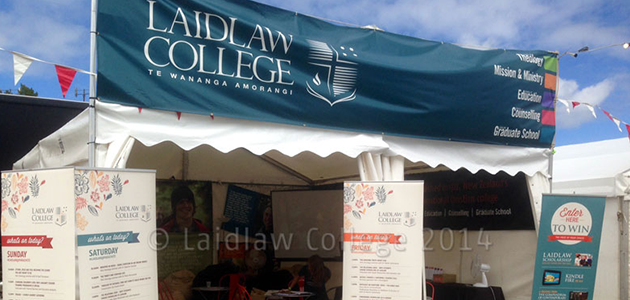 Over Auckland anniversary weekend at the end of January, over 20 Laidlaw College students and staff made their way to Mystery Creek to take part in the 2014 Parachute Music Festival.

The Laidlaw tent, complete with bean bags and a brave little sound system that courageously contended with the booming beats from the nearby Massive tent, functioned as a seminar space where Festival goers gathered to listen to a variety of seminars, study scripture or engage in theological debate.
We had lots of great conversations throughout the weekend and enjoyed meeting all those who stopped in to say hello and find out what Laidlaw College has to offer.
One of the highlights of the weekend was giving away a 50% tuition scholarship for study in 2014. This prize was won by Steve Fawcett, and has enabled him to enrol in a Bachelor of Theology programme through Laidlaw's Centre for Distance Learning.
We'll be back at Parachute next year with more great content. Hope to see you there!