30 June 2014
Latest edition of Encounter out now!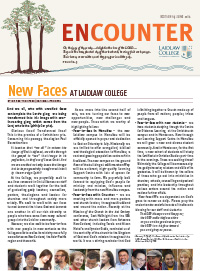 Edition 16 of Encounter has just been released. Exploring Laidlaw's commitment to intercultural ministry - coming face to face with new students, a new campus and more churches around Aotearoa - this edition should leave you inspired about the future of the Church in our nation. Meet Sefa Lafaiali'i, find out about our new Learning Support Centre in Manukau and hear from three of our lecturers as they share their hopes for Laidlaw students. We hope you enjoy it!
Click here to read the digital version.
If you would like to subscribe to Encounter, please contact jmackie@laidlaw.ac.nz