14 July 2014
Manukau Campus – about to come alive
Unperturbed by high winds, driving rain and a very early start time, around 25 people gathered at 5.30 am on Saturday morning (12 July) for a pre-dawn service to commit Laidlaw College's new campus in Manukau to God for the working of his purposes, and to seek God's blessing on all who study and work there.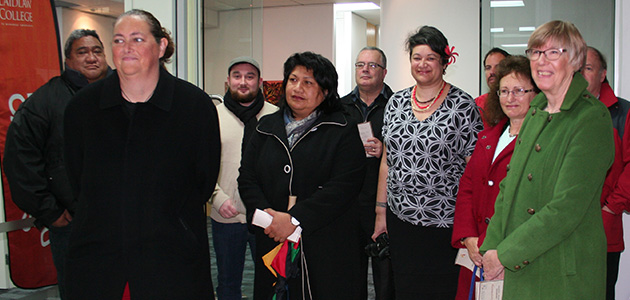 Then, at the more sociable hour of 9 am, a Powhiri led by Laidlaw College's Rununga (Maori Council) was held to formally open the new Campus which, for many in the room, was a fulfilment of a long-held dream to see Laidlaw College establish a presence in the heart of Pasifika and Maori communities in South Auckland. About 80 people attended this gathering, entering in through glass doors illustrating the land and sea of the Manukau Heads (a design created especially for Laidlaw Manukau by CCL Communications). The Powhiri concluded with a spectacular morning tea, and with that, Laidlaw College's Learning Support Centre in Manukau was declaredofficially open, and a new chapter in the life of Laidlaw College was begun.
Congratulations to Sefa Lafaiali'i (Campus Developer), John Blaiklock (Building Contractor) and his team and the Manukau Campus Steering Committee at Laidlaw College for responding to a great idea and, within six months, turning it into a wonderful resource for the people of South Auckland. Along with them we pray, as the Psalmist did, "Let the favour of the Lord our God be upon us, and establish the work of our hands upon us; yes, establish the work of our hands!" (Psalm 90:17)
The desks have arrived, signs are going up on the doors, books are being stacked on the shelves, and offices are being moved into. Registration and orientation will take place on Thursday 17 July with classes starting the following week. The campus is about to burst into life.