16 September 2014
Taste of the World: A celebration of cultural unity and diversity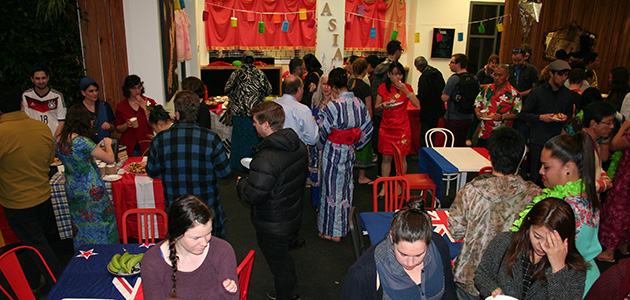 On Monday 8 September, the atrium at Laidlaw College's Henderson campus was transformed as it was filled with colour, decorations, food, cultural dress and lots of people! "Taste of the World", grew out of the Laidlaw Student Leaders' desire to celebrate the richness and diversity of God's people, as well as our unity in Christ. This was reflected in the vast array of different foods, performances and the opportunity to explore different mission opportunities.
Everybody enjoyed tasting samples of traditional food from around the world, talking to mission representatives from Mission Aviation Fellowship (MAF) and New Zealand Church Missionary Society (NZCMS), as well as watching and participating in cultural performances.
We enjoyed a range of dances from Samaon, Tongan, Niuean and Hawaiian groups, some beautiful Japanese poems, and then finished the night off with a lively rendition of "If it weren't for your gumboots."
It was a great night enjoyed by all. A big thanks to everybody who made it all happen!
Student Leaders