24 August 2014
Te Timatanga mai Te Mutunga.
Jeremiah 29:11
For I know the plans I have for you, says the Lord, plans for welfare and not for evil, to give you a future and a hope. (RSV).
Heremaia 29:11
Kei te mohio hoki ahau, ki nga whakaaro e whakaaro nei ahau ki a koutou, e ai ta Ihowa, he whakaaro mo te rongo mau, ehara mo te kino, kia hoatu te tumanako ki a koutou i o koutou ra whakamutunga.
August the 1st, 2014 saw the launch of "Maori Christianity", the first course in a new Indigenous Theology programme being offered under the auspices of the School of Theology, Mission and Ministry at Laidlaw College's Henderson campus in West Auckland. Those staff and students from Laidlaw College, who are involved with the Indigenous Theology programme, along with Members of the Laidlaw College Maori Advisory Council (Te Runanga O Te Whare Wananga Amorangi – hereafter Runanga), all gathered at the Te Puna Marae, Epsom Campus of Education, Auckland University for the whakaeke (welcome ceremony).
Impetus for this programme commenced almost twenty years ago, when the then Runanga Members had a vision of establishing and developing cultural courses and programmes between the Runanga and the then Bible College of New Zealand academic staff. The first programme to be established and developed was Te Ara Ki Te Ahurewa Tapu (TAKTA). This programme commenced as a Certificate in Biblical Studies with a view to staircase into a Diploma or to a Degree. The fundamental difference within the TAKTA framework was that it would be delivered mostly by Maori Christians, into a majority of Maori Christian Communities, with an emphasis on worldviews, New Zealand Church History, Treaty of Waitangi and Biblical studies.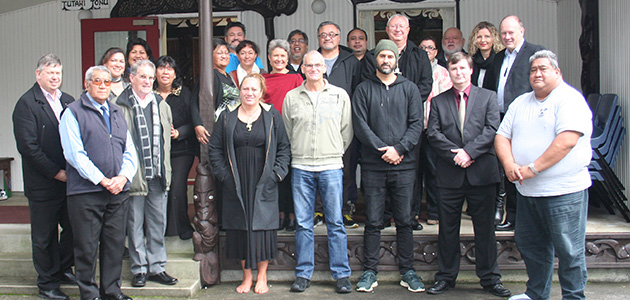 Sadly some of those founding Runanga Members from twenty years ago have passed away and for some of them they did not have the privilege of seeing their dreams come to fruition. Some did however see the start of the TAKTA programme, along with being able to attend some of those graduation ceremonies.
Runanga Members past and present, continue to hold the vision of establishing and developing cultural courses and programmes. This was further promulgated with the holding of a number of Hui / Conferences in 2013. The first of these conferences was titled, Making Peace in May 2013, followed by Raranga (The weaving of Christ and Culture), held in July 2013.
At the Raranga Hui, Dr Terry Le Blanc was the keynote speaker. Dr LeBlanc's areas of specialisation include Intercultural Studies, Mission, Theology and World Religions. Dr LeBlanc is Mi'Kmaq – Acadian, from North America, and holds the position of CEO and Director of My People International and NAIITS, (North American Institute for Indigenous Theological Studies). Salient comments from his July 2013 presentation were his encouragement of other theological institutions to establish and develop Indigenous Theological courses and programmes. Runanga certainly saw this as an extension of the original vision that was laid down by the founding Runanga members.
Discussions continued between the Runanga and the National Principal / CEO of Laidlaw College, Dr Rod Thompson, with a particular focus of staircasing from degree level, to a Masters' programme. Issues surrounding course content, timetabling, staffing, students, funding and Marae and classroom availability, were just some of the topics that needed ongoing discussions. We were some seven to eight months down the track when we were able to have another timely meeting with Dr LeBlanc. At that juncture he met with College Executive and staff from the School of Theology, Mission and Ministry (TMM). Last but not least Dr Le Blanc was able to meet with Maori from the wider Christian community and some staff from Laidlaw College.
Runanga held their bi-monthly Hui and the Chairperson was able to give an update regarding some of the outcomes from Dr Le Blanc's visit. It was suggested that we would need at least 10 students to make it financially viable. It was also further suggested that the courses be held on a monthly basis, commencing Friday and concluding on a Saturday late afternoon. Draft course outlines were developed by Dr Stephen Garner (HoS – TMM). These were sent to potential students who were given a four to six week timeframe to register their interest. Within five weeks we had 28 people who had registered their interest to do the Level 7 Maori Christianity course as part of the Graduate Diploma in Theology.
With the commencement one week away, administrative matters had to be finalised as soon as possible. The final numbers were taking shape with a possible 18 students commencing the Indigenous Theology programme. On 1 August, 15 students attended their first class, with Dr Moeawa Callaghan as the principal lecturer for the programme, assisted by Dr Rangi Nicholson as the guest lecturer for the two day classes.
The whakaeke (welcome ceremony) / launch on 1 August proved to be an absolute delight and honour for those long serving as well as the recent Runanga Members witnessing yet another beginning of an end, and as the prophet Jeremiah so aptly put it: to give you a future and a hope.
Naku na
Matt Hakiaha
Chairperson, Runanga