14 December 2015
The latest Encounter is out!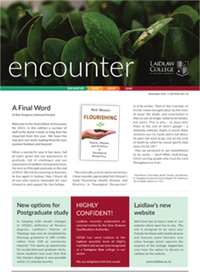 Welcome to the final edition of Encounter for 2015. In this edition a number of staff write about a book or blog that has impacted them this year. We hope this may give you some reading ideas for your summer holidays and beyond!
Click here to read a digital copy.
If you have trouble opening any of these links or would like to subscribe to the paper version of Encounter, email jmackie@laidlaw.ac.nz with your postal address details.