20 March 2015
Meet our Henderson Campus Student Presidents
NEHEMIAH TAGALOA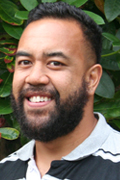 Miah was living comfortably in the world of finance and insurance when the call to train as a teacher became too loud to ignore. He was involved in his church's children's ministry and doing volunteer mentoring with troubled youth through the Avondale Police. At the same time he was loving the money and the lifestyle, but the calling got louder. When he was younger he had always thought he'd either become a teacher or a Police officer. The door closed on joining the Police when he was diagnosed with arthritis at 24. He was encouraged to apply to Laidlaw by a friend of his who had graduated with a Laidlaw teaching degree.
Now into his second year of a Bachelor of Teaching degree, Miah's enjoying the learning experience and feels in his element when out on teaching practicum. His dream is not simply to teach children but to connect with their parents and instil in them the importance of education.
In his role as Student President Miah enjoys connecting with other students and encouraging them.
Miah is married to Claire and they have a 2 year old son Levi. In his spare time he's the man at watching sport – give him a remote and a chair and he's happy!
JESSICA SCHWERZEL
Jess is in her second year of a Bachelor of Teaching degree. She has always wanted to be a teacher. She had good teachers who saw her potential and pushed her to reach new heights and she has that same passion to see children learn and grow. Years of involvement in children's church and kids' camps solidified that desire. The main question was where she should do her training. She was intending to go to Auckland University with her friends but her mother encouraged her to come to an open night at Laidlaw. By the end of that night they were both definitely sure that Laidlaw was the place for Jess. She's a people person and felt this would be a place where she could really connect with both lecturers and students.
Leadership roles have tended to come Jess' way at both church and school where she was sports captain, so it's no surprise that she has ended up as Student President. She has a big heart for Laidlaw and its vision and loves people and community. She wants to help ensure students feel supported, and are able to grow, be encouraged, inspired and challenged through others here.
Leading alongside Jess and Miah this year, we have 7 other fun-loving, committed student leaders on our Henderson Campus, supported by Jenny Mackie and Rod Thompson.