16 December 2016
Latest edition of Encounter is out!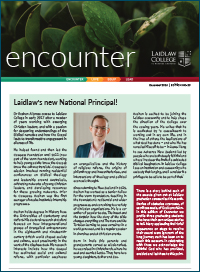 Our latest edition of Laidlaw's Encounter newsletter is now out.
In this edition we introduce you to our new National Principal. We also profile three students who recently graduated – each with their own unique story to tell. A newly capped Master of Theology graduate also shares some of her reflections arising out of her fascinating thesis on the theme of salvation and the cognitively impaired.
Please click on this link to read a digital copy.
If you have trouble opening any of these links or would like to subscribe to the paper version of Encounter, email jmackie@laidlaw.ac.nz with your postal address details.