03 August 2016
Latest edition of Encounter is out!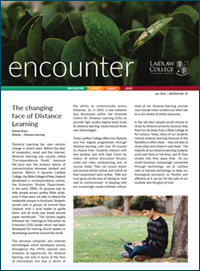 Our latest edition of Laidlaw's Encounter newsletter is now out.
In this edition we focus on Laidlaw's Distance Learning programme. Technological advancements have opened new windows of opportunity for distance learning. We profile two of our students studying by distance, a tutor who supports that study, and a truly inspiring reflection from a recent graduate.
Please click on this link to read a digital copy
If you have trouble opening any of these links or would like to subscribe to the paper version of Encounter, email jmackie@laidlaw.ac.nz with your postal address details.