04 April 2016
New Edition of Encounter is out!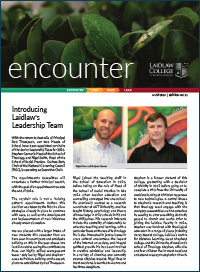 Welcome to the first edition of Laidlaw's Encounter newsletter for 2016.
In this edition we update you on a number of new developments taking place at Laidlaw, introduce one of the first graduates from our new Manukau campus, and offer a reflection on the tension we face between joy and suffering.
Please click on this link to read a digital copy.
If you have trouble opening any of these links or would like to subscribe to the paper version of Encounter, email jmackie@laidlaw.ac.nz with your postal address details.