02 May 2016
Laidlaw's Cruise Ship Chaplain!
It wasn't the usual term break for a Laidlaw lecturer! Putting the research books aside, Tim Meadowcroft spent nine days in April in the role of Chaplain on board P&O's Pacific Pearl round trip cruise from Auckland to Vanuatu. P&O ships have an Ecumenical and Catholic chaplain on board their cruises which fall around ANZAC Day, Easter and Christmas. A phone call from a fellow Anglican vicar, who was unable to take on the role this time, gave Tim a unique vacation experience!
Tim gave the address at the ANZAC Day dawn service, with hundreds of passengers lining the upper deck and crew decked out in their best whites. The usual format of a dawn service was followed - the only difference being the laying of the wreath. With no cenotaph on the ship, the wreath was placed over the side by four veterans on the cruise.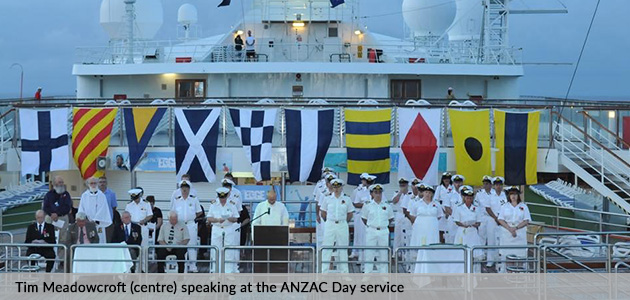 Conducting two other services were Tim's remaining two tasks – an ANZAC day service later that day, and a Sunday church service. Attendance at those two services didn't quite reach the heights of the dawn service!
The majority of the 1800 passengers were Kiwis, with Aussies coming in second. No prizes for guessing which anthem was sung the loudest. It was an enjoyable experience, with wife, Sue, able to come along too. And would he do it again? He's happy to be asked!