04 September 2017
Edition 25 of Encounter out now!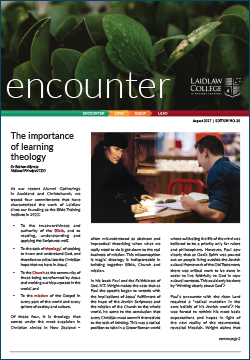 The latest edition of Laidlaw's Encounter newsletter has just been released.
Theology can come under suspicion in Christian circles – often misunderstood as abstract and impractical theorising when what we really need to do is get down to the real business of mission. In this edition of Encounter we look at the importance of learning theology, including a graduate's personal story and a new initiative underway with members of a local church.
Please click on this link to read a digital copy.
If you have trouble opening any of these links or would like to subscribe to the paper version of Encounter, email jmackie@laidlaw.ac.nz with your postal address details.