29 November 2017
Latest edition of Encounter is out!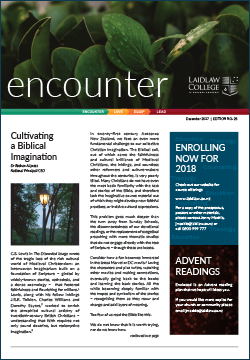 Our latest edition of Laidlaw's Encounter newsletter is now out.
In this edition National Principal Dr Roshan Allpress invites us to cultivate a Biblical imagination as we open the Scriptures. A couple of Laidlaw lecturers write of their own experiences of reading the Bible devotionally, and we recommend some books for those who would like to foster some spiritual practices when reading Scripture.
Please click on this link to read a digital copy of the Encounter newsletter.
If you have trouble opening any of these links or would like to subscribe to the paper version of Encounter, email jmackie@laidlaw.ac.nz with your postal address details.
You can also download an Advent Reading plan which we hope will bless you. If you would like to receive copies of the reading plan for yourself or for your church, please email Jenny Mackie, jmackie@laidlaw.ac.nz, with your address and number of copies.
Please click on this link to download a copy of the Advent Reading guide.

As we look to Christmas, we wish you a refreshing break, an enjoyable time with loved ones, and pray that you will be reminded afresh of God's great love for you.