26 April 2018
Latest edition of Encounter is out!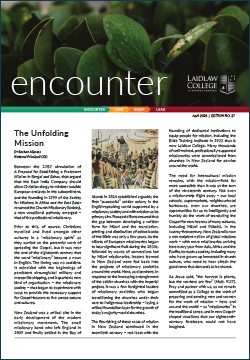 Our latest edition of Laidlaw's Encounter newsletter is now out.
In this edition we look at the changing face of mission, tracing the historical roots of mission to the current realities of migration making mission "here, there and everywhere". We take a look at the contribution to mission among Māori in Aotearoa New Zealand by one of this College's graduates, and read of a current student's experience of her teaching practicum in Nepal. With the College's Intercultural Church conference coming up in May, we also reflect on why God calls us to be an intercultural church.
Please click on this link to read a digital copy of the Encounter newsletter.
If you have trouble opening any of these links or would like to subscribe to the paper version of Encounter, email jmackie@laidlaw.ac.nz with your postal address details.