16 January 2018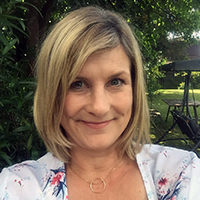 Can I do this? Am I academic enough to achieve a degree? Will my family suffer? These questions swirled around Karoline Marshall's mind as she considered taking on study for a degree in counselling. Originally trained as a hairdresser, Karoline left that field 10 years later when she had her first child. She was still home-schooling the youngest two of her three children. She had always had people come to talk to her. Even when hairdressing it had been more about the connection with people than the job. She had done a lot of pastoral work within her church, Equippers, and knew she had a gifting in this area. Now she felt God challenging her that it was time to formalise this skill into a qualification that would give her credibility in the workplace.
Feeling strongly that this was the right thing to do, Karoline's thoughts then turned to where to study. She knew she wanted a Christian-based programme. She didn't want to laboriously filter everything secular through a Biblical worldview. Studying by distance at another institution was her initial choice but when it came to filling out the application form, she felt that style of learning would be isolating. She wanted community and classmates, and so chose to study at Laidlaw. She spread her study over six years in order to keep up her home schooling commitments. Mid-way through her studies she took a semester off to nurse her mother through the final stages of cancer.
She enjoyed the study and discovered she had more practical knowledge than she'd realised. She loved the calibre of the lecturers, and the way they modelled what they taught. Her placements were at an intermediate school and at Mercy Hospice where she had nursed her mother in her last months of life. It was during that placement that bereavement work became a real passion of hers. She was offered an extension on her placement to a second year, and then a contract for paid work followed.
Her contract with Mercy Hospice involves supporting those undergoing the Manaaki programme – a 12 week programme offering care and support to patients, and friends and whanau caring for someone with a terminal illness. Speakers each week cover topics ranging from managing nausea through to funeral planning. Karoline is there as the emotional anchor, ensuring participants get the support they need.
And as for those fears voiced before she took up study? Karoline not only completed her Bachelor of Counselling in 2017, but passed with great grades. Her children graduated while she studied. She's discovered a passion to work with the terminally ill and those facing bereavement. While she pursues that as a long-term goal, this year she'll be back on Laidlaw's Henderson campus, working as a group facilitator for first year Counselling students, and volunteering at Laidlaw's partner college, Equippers College, as a student counsellor. She's thankful that she didn't let those fears hold sway and took the plunge into study. With her God-given abilities and training, new and fulfilling challenges await!