05 June 2018
Semester Two Postgraduate Courses at Laidlaw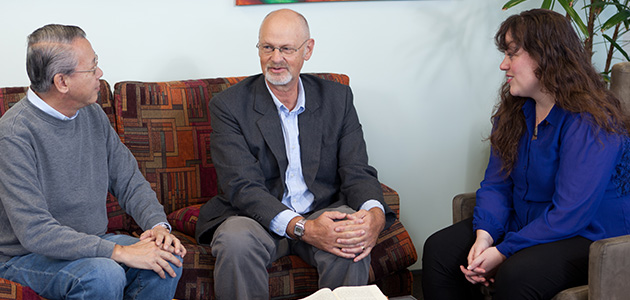 Laidlaw College is offering a number of postgraduate courses in Semester Two.
The courses below may be taken for credit as part of a postgraduate programme or as a standalone course for credit as a Certificate of Proficiency course. There will be spaces in each of these courses for a limited number of non-formal enrolments.
Please complete your Semester Two enrolment using the Course Selection form by Friday 29 June.
For further information about postgraduate programmes and courses at Laidlaw College, please contact the Laidlaw Graduate School Administrator, Dr Moeawa Callaghan (mcallaghan@laidlaw.ac.nz), or visit the Laidlaw Graduate School page on our website.
---
R128.830 ISSUES IN HEBREW WISDOM
Dr Tremper Longman III (Westmont College) and Dr Tim Meadowcroft (Laidlaw College)
Block 1: 6-10 August
Block 2: 10-14 September
Henderson Campus
In the Biblical Studies area we are extremely privileged to have Dr Tremper Longman III co-teaching with Dr Tim Meadowcroft in the Hebrew Wisdom course. Dr Longman brings vast experience in Old Testament studies and, in particular, the area of Psalms and Wisdom literature. If you have studied undergraduate Old Testament studies at Laidlaw, then you will have probably read commentaries, books and articles as part of those courses, and Dr Longman also brings expertise in the area of Biblical Studies in dialogue with the Pastoral Studies expressed in everyday Christian life and faith. This course addresses a range of key issues in connection with the concept of wisdom in the Old Testament and its place in Israelite society with connections to Christian life and faith today. This is an outstanding opportunity to learn from one of the world's leading Old Testament scholars.
You can find out more about lecturers at the links below:
---
R202.830 GOD'S WORLD: THEOLOGY AND SCIENCE IN CONVERSATION
Dr Greg Liston (Laidlaw College) & Dr Graham O'Brien (Bishopdale College)
Block 1: 3-4 August
Block 2: 17-21 September
Henderson Campus
In the area of Theology and Christian Thought Dr Greg Liston and Dr Graham O'Brien will be leading an exploration of the relationship between science and theology. This is a course that will assist you to think faithfully and constructively about how these two areas intersect and inform each other. This course is a conversation between theology and science, with topics including: creation and cosmology; evolution; being human; the nature of science and theology interaction; and the ethical implications for theological and scientific beliefs in dialogue. Dr Greg Liston is a lecturer in Theology at Laidlaw College, and is an experienced Baptist pastor who holds doctorates in both Quantum Physics (Auckland) and Theology (AUT). Rev Dr Graham O'Brien teaches theology and ministry at Bishopdale Theological College, is an Anglican minister and holds a doctorate in Cellular and Molecular Biology (Canterbury) and a Masters in Theology (Laidlaw). Both are passionate about the gospel, Scripture, science, and faithfully exploring the universe we live in.
You can find out more about the lecturers at the links below.
---
R304.830 THE GOSPEL AND SOCIAL REFORM: ENTREPRENEURS, EVANGELICALS, AND PHILANTHROPISTS
Dr Roshan Allpress (Laidlaw College)
Directed reading with tutorials (Henderson Campus)
In this directed reading course, Dr Roshan Allpress will assist you in exploring the question of what it means to say that the Gospel transforms societies, cultures, and people. This course will aid you in thinking about how Evangelical Christians have engaged in reforming society and culture in the past, and how that tradition might continue in the present. Dr Allpress, the Laidlaw National Principal/CEO, brings a wealth of experience in the areas of history, entrepreneurship, leadership, and philanthropy, and his own research focuses on how intergenerational groups of Evangelical entrepreneurs in the eighteenth and nineteenth century British world shaped society and culture, most prominently in the work of the Clapham Sect.
You can find out more about the course tutor, Roshan Allpress, at the link below:
---
R540.830 FOUNDATIONS IN VOCATIONAL THEOLOGY
Dr Roshan Allpress (Laidlaw College) with visiting speakers and lecturers
Scheduled evening seminars and Saturday workshops (Day of week TBA)
This course invites practitioners from a diverse range of vocations to critically reflect on the integration of faith and vocational practice. Engaging with theologically integrative frameworks, approaches and practices students are offered opportunities to reflect on their own vocational practices in relation to God and the world, to address key questions pertinent to their own vocation, and so faithfully enhance their own professional well-being and engagement. This course would also be useful for those who are involved in helping others discern their own vocational pathways and callings.
You can find out more about the course coordinator, Roshan Allpress, at the link below: