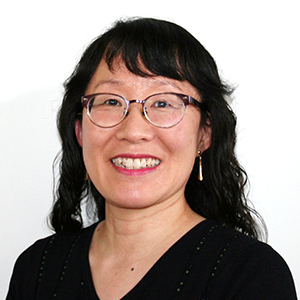 Dr Hyeeun Kim
Lecturer - Counselling
BA (Christian Education), ThM, MTheol, MEd (Counselling) (Hons), PhD
Hyeeun loves the thrill of being part of students' "ah-ha" moments when they grasp the delicate skills and concepts of counselling. She takes delight in facilitating students immerse into depth of counselling work, as she believes counselling as sacred, and counsellor-client relationships to be one of the most meaningful and profound relationships one can ever experience.
She feels privileged to be part of Laidlaw as she is encouraged to bring all of her experiences to the class - being a woman, wife, parent, migrant, youth worker, ordained minister, trauma counsellor, group facilitator, clinical supervisor and scholar.
Having gone through a number of degrees (an undergraduate, 3 Masters and a PhD) herself as a young woman, newly married, pregnant, mother, minister and full time counsellor, she appreciates students who are faced with demands of academic studies in different stages of life. She hopes to encourage students firmly believe in their vision, and to thrive while riding highs and lows of their academic journey.
Hyeeun's doctoral research was a study of 1.5 generation Kowis' (Korean-Kiwis') experiences as parents and the influences on their parenting, which was nominated for the Vice-Chancellor's Prize for Best Doctoral Thesis at the University of Auckland. She has published articles, and presented a number of different topics at conferences and workshops over the years. She is passionate about complexity of cross cultural issues, mental health and areas associated with counselling practice including multiple dimensions of counsellor-client relationships, counsellor's roles and ethics, counsellor education, clinical supervision, and the link between trauma, resilience and neuroscience of brain.
Outside of Laidlaw, Hyeeun has worked as a counsellor (MNZAC) and clinical supervisor in the area of mental health, addiction, palliative care and trauma for many years. As an adjunct lecturer, she teaches Pastoral Care and Christian Formation at Knox Centre for Ministry and Leadership, Dunedin. She is also a Presbyterian minister (PCANZ & PROK) - serving the national church occasionally.
Originally she came to New Zealand as a free-spirited international student from Korea, and is now happily married with 2 children. She takes pleasure in walking, reading, listening to classical music, journaling (conversation with God) and especially sharing laughter and humour with her quirky family while continually searching ways to compose life meaningful, stimulating and fun all at the same time.