Graduate Diploma in Theology
The Graduate Diploma in Theology (GradDipTh) is designed for those who already have an undergraduate qualification and brings vocational expertise and life experience into dialogue with critical reflection on the Christian faith. Students studying these programmes will deepen their theological understanding and discover connections between theology and the wider world, the church and missions contexts. Completion of the GradDipTh provides a potential springboard into postgraduate study. Graduates from these programmes have returned to their vocations, engaged in missions or community development work in local and global contexts, trained as teachers or moved into church leadership.
Students can study towards the GradDipTh on campus in Henderson and Christchurch or by Distance Learning. A selection of GradDipTh courses are available on-site at the Manukau campus; check the timetable. This programme also allows for a range of flexible learning options, including a combination of on campus and Distance Learning courses, as well as part-time study.
Click here for information about admissions requirements for the GradDipTh.
---
The GradDipTh caters for:
Graduates with a non-theological degree who wish to study for a theological qualification with special emphasis on areas of personal interest;
Graduates with qualifications in theology who wish to deepen their understanding of, and competence in, specific areas of ministry or theological study;
Those who, although without a degree qualification, have a proven background in experience and academic study deemed to be equivalent to a degree;
Those who have completed a degree in a non-theological area but who wish to bridge into postgraduate programmes in theology, such as the Master of Theology offered by the Laidlaw Graduate School.

---
Programme Summary
| | |
| --- | --- |
| LEVEL | 7, 120 credits |
| DURATION | One year full-time, part-time options available |
| STARTS | February & July |
| PLACES | Open |
| CAMPUS | Henderson, Christchurch, Distance Learning, some courses available at Manukau |
| TUITION FEE | $6,204 plus Student Services Fee (120 credits) |
Career Opportunities
Church leadership
Associate Pastor
Christian Writing
Intercultural ministries
Pastoral Ministry
Para-church Work
---
Objectives
The GradDipTh is designed to:
Extend a student's understanding and skills in theology through academic instruction
Establish a firm base for further study at postgraduate level
Develop the student's ability to access and utilise a body of knowledge in application to ministries-related situations
Facilitate rigorous analysis and independent thinking, together with sound communication skills
---
Programme Requirements
The GradDipTh is a one year full-time (or part-time equivalent) programme. It is made up of eight level 5, 6 and 7 courses of 15 credits each. For students in the GradDipTh programme, course pre-requisite and co-requisite regulations may be waived.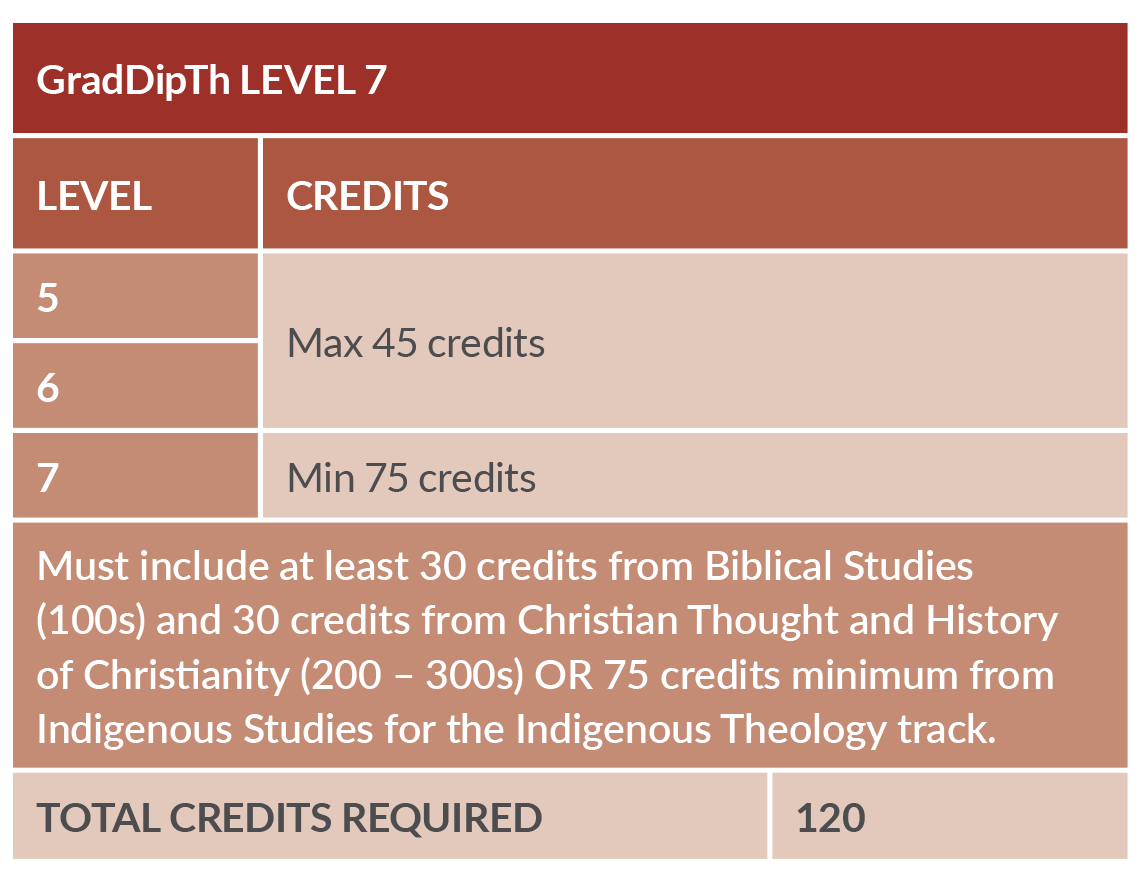 Elective courses are selected from the BMin and BTheol course schedule.
---
Indigenous Theology Track
The Indigenous Theology track is being refreshed for 2022. In 2021, current students in the Indigenous Theology track can study toward a Graduate Certificate in Theology (GradCertTh) or the Graduate Diploma in Theology (GradDipTh) and can be combined with courses from the general GradCertTh or GradDipTh. Some of the courses that make up this particular track may also be taken as part of a Laidlaw undergraduate degree. Options to take these courses for credit outside of a programme (Certificate of Proficiency) or non-formally are also available.
---
Timetables
Click on the relevant campus timetable to find out when the various courses are taking place.
If you would like to discuss your study options or become a "Student for a Day" please contact:
Fiona Sherwin: [email protected] or 09 837 9769 (for Henderson and Manukau)
Sharon Pihema: [email protected] or 09 837 9781 (for Indigenous Theology track)
Gill Pawson: [email protected] or 03 354 4270 (for Christchurch)
---