Feature Courses are an opportunity to study at your own pace in an area of your interest. These courses are an opportunity to take a few days out to stop, reflect, learn and grow. Whether you come by yourself, with a group of friends or colleagues we hope that you will be encouraged and strengthened in your faith.
Take a look at the offerings we have coming up for the year.


Undergraduate course cost is $200. As an interest only setup you will have access to course material, but will not receive credit.

If you would like to enrol in these courses for credit, please contact [email protected]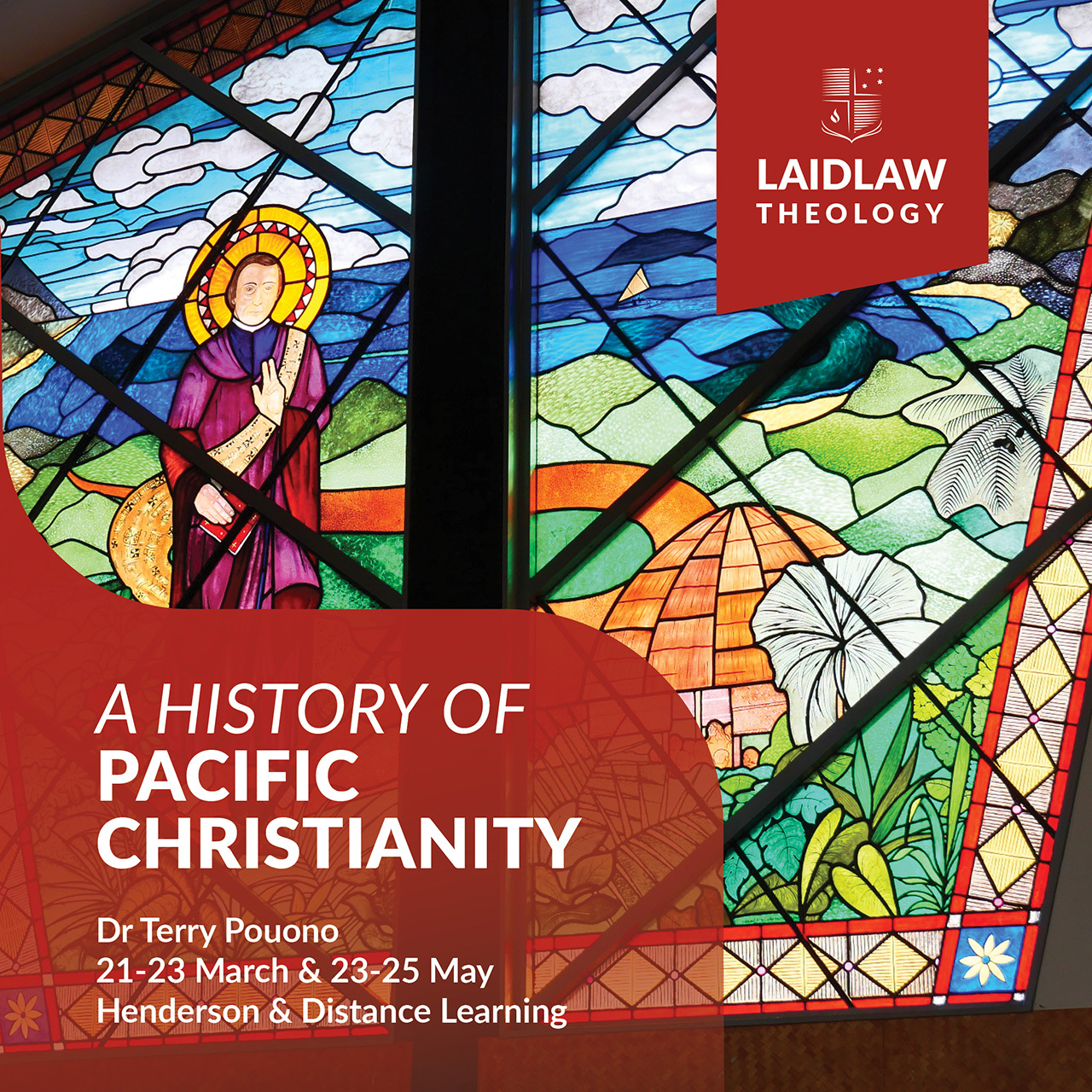 A History of Pacific Christianity
Dr Terry Pouono
21-23 March & 23-25 May | 9:30am-4:30pm
Henderson Campus & via Distance Learning
Embark on a captivating exploration of Christianity's voyage across the Pacific in the 18th and 19th centuries. Join us as we journey through the intriguing stories of how missionary societies influenced the spread of the Christian gospel. Unearth the untold role of newly converted Pacific Islanders in taking the gospel to unreached regions, creating a legacy that resonates even today. Learn why diaspora Pacific churches in New Zealand and Australia are pivotal in safeguarding the rich, authentic identities of diverse Pacific communities. This course is your gateway to understanding the profound impact of Pacific Christianity on contemporary Christian life, mission, and ministry. Join us and enrich your knowledge of your church's history!
---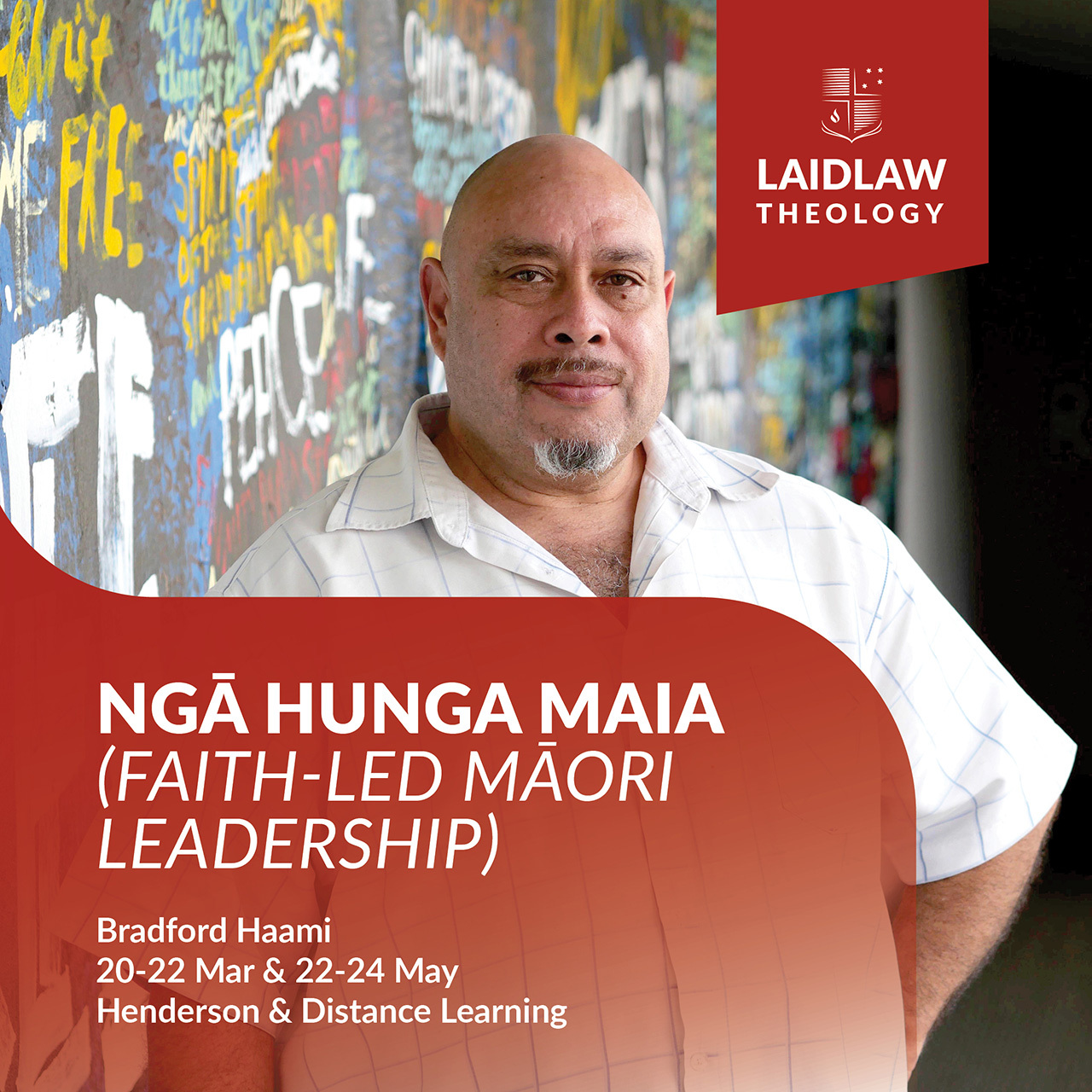 Ngā Hunga Maia (Faith-led Māori Leadership)
Bradford Haami
20-22 Mar & 22-24 May | 9:30am-4:30pm
Henderson Campus & via Distance Learning

Join us on a profound journey of exploration into the remarkable interplay between the Bible, the Gospel message, and the rich tapestry of Māori leadership. Uncover the extraordinary influence of early Māori Christian evangelists, who reshaped the landscape of traditional leadership roles. Journey with us into the present to witness the enduring legacy of Māori faith-led leadership in the transformative realms of iwi, hāpori, and hāhi. Don't miss the opportunity to be part of this enlightening hui. Join us as we unravel the intricate story of Māori leadership, faith, and the enduring power of the Gospel message.
---
Postgraduate course cost is $300. As an interest only setup you will have access to course material, but will not receive credit.

If you would like to enrol in these courses for credit, please contact [email protected]

Romans and the Mission of God
Rev. Dr Mark Known
29 March-3 May | 9:30am-4:30pm
Henderson Campus

Explore Paul's letter to the Romans from a missional perspective. After considering a missional hermeneutic and engaging with critical scholarship on Romans, the letter will be located socially and historically in the mission of God and that of the Apostle. Consider the genre and literary strategies of Romans in relation to the theme of "the gospel" and other themes. Paul's gospel behind and in the letter will be explored. Drawing on Romans, a range of missional themes will be investigated including the cosmic scope of mission and its completion, proclamation, the gospel as the power of salvation, missional agency, the miraculous, social justice, ecological mission, social transformation, patronage and hospitality, the sovereignty of God and human volition, prayer, the State, culture, Israel, theology, and apologetics.
---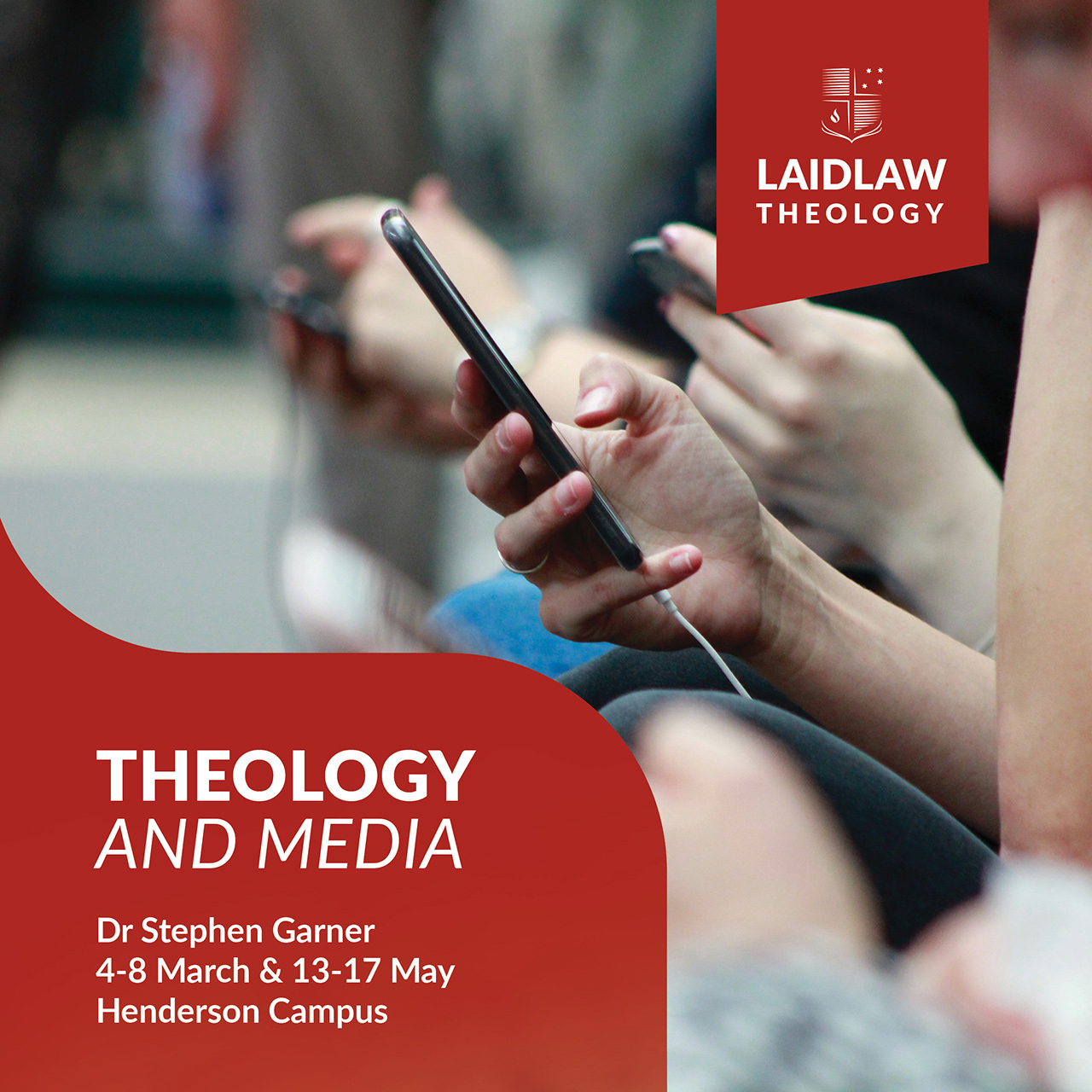 Theology and Media
Dr Stephen Garner
4-8 March & 13-17 May | 9:30am-12:30pm
Henderson Campus

Examine key areas of religious communication including the coverage of religion by mass media, how religious communities interact with the media, and how mass media shape perceptions of religion. Explore the interaction between Christianity and media in both local and global contexts.
---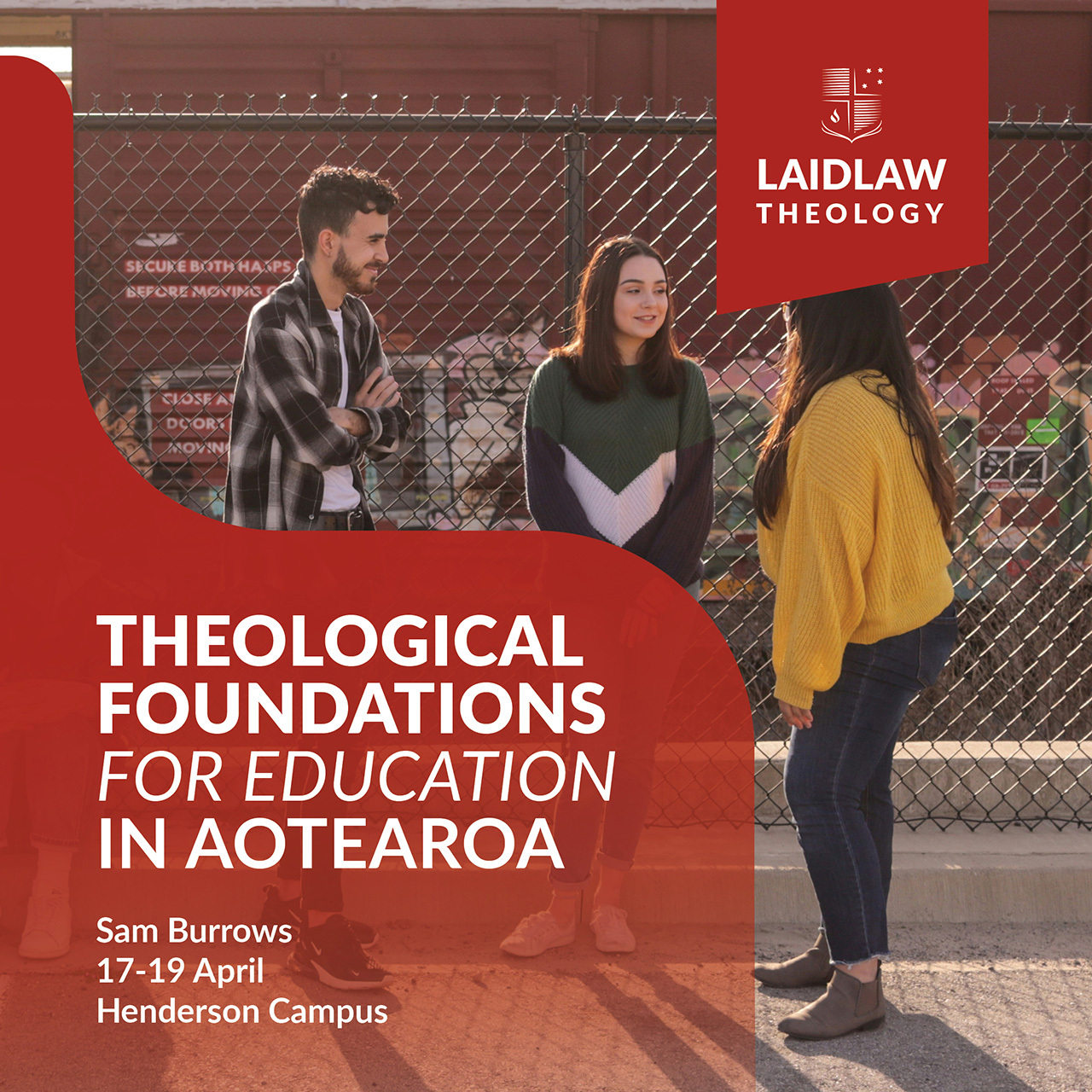 Theological Foundations for Education in Aotearoa
Sam Burrows
17-19 April | 9:30am-4:30pm
Henderson Campus

Are you in the teaching profession and looking for professional development opportunities? Engage in biblical theology and make links to the cultural landscapes in the educational context of Aotearoa. Take this opportunity to engage in discussion around Christian theology and how it relates to the vocation of teaching, Christian education, and this current cultural moment. The cultural influences and formation of Christian teachers and their spirituality will also be a focus of the course. 
---

---
---
Pasifika Theology (217.515)
Dr Terry Pouono
12-14 August & 14-16 Oct | 9:30am-4:30pm
Henderson Campus & via Distance Learning

Ignite your curiosity and delve into the intricate tapestry of Pasifika theology! Explore how theology takes shape in diverse Pasifika settings and why crucial contextual themes like communal worship, Christian service, reciprocity, and hospitality are the cornerstones of Christian witness in Pasifika churches. Uncover the essence of Pacific worldviews, where deep-rooted beliefs and practices shape Pacific ministries through biblical interpretation, theological reflection, and religious devotion. We'll also navigate the contemporary challenges faced by Pasifika churches in our globalised world, addressing the vital question of how to authentically embody the Christ-centered Gospel in a multifaceted society.
---
Ngā Hunga Hohourongo (The Gospel Peacemakers) (312.515)
Dr Samuel Carpenter
12-14 Aug & 14-16 Oct | 9:30am-4:30pm
Henderson Campus & via Distance Learning

Uncover the profound journey of Māori responses to the introduction of Te Rongopai—the Gospel—into Māori society. We'll traverse the intricate terrain where the Gospel's message intersects with the concepts of utu, war, and the sacred law of tapu. Witness the fascinating clash of traditions as the Gospel confronted the prevailing order, challenging established norms. This course offers a captivating overview of 'peace-oriented Christianity' and its transformative impact on Māori society, all through the prism of the Bible as a beacon of peace. Join us on this illuminating journey as we explore the dynamic interplay between faith, tradition, and the enduring pursuit of peace in Māori culture.
---
As We Forgive Others: Interpersonal Forgiveness in the Scripture (R115.830)
Dr Richard Neville
5-9 Aug & 14-18 Oct | 9:30am-4:30pm
Henderson Campus

An injury, once inflicted, can never be undone. And so forgiveness turns out to be the means of addressing the dilemma of the irreversible, and of remedying the contagion of revenge and ruined relationships. In this course we look at the history of forgiveness in the West, and at contemporary discussions of forgiveness. The heart of this course, however, will be a close reading of the biblical testimony on forgiveness. Remarkably Biblical Studies has not produced a comprehensive work on interpersonal forgiveness, making this an exciting journey into uncharted territory. We'll also look at the role of emotion in forgiveness, which has become an exciting area of research in disciplines as diverse as psychology and classics. This course provides insight into forgiveness, and the crucial role of emotion in the Christian life.
---
Theology and Science in Conversation (R202.830)
Dr Greg Liston
23-26 July & 17-20 Sept | 9am-5pm
Henderson Campus

Science and religion are often portrayed as being locked in a centuries old battle with each other. If God is the Lord of the heavens and the earth and all that's in it, then nothing should be further from the truth. This course is a conversation between theology and science, with topics including: creation and cosmology; evolution; being human; the nature of science and theology interaction; and the ethical implications for theological and scientific beliefs in dialogue.
---
Reflective Practice for Ministry (R508.830)
Rev. Dr Maja Whitaker
19-22 Aug, 23 Aug | 9:30am-4:30pm, 9am-12:30pm
Henderson Campus & via Distance Learning

The capacity to reflect on our experience is a key skill that enables us to develop as practitioners in any field of vocation, including Christian ministry. This course is for people who are active in ministry, in either churches or community organisations, who want to deepen their practice and flourish in ministry. You will learn to critically evaluate their ministry context, to develop practices of discernment and habits of mind that produce resilience over the long-term, and to understand what they bring to their ministry role from their own personality and as a participant in community. The course is delivered through a range of seminars, workshops, reflections and fieldwork activities, and all learning is grounded in your own ministry context. 
---
Advanced Preaching (R510.830)
Reuben Munn
26-30 Aug | 9:30am-4:30pm
Henderson Campus

Extend your preaching ability to proclaim Scripture effectively in a range of contexts to people of diverse ages and stages of life and faith. A variety of preaching forms will be examined. Explore how these can be contextualised both to the medium in which their preaching takes place (digital, in-person, hybrid) and to the cultural and situational context of their unique audience.