Laidlaw College has always been about forming leaders for Church and Society in Aotearoa – people who are committed to renewing their communities with the Gospel of Jesus Christ. Through postgraduate study, we are inviting people to go deeper in understanding God, His world and our mission in it, and to use what they learn for the benefit of the Church.
We are looking for people who have a calling to go further in what Paul calls "being transformed by the renewing of your mind", who are inspired by seeking truth in God's Scriptures and Creation, and who want to use the fruits of their study for the building up of the Church, the furtherance of the Gospel, and the renewal of their communities.
I love my study at Laidlaw. It enables me to think deeply about everything about God, life and faith, and it allows me to do that in a community of believers, of lecturers who are passionate about Jesus, about the bible, about the church and about God's mission.
Postgraduate Student

From 2023, Laidlaw College is offering in-depth training in this field, leading to a Postgraduate Certificate. Successful completion of the PGCertTh (Ministry Supervision) will assist graduates in meeting the supervisory needs of people in a range of ministries, as well as professionals in other helping vocations.
This part-time programme comprised of two successive courses, each 30 credits at level 8, is taught via lecture blocks at Laidlaw's Henderson campus, with course readings and assessments across the semester.
R512.830 Foundations of Ministry Supervision
(30 credits; Semester 1)
David Crawley & Karen Kemp
15 - 17 March 2023 | 9.30am - 4.30pm
31 May – 2 June 2023 | 9.30am-4.30pm
Henderson campus
Examine the nature and purpose of professional supervision, including its importance in people-related ministries. Cover several theoretical approaches to supervision, with in-class opportunities for practice. Reflect critically on the theological, ethical and cultural dimensions of offering supervision in your own contexts, and in the wider context of Aotearoa.
R513.830 Developing a Ministry Supervision Practice
(30 credits; Semester 2)
David Crawley & Karen Kemp
2 - 4 August 2023 | 9.30am - 4.30pm
13 – 15 September 2023 | 9.30am – 4.30pm
Henderson Campus

Develop a framework for supervision practice, appropriate to your own cultural and ministry contexts. Focus on the integration of theory, theology and critically reflective practice.
---
SEMESTER 2 2023 ;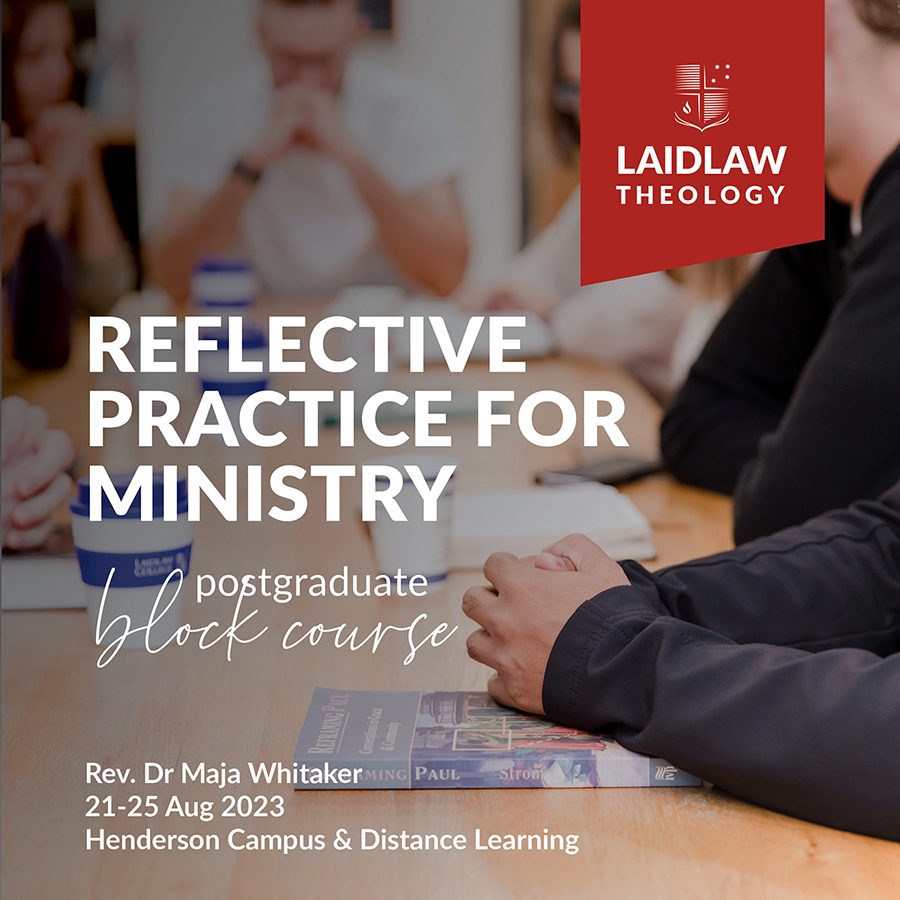 R508.830 Reflective Practice for Ministry
Rev. Dr Maja Whitaker
21-25 Aug 2023, 9:30am - 4:30pm


The capacity to reflect on our experience is a key skill that enables us to develop as practitioners in any field of vocation, including Christian ministry. If you are active in ministry, in either churches or community organisations, and want to deepen your practice and flourish in ministry, this course is for you. Learn to critically evaluate your ministry context, to develop practices of discernment and habits of mind that produce resilience over the long-term, and to understand what you bring to your ministry role from your own personality and as a participant in community. The course is delivered through a range of seminars, workshops, reflections and fieldwork activities, and all learning is grounded in your own ministry context.

To apply for these courses take a look at the options below:

As an attendant you can attend the course but wont have access to Moodle or course notes/resources
As an interest only student you can attend the course and also have access to Moodle and extra resources
As a student studying for credit the course will go towards a qualification


UPDATE ON THEOLOGY COURSE FEES
We are pleased to announce a price drop on all School of Theology courses, taken for interest only. These are now:

INTEREST ONLY
Undergraduate courses $200
Postgraduate courses $300

We are also offering a further reduced cost for courses where an attendant may wish to join only for the class, without access to resources. These are:

ATTENDANT
Undergraduate courses $100
Postgraduate courses $200