If you would like to enter deeper into the story by hosting a simplified mini-Passover meal – that ends in sharing communion together like at the Last Supper – check out our reflections from 2020 which include a script and further instructions: https://www.laidlaw.ac.nz/east...
Jesus is Denied by Peter
MATTHEW 26:69-75
Now Peter was sitting out in the courtyard, and a servant girl came to him. "You also were with Jesus of Galilee," she said. But he denied it before them all. "I don't know what you're talking about," he said. Then he went out to the gateway, where another servant girl saw him and said to the people there, "This fellow was with Jesus of Nazareth." He denied it again, with an oath: "I don't know the man!" After a little while, those standing there went up to Peter and said, "Surely you are one of them; your accent gives you away."
Then he began to call down curses, and he swore to them, "I don't know the man!" Immediately a rooster crowed. Then Peter remembered the word Jesus had spoken: "Before the rooster crows, you will disown me three times." And he went outside and wept bitterly.
From Station 4, by Lailoa Lafai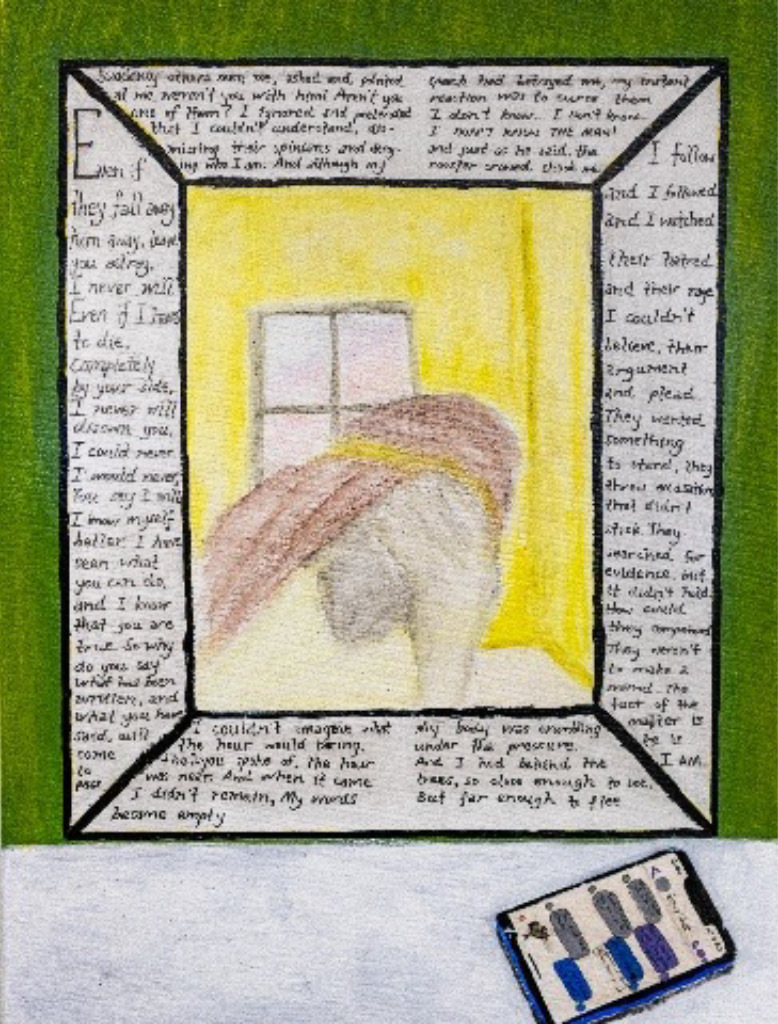 "The Spirit is Willing but the Flesh is Weak" – Acrylic on canvas
Selection from Artist Statement:
My initial question was: how did Peter go from a diehard, loyal disciple of Jesus to denying knowing him? In my reflections, I have seen myself in Peter's shoes. He couldn't have known how deep his loyalty was towards Jesus until that very hour.
Reading this scripture made me realise how flaky we can be in our undying love for God. Just like Peter, we can be determined. But when we are challenged, we find it hard to admit. Even though Jesus warned and prepared his disciples, Peter couldn't have imagined being the one who disowned him. It might have been easier for Peter to say, "I don't know" at first, but when it got intense he felt the pressure. After all, he could see and hear the crowd and the priest searching for evidence to pin on Jesus. The phone represents this exchange with a modern twist. We may not have a crowd around us to see and hear the talks, but in our mental state we can easily fill that atmosphere by ourselves. Nowadays people hide behind screens, therefore their accusations can be blunt.
If Peter had any doubt or worries about Jesus, this would be his life changing moment because of something so small yet powerful Jesus foretold the night before. After their last supper, Peter proclaims his loyalty to Jesus but Jesus specifically tells Peter he will deny him three times before the rooster crows. Peter might have chosen to overlook this. Yet when the rooster crowed Peter knew instantly that Jesus said this would happen.
The mirror symbolises that in our reflection we can see ourselves as Peter, we can be going strong for Christ and can proudly and openly say, I could never deny Jesus today. However, when push comes to shove, when the worst of the worst is happening, we can easily find ourselves saying "I don't know" and forget about knowing Jesus in the midst of pressure, of anxiety, of doubts, and of shame.
Jesus is Judged by Pilate
MARK 15: 1-5, 15
Very early in the morning, the chief priests, with the elders, the teachers of the law and the whole Sanhedrin, made their plans. So, they bound Jesus, led him away and handed him over to Pilate. "Are you the king of the Jews?" asked Pilate. "You have said so," Jesus replied. The chief priests accused him of many things. So again Pilate asked him, "Aren't you going to answer? See how many things they are accusing you of." But Jesus still made no reply, and Pilate was amazed.
…
Wanting to satisfy the crowd, Pilate released Barabbas to them. He had Jesus flogged and handed him over to be crucified.
From Station 5, by Quentin Griffin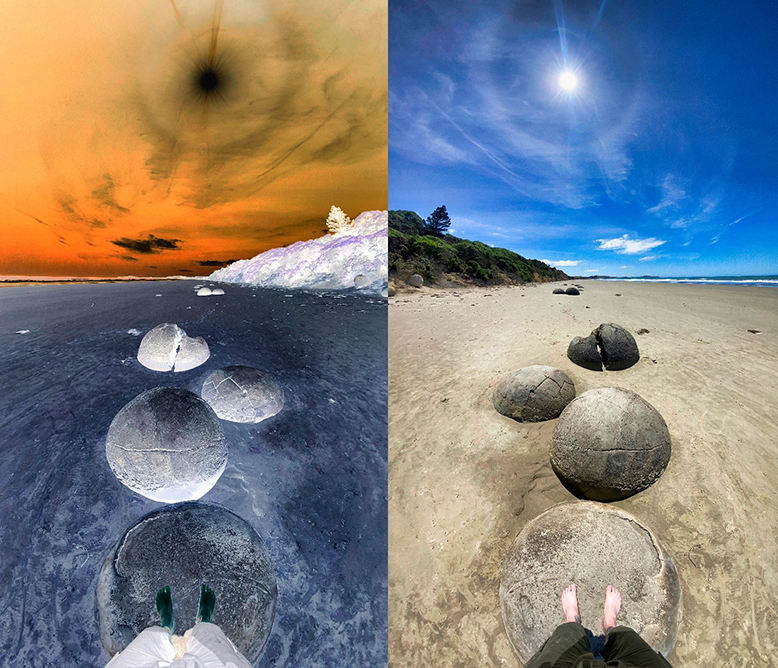 "One becomes the other, and the other becomes the One" - Photography on stretched canvas.
Selection from Artist Statement:
The image on the left is how a film camera would record the image. It is the "negative", the undeveloped version of the picture on the right. Within the negative, the fullness and promise of the image is present beyond your sight. If you did not have the chemicals, mixing ratios, knowledge of how to develop the film, ability to hang the images up to dry, and not to mention the darkness required for the image to develop properly, you would never see the fully completed image, you would only see the shapes, without clarity to go with it.
Over 70 people accused Jesus, and still He remained silent. Arguing with a mob of blind men will not cause them to see.
Conspiracy, bondage, judgement, what if the page ended there … would we ever grasp the full picture? If we didn't know the rest; would we still see the vibrancy of promises made and fulfilled? We haven't put our fingers in the holes of his hands, but we hold the entirety of the story in ours. Without it, would we also be blind? Would we grasp the meaning? The negative and the full colour. If we didn't read of the betrayal, the judgment, and the crucifixion, would salvation hold the same meaning?