This year's Easter weekend offerings begin on "Maundy Thursday" – a day some Christians recognise as the evening of the Last Supper – a meal that began with Jesus washing the feet of his disciples. We're taking a trip down memory lane and sharing with you some of the devotional content that some of our great-grandparents and aunties and uncles in the faith would have soaked in during the Ngaruawahia Easter Camps. Thursday's content sets up the context for Easter weekend.
We have chosen selections from the programmes of 1927, 1938 and 1949 – all years when Friday was the 15th of April and Monday was the 18th – to line up with this year's Easter weekend dates.
We are sharing this content under the categories of Morning, Midday and Evening reflections, but there is no set instruction on when and how to read them.
Some of the content or theology might be surprising or you might not agree with it. Some of the wording may seem unfamiliar. We share these for you to read, consider, and engage with. And we pray that the Spirit will strengthen you in your inner being as you reflect on these offerings from the archives with our extended and historical NZBTI/BCNZ/Laidlaw College community.
This year we also offer a bonus piece on Tuesday called "After Camp – What?" that helps bridge the gap between a rich and full weekend of reflection and fellowship into the more ordinary daily patterns of life and worship.
---
Under the banner of All One in Christ Jesus, hundreds of Christians from many denominations travelled to Ngaruawahia Easter Camps by bus, train, and car to spend a weekend of fellowship, learning, and worship together. Camp programmes included: early morning meditations, daily "Bible Study Circles", guest speakers, shared meals, outings, sports, and an Open Air service conducted by the NZ Bible Training Institute.
NZBTI (now Laidlaw College) and the Ngaruawahia Easter Camps had a symbiotic relationship from the time NZBTI was founded in 1922 until the late 1980s. Staff and Board members of the Institute served on the organizing committee, and NZBTI Principals and lecturers were regular speakers at the camps. Students were heavily involved in the practical aspects of the running of the weekend, from set up to pack down, kitchen duties to running children's programmes. These camps became a spiritual watershed for many young people.
A report of the Easter Camp in The Reaper magazine in 1926 notes:
"The most memorable gathering was the Consecration Meeting conducted by Mr Rolls. When the appeal was quietly made as to who would, as far as they knew how, yield themselves absolutely to God for work at home or abroad, more than half of the audience rose to their feet in token of their surrender. On the closing night an inspiring testimony meeting was held, when 196 testimonies were given as to blessing received at the Camp. Those who were there witnessed such a work of the Spirit among unconverted and Christians alike as is rarely seen in these days."
NZBTI/BCNZ staff member, Mr Hudson Deane, attended many of these camps and served on the organizing committee. He testifies to the significance of these Camps in his formation, and notes "Decisions were made at Easter Camp that set the course of a lifetime for so many". Read more of his reflections here.
The 1936 edition of The Reaper describes a revival breaking out at Easter Camp that year. A cablegram sent to London, UK, from preacher A. S. Wilson put it succinctly:
Extraordinary New Zealand revival begun during (J. Edwin) Orr's ministry at Ngaruawahia Easter Keswick and other camps. Hundreds publicly confessing sin, scores of conversions resulting, with sanely intense meetings of tireless crowds continuing till approaching midnight. Ngaruawahia missionary pledges and offerings Sunday approximately two thousand pounds.
With or without that kind of revival for Easter 2022, it is with expectancy and hunger that we begin this Holy Weekend – the pinnacle event of our Christian faith – celebrating Jesus' death and resurrection. As we enter, we might consider some of the "suggestions for those attending the convention" and allow them to shape our own expectations of Christ's presence and work in our lives in our gathering, reflecting, and worshiping over the following days.

---

From Break-o'-Day Meditations, Easter Camp 1949
TRUE WORSHIP
Sing: "Man of Sorrows." Read: Psalm 28:1-2, 6-9.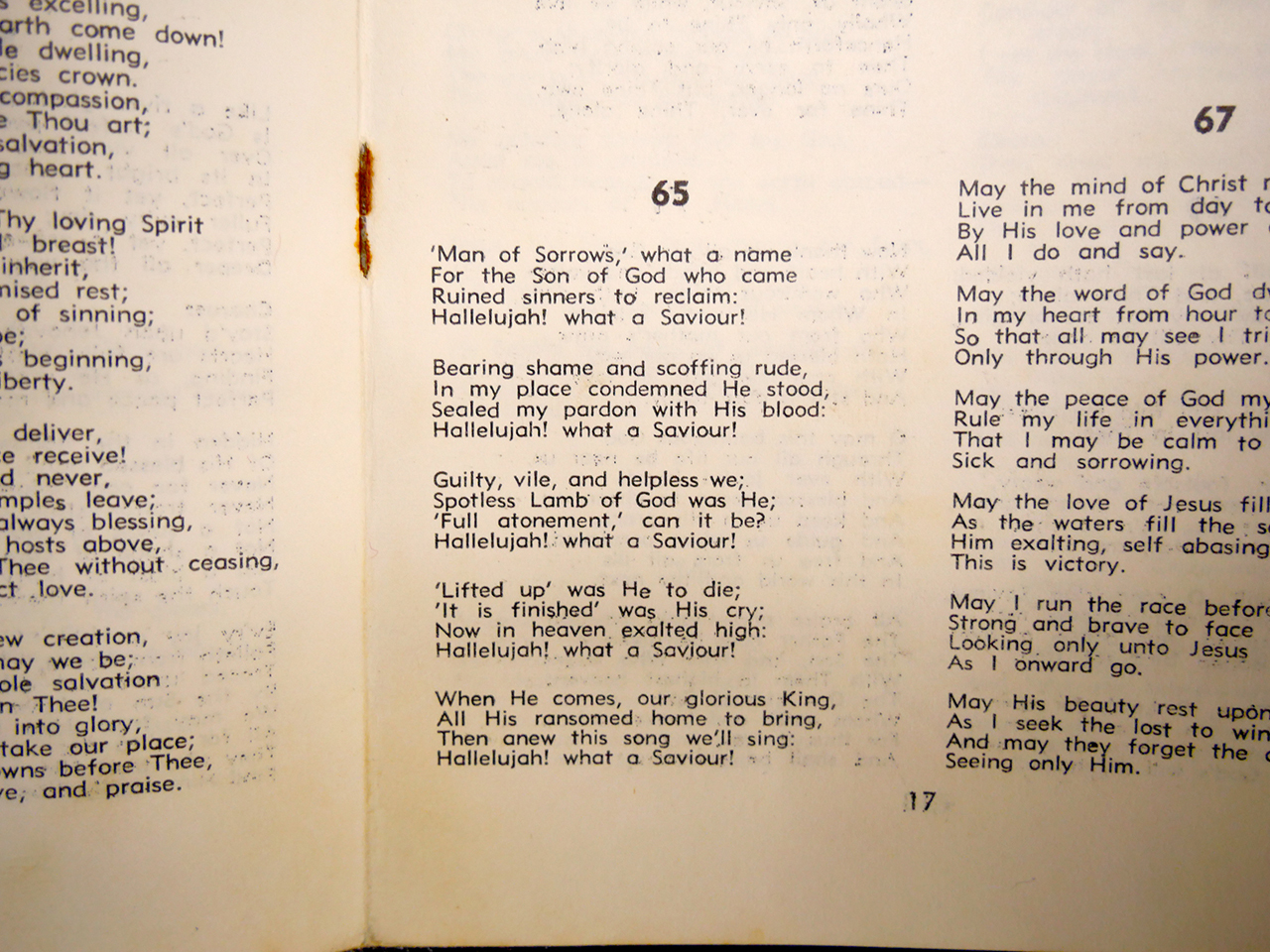 Why is it that prayer and intercession are not a greater joy and delight? And is there any way in which we may become fitted to make fellowship with God our chief joy, and as intercessors to bring down His power and blessing on those for whom we pray?
There may be more than one answer to the question. But the chief answer is undoubtedly: We know God too little. In our prayer, His presence is not waited for as the chief thing on which our heart is set. And yet it should be so. We think mostly of ourselves, our need, and weakness, our desire and prayer. But we forget that in every prayer God must be First, must be All. To seek Him, to find Him, to tarry in His presence, to be assured that His Holy Presence rests upon us, that He actually listens to what we say, and is working in us – it is this alone that gives the inspiration, that makes prayer as natural and easy to us as is the intercourse of a child with his father. And how is one to attain to this nearness to God and fellowship with Him? The answer is simple: We must give God time to make Himself known to us. Believe with all your whole heart, that just as you present yourself to God as a supplicant, so God presents Himself to you as the Hearer of prayer. But you cannot realise this except as you give Him time and quiet. It is not the multitude or the earnestness of your words in which prayer has its power, but in the living faith that God Himself is taking you and your prayer into His loving heart. He Himself will give the assurance that in His time your prayer will be heard. Begin this day with the word: "Unto Thee will I cry, O Lord my rock." "Blessed be the Lord, because He hath heard the voice of my supplications."

From Bible Study Notes, Easter Camp 1938
Theme: "OUT OF EGYPT INTO CANAAN" or "THE WAY TO A LIFE OF VICTORY." READING: Exodus 12:1-13; 14:10-14.
The history of Israel is typical history. See 1 Cor. 10:6, 11. It has its parallel in the experience of the believer in his progression from the natural (unconverted) state, through the carnal to the spiritual plane. 1 Cor. 2:14, 15; 3:1. In Heb. 3:17-4:1, the exodus from Egypt and entrance into Canaan's rest is used as a type of the believer's entrance on a life of rest and victory.
I. DELIVERANCE IMPOSSIBLE. Egypt, where Israel was kept captive, is illustrative of the Kingdom of darkness where Satan, like Pharoah, leads the unconverted captive at his will.
Slavery. God's chosen people were at first free in Egypt, but little by little their slavery became more galling till it was intolerable. Ex. 1:14. So with Satan's subtle slavery. How could deliverance from his mighty power be effected? Impossible. "The way of transgressors is hard."
Compromise. God intervenes through Moses and sends plagues on Egypt, but Satan-like, Pharoah resisted God to the last. Satan never releases his victims without a tremendous struggle. When he saw he could no longer detain them, he suggested four successive compromises.
(a) In the land. God had said "in the wilderness" - as far away as possible. (b) Not very far away. God demands a clean break. (c) Ye that are men. Their families would draw them back. (d) Let your flocks be stayed. The pull of worldly possessions. Moses flatly refused and demanded unconditional liberation. Beware of Satan's compromises.
II. DELIVERANCE POSSIBLE. Ex. 12:1-13. The basis of Israel's deliverance was the shedding of the blood of a lamb. See Heb. 9:22. Note in connection with the Passover.
Lamb without blemish. v. 5. Value of Christ's sacrifice depends on His sinlessness.
Lamb must die. v. 6. Christ's life, though sinless, could not atone. It is blood shed that atones.
Each man slew the lamb. Our sins were responsible for Christ's death.
Blood must be personally applied. Sprinkling, Heb. 10:22, is faith applying to its own case the fact of Christ's death.
God saw the blood as He sees and rejoices in the atonement of His Son. Because of it He could "Pass Over" the house. i.e. Protect it. See Isa. 31:5.
Christ our Passover - 1 Cor. 5:7 - was offered up on the Passover Day at the time of the Passover sacrifice.
Passover followed by Leavenless Feast. So our conversion is to be followed by a life in which sin finds no place.
Israel then went out in haste.
III. DELIVERANCE ACTUAL. No sooner had they slipped out of Pharoah's grasp than he swiftly pursues them. Another of Satan's tactics. Imagine their despair. An army behind. Mountains on the side. Red Sea before them. They were filled with fear. They could do nothing but "stand still and see the salvation of God." They crossed the Red Sea by faith. Heb. 9:29.
An obedient faith. They attempted the impossible at God's command.
A rational faith, resting not in conjecture or feeling, but in God's immutable promise.
An expectant faith, in response to which the Sea divided.
A rewarded faith. Their deliverance was all of God, and they knew it. Their deliverance was their enemies' destruction.
A rejoicing faith. On the other side, they sang the song of redemption. Ex. 15.

From Bible Study Notes, Easter Camp 1927 (For use in Bible Circles held daily 8.30-9.30 am)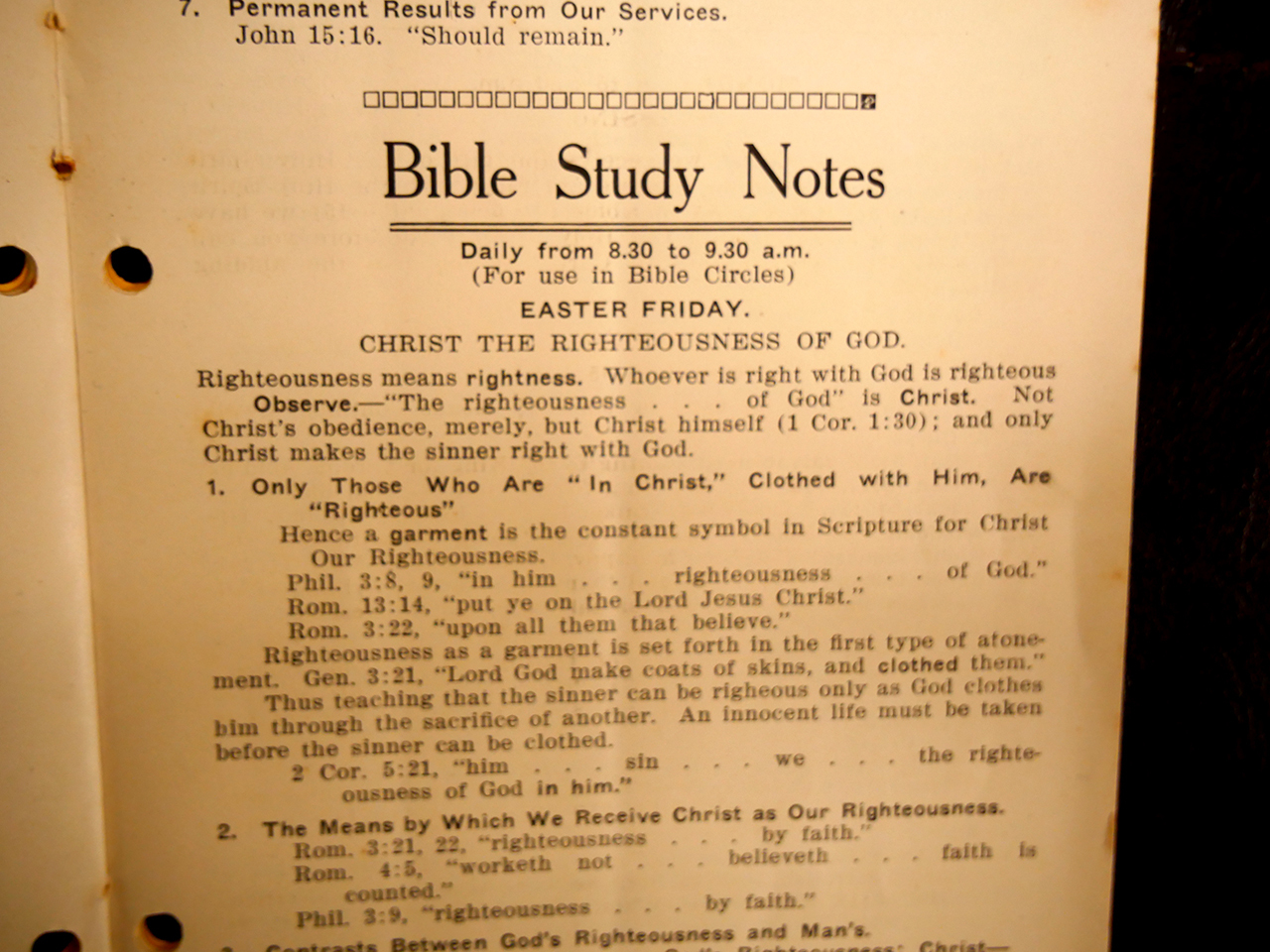 EASTER FRIDAY: CHRIST THE RIGHTEOUSNESS OF GOD.
Righteousness means rightness. Whoever is right with God is righteous.
Observe. "The righteousness…of God is Christ." Not Christ's obedience, merely, but Christ himself (1 Cor. 1:30); and only Christ makes the sinner right with God.
1. Only Those Who Are "in Christ," Clothed with Him, Are "Righteous" Hence a garment is the constant symbol in Scripture for Christ Our Righteousness.
Phil. 3:8, 9, "in him. Righteousness…of God."
Rom. 13:14, "put ye on the Lord Jesus Christ."
Rom. 3:22, "upon all them that believe."
Righteousness as a garment is set forth in the first type of atonement. Gen. 3:21, "Lord God made coats of skins, and clothed them." Thus teaching that the sinner can be righteous only as God clothes him through the sacrifice of another. An innocent life must be taken before the sinner can be clothed. 2 Cor. 5:21, "him ... sin ... we … the righteousness of God in him."
2. The Means by Which We Receive Christ as Our Righteousness.
Rom. 3:21, 22, "righteousness by faith." Rom. 4:5,"worketh not … believeth … faith is counted." Phil. 3:9, "righteousness … by faith."
3. Contrasts Between God's Righteousness and Man's.
Man's Righteousness: Self
Gen. 3:7, "made themselves aprons"
Isa. 64:6, "filthy rags." Zech. 3:1, 3, "filthy garments."
God's Righteousness: Christ
Gen. 3.21, "Lord God clothed them."
Isa. 61:10, "he hath clothed me."
Zech. 3:4, 5, "I will clothe thee."
Luke 1:29, 18:11. Man says, "I'm all right," but God says, "Unclean."
---

From Break-o'-Day Meditations, Easter Camp 1949
SILENT ADORATION
Sing: "How Sweet the Name of Jesus sounds." (Two verses only).
Read: Psalm 62:1-8.
When man in his littleness and God in His glory meet, we all understand that what God says has infinitely more worth than what man says. And yet our prayer so often consists in the utterance of our thoughts of what we need, that we give God no time to speak to us. Our prayers are often so indefinite and vague. It is a great lesson to learn, that to be silent unto God is the secret of true adoration. Let us remember the promise: "In quietness and confidence shall be your strength."
"My soul, wait thou only upon God; for my expectation is from Him." "I will wait for the Lord; my soul doth wait, and in His word do I hope."
It is as the soul bows itself before Him to remember His greatness and His holiness, His power and His love, and seeks to give Him the honour and the reverence and the worship that are His due, that the heart wilt be opened to receive the Divine impression of the nearness of God and of the working of His power.
O Christian, do believe that such worship of God – in which you bow low and ever lower in your nothingness, and lift up your thoughts to realise God's presence, as He gives Himself to you in Christ Jesus – is the sure way to give Him the glory that is His due, and will lead to the highest blessedness to be found in prayer.
Do not imagine that it is time lost. Do not turn from it, if at first it appears difficult or fruitless. Be assured that it brings you into the right relation to God. It opens the way to fellowship with Him. It leads to the blessed assurance that He is looking on you in tender love and working in you with a secret but Divine power. And as at length you become more accustomed to it, it will give you the sense of His presence abiding with you all the day. It will make you strong to testify for God.

From Bible Study Notes, Easter Camp 1938
The Kadesh-Barnea Crisis.
READING: Numbers 13:26-33; 14:1-5; 26-34.
I. THE SIGNIFICANCE OF CANAAN. Hymnology and usage represent Jordan as physical death and Canaan as heaven. True only in a very secondary sense. Canaan signifies not "heaven," but "life in the heavenlies." Eph. 1:3 It cannot mean heaven, for there is no sin in heaven, no battles, no defeats, but these were present in Canaan. Canaan stands for a victorious Christian experience, possible here and now when a believer exchanges defeat of Wilderness life for fruitfulness and joy of Canaan life. It means enjoyment of:
LIBERTY FOR OPPRESSION. cf. Rom. 6:14, 18.
REST FOR WANDERING. cf. Heb. 4:3, 9.
POSSESSION FOR PROMISE. Promises become facts.
VARIETY FOR MONOTONY. Change and variety of food.
II. THE LEGITIMATE WILDERNESS EXPERIENCE. Contrary to popular conception, the Christian's ideal life is not a "wilderness experience" although he moves through a wilderness. There is a legitimate and an illegitimate wilderness experience. For Israel the journey from the Red Sea to Kadesh-Barnea was the only legitimate and proper wilderness experience. This finds its counterpart in experience of a young convert who, though redeemed by blood, has to learn to depend on God for daily supplies. Israel fed on bread from heaven, but sometimes longed for Egypt's dainties. Num. 11:5. They leaned too heavily on human props, and when Moses was absent, forsook God and worshipped a golden calf. In N.T. language they were yet carnal, spiritual babes. 1 Cor. 3:1.
III. THE KADESH-BARNEA CRISIS. With the Promised Land in sight, one would have expected a stampede, but no! As loth to enter Canaan as most Christians are to embark on the life more abundant. Sent spies ahead, 13:2, who returned after 40 days. Conflicting reports. Majority Report, presented by the Timorous Ten, the men of reason, urged no action. The Minority Report presented by the Trustful Two, the men of faith, urged immediate advance.
Compare: "We are not able," 13:31 with "We are well able," 13:30
"Cities are walled and very great." 13:28 with "Their defence is departed from them," 14:9.
"We were as grasshoppers," 13:33 with "neither fear ye the people," 14:9.
"We are not able to go up," 13:31 with "Let us go up at once and possess it," 13:30.
Majority looked at the enemy through a magnifying glass of unbelief. Minority looked at God through a magnifying glass of faith. Immediately Israelites were panic-stricken and would not listen to the two. Proposed a new leader and return to Egypt. 14:2-4. N.B. There are always plenty of spies to spread an evil report of the Land and discourage from entering in. "So we see that they could not enter in because of unbelief." Heb. 3:19.
IV. THE ILLEGITIMATE WILDERNESS EXPERIENCE. Here began their sinful wilderness experience the moment they turned back at Kadesh-Barnea. God accepted their decision. Compare 14:3 with 14:29-33.
Have you come this morning to Kadesh-Barnea? Will you listen to the Timorous Ten or the Trustful Two? If you turn back to the wilderness, your experience, like Israel's, will be one of Restlessness, Discontent, Fruitlessness and Vacillation. Listen to the warning of the Holy Spirit in Heb. 4:7-12 and note that these people were never given another opportunity of entering the Land.
They came to the gates of Canaan,
But they never entered in:
They came to the very threshold
But they perished in their sin.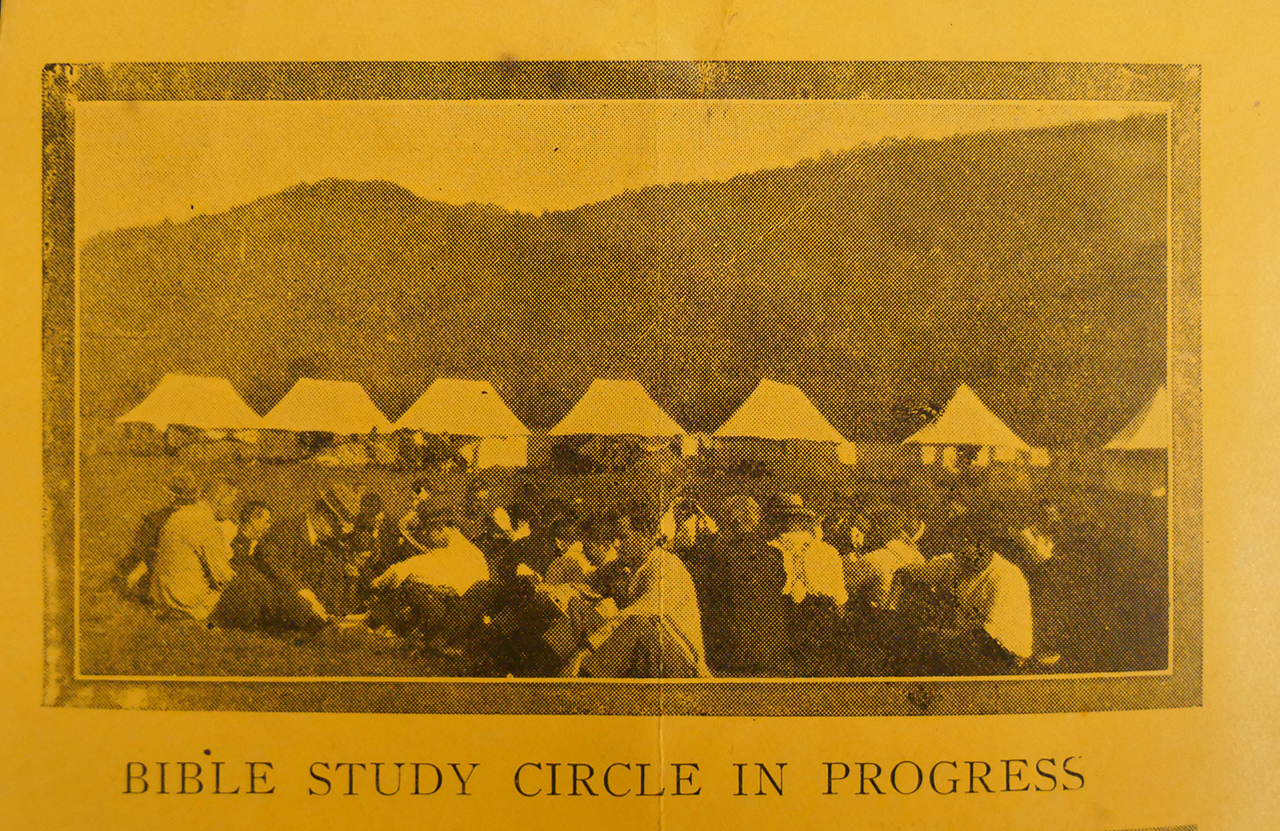 From Bible Study Notes, Easter Camp 1927
Luke 18:9, 10, "trusted ... selves."
Luke 18:13, 14, "be merciful." Phil. 3:1, "trust in the flesh."
Phil. 3:8. 9, "righteousness …of God"
WHAT CHRIST WAS "MADE."
Nothing is more helpful to the believer who seeks complete rest in the work of Christ than to look at the things partly tragic and terrible, partly exalted and mighty which CHRIST has been "made." It is very beautiful and instructive to see that our blessed Lord took always the place of perfect submission. He "made Himself of no reputation" (Phil. 2:7) and there stopped. All else that he was and is, the Father "made" Him. He would not permit either Satan or man to confer distinction upon Him (Matt. 4:8-10; John 6:15), but found all His delight in simply doing His Father's will - equally willing to be "made a curse" (Gal. 3:13), or "a High Priest" (Heb. 6:20). He was "made":
Flesh.
John 1:14, "the Word was made flesh."
Rom. 1:3; Gal. 4:4, etc.
Sin.
2 Cor. 5:21, "made Him to be sin."
Isa. 53:6, 10.
A Curse.
Gal. 3:13, "made a curse."
Gen. 3:17, 18. Mark 15:17.
Wisdom, Righteousness, Sanctification, Redemption.
1 Cor. 1:30.
Better Than Angels.
Heb. 1:4, "made better than angels."
Heb. 7:26.
1 Pet. 2:7.
High Priest.
Heb. 6:20, "made a High Priest forever."
Heb. 5:5,6.
Heb. 7:16.
Surety.
Heb. 7:22, "made surety … better covenant." See for illustration, Gen. 15:8-10, "whereby shall I know" – sacrifice.
Heb. 8:12. This defines the covenant for the performance of which Christ is God's surety.
Note. A surety is "one who is bound for another who is primarily liable and who is called the principal." We sometimes think of Christ as, in some way, OUR surety to the Father - as the old hymn says: "Before the throne my surety stands," - but so thinking we lose the blessed truth, which is, that Christ is God's surety TO US that he will faithfully keep the new covenant.
---

From Break-o'-Day Meditations, Easter Camp 1949
THE LIGHT OF GOD'S COUNTENANCE
Sing: "Speak, Lord, in the stillness" (Two or three verses only)
Read: "God is light." | John 1:5. "The Lord is my light." Psalm 27:1.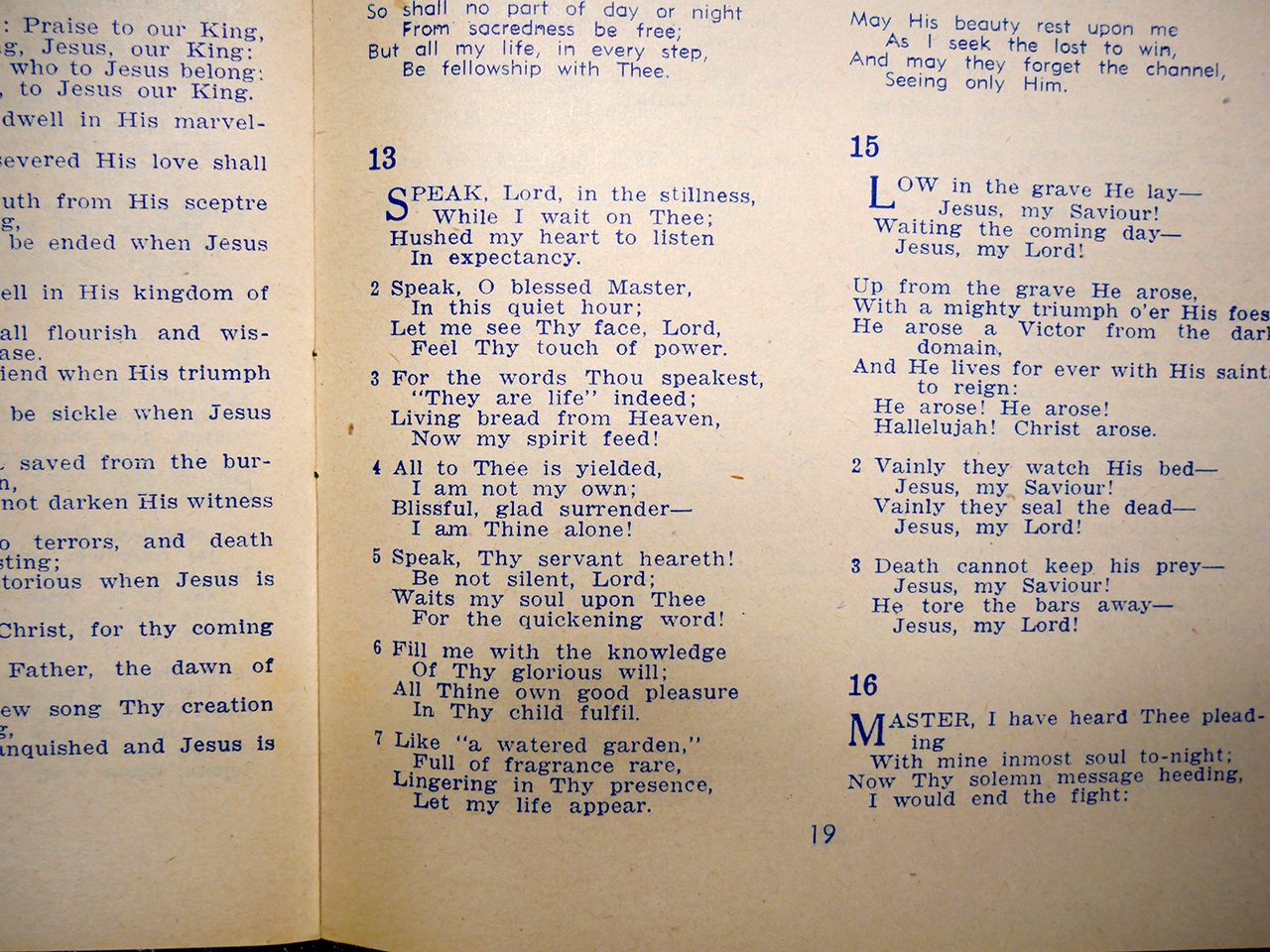 Every morning the sun rises, and we walk in its light and perform our daily duties with gladness. Whether we think of it or not, the light of the sun shines on us all day. Every morning the light of God shines upon His children. But in order to enjoy the light of God's countenance, the soul must turn to God and trust Him to let His light shine upon it. When there is a shipwreck at midnight, with what longing the mariners look for the morning! How often the sigh goes up, "When will the day break?" Even so must the Christian wait upon God, and rest patiently until His light shines upon him.
"My soul waiteth for the Lord more than they that watch for the morning" (Ps. 130:6). O my soul, begin each day with one of the prayers:
"Make Thy face to shine upon Thy servant" (Ps. 31:16). "Lord, lift Thou up the light of Thy countenance upon us" (Ps. 4:6). "Cause Thy face to shine, and we shall be saved" (Ps. 80:3, 7, 19).
Do not rest until you know that the light of His countenance and His blessing is resting on you. Then you will experience the truth of the word: "They walk in the light of Thy countenance; in Thy name do they rejoice all the day" (Ps. 89:15, 16). Children of God, do believe that it is the ardent longing of your Father that you should dwell and rejoice in His light all the day. Just as you need the light of the sun each hour, so the heavenly light, the light of the countenance of the Father is indispensable. As sure as it is that we receive and enjoy the light of the sun, so confidently may we count on it that God is longing to let His light shine on us.

From Bible Study Notes, Easter Camp 1938
Clean over Jordan.
READING: Joshua 3:1-6: 14-17; 10:10-11; 18-19.
God in His grace has brought the new generation once again to the borders of the Promised Land, this time at the River Jordan. Will they enter in?
1. THIS SIDE OF JORDAN. 1:15. Counting the Cost.
Difficulties to face. Jordan. 3:15. Usually a muddy stream, now a turbulent river. How can they get across? Humanly impossible. Jericho. 3:16. A strongly fortified city in front of them even if they do cross Jordan. Humanly impregnable. Can you see Jericho looming ahead? Public confession of Christ? An apology? A letter? Some neglected service? Restitution? It may seem humanly impossible but with God all things are possible.
Instructions to follow. People must wait in tents till priests bearing the ark advanced 2000 cubits. Hitherto guided by Pillar of cloud and fire, now by the ark. Supernatural gives place to spiritual exercise.
Sanctification to accomplish. There is a human side to sanctification. See 2 Cor. 7:1. Sanctify to separate. God's tomorrow of wonders depends on our today of sanctification. Are you willing to separate from any sin, habit, association, friendship or worldly pleasure, contrary to God's will?
2. ON THE BRINK OF JORDAN. 3:8. The step of Faith. See priests advance till 2/3rds of a mile ahead of host. Reach Jordan's turbulent waters. Satan's suggestion, "what if nothing happens?" At first touch of feet, God responds to their faith and waters recede. NOTE. Ark went first. Christ is to us what the Ark was to them. Jordan always flows between us and Canaan – cold and forbidding. The Israelites did not GROW out of the wilderness into Canaan. They STEPPED out by faith, and as they acted, God opened a way.
3. IN THE MIDST OF JORDAN. 3:17. Buried with Christ. Typical significance seen in Rom. 6:3-4, the believer's descent into Jordan. Two truths needing clear distinction.
SUBSTITUTION - Christ died FOR me.
IDENTIFICATION - I died WITH Christ.
i. How am I saved from penalty and guilt of sin? By believing Christ died FOR me. Because I feel it? No. I rest on what the Bible says. This is substitution. ii. How can I be saved from the tyranny and dominion of sin? By believing I died WITH Christ (as in i). Rom. 6:6 R.V. But I don't feel it! I must rest again on what the Bible says. This is not an attainment true of a few believers, but a fact true of all. It is true whether I believe it or not. God says, "Your old man" - the traitor within – "was nailed to Christ's cross." The Holy Spirit is here to make it actual. Rom. 8:13. Do you concur in God's sentence on your old man? Crossing Jordan takes place the moment I consent to die, and hand over my old sinful nature to the Holy Spirit for execution, for self cannot execute self. iii. How can I enjoy this experience? In response to my reckoning. Rom. 6:11. Reckoning is not imagining something not really true, but counting on something that is really true. It has nothing to do with the feelings but is an attitude of mind which counts true what the Bible says is true, whether I feel it or not.
4. UP OUT OF JORDAN. 4:16. Risen with Christ. Not only was I crucified and buried with Christ, I was RAISED with Him too. How do I know? Because I feel it? No! Because the Bible says so and I reckon it true. From Calvary there flow two streams:
i. Death - Breaking the power of sin.
ii. Life - Enabling a walk in newness of life. As you reckon, God will make this true in experience. When the paralytic stretched forth his hand, God imparted the power.
Example: Lincoln's Act of Emancipation of Slaves.
i. Slave must HEAR (not feel) the good news.
ii. Must BELIEVE the fact.
iii. Must RECKON fact true in his case.
iv. Must REFUSE to be a slave.
v. Behind his reckoning was all the power of U.S.A. Similarly, I reckon myself ALIVE to God. Rom. 6:11. No more "I can't" when asked to undertake service.
5. CLEAN OVER JORDAN. 3:17. Newness of Life.
i. What definiteness! Clear boundary between Canaan and Wilderness
ii. What finality! "Clean over." River of Christ's death separating from old life.
iii. What newness! Better food. Better Rest. More Victory. Are you willing to cross Jordan now? Say "Lord, feeling or no feeling. I now commit myself to Thee to bring me clean over Jordan, henceforth to walk in newness of life."

From Bible Study Notes, Easter Camp 1927
OUR LORD'S DAY (the Resurrection Morn)
WHAT THE BELIEVER HAS BEEN "MADE."
In the last lesson we saw what Christ was "made" for us; in this we are to see what we have been "made" in Him. We often see people, proud of being what they call "self-made," but the believer can never boast of being self-made. Everything that the child of God is, he has been made by God, and he has nothing whereof to glory, "save in the cross of our Lord Jesus Christ" (Gal. 6:14), and must say with Paul, "By the grace of God I am what I am." (1 Cor. 15:10).
1. Made Righteous.
Rom. 5:19. "made righteous." 9 Cor. 5:21.
All our righteousness - our best deeds - are "filthy rags," (Isa. 64:6), but in Christ every believer is made perfectly, spotlessly righteous. Nothing we can do can make the righteousness of God more perfect.
2. Made Free.
Gal. 5:1. "free from the Law." Rom. 6:18. "free from sin"
3. Made Near to God.
Eph. 2:13. "made nigh." Eph. 1:6.
4. Our Acceptance with God.
Eph. 1:6. "made us accepted."
How many uninstructed saints are wondering if they are really accepted of God, when all the while he has made them accepted.
5. Our Riches.
Titus 3:7, "made heirs." If the believer wishes to know how rich he is, let him study:
Rom. 8:17, "joint heirs with Christ." Heb. 1:2, "heir of all things."
And, too, we are "made meet" (fit) for the inheritance. Col. 1:12.
6. Our Position.
Eph. 2:6. "made us sit in Him." Observe, this is not some future blessedness, it is our present position.
7. Our Rank in the Kingdom.
Rev. 1:6, "made us kings and priests." The poorest, humblest believer on earth is, in God's sight, and before the hosts of heaven, a king and priest.
---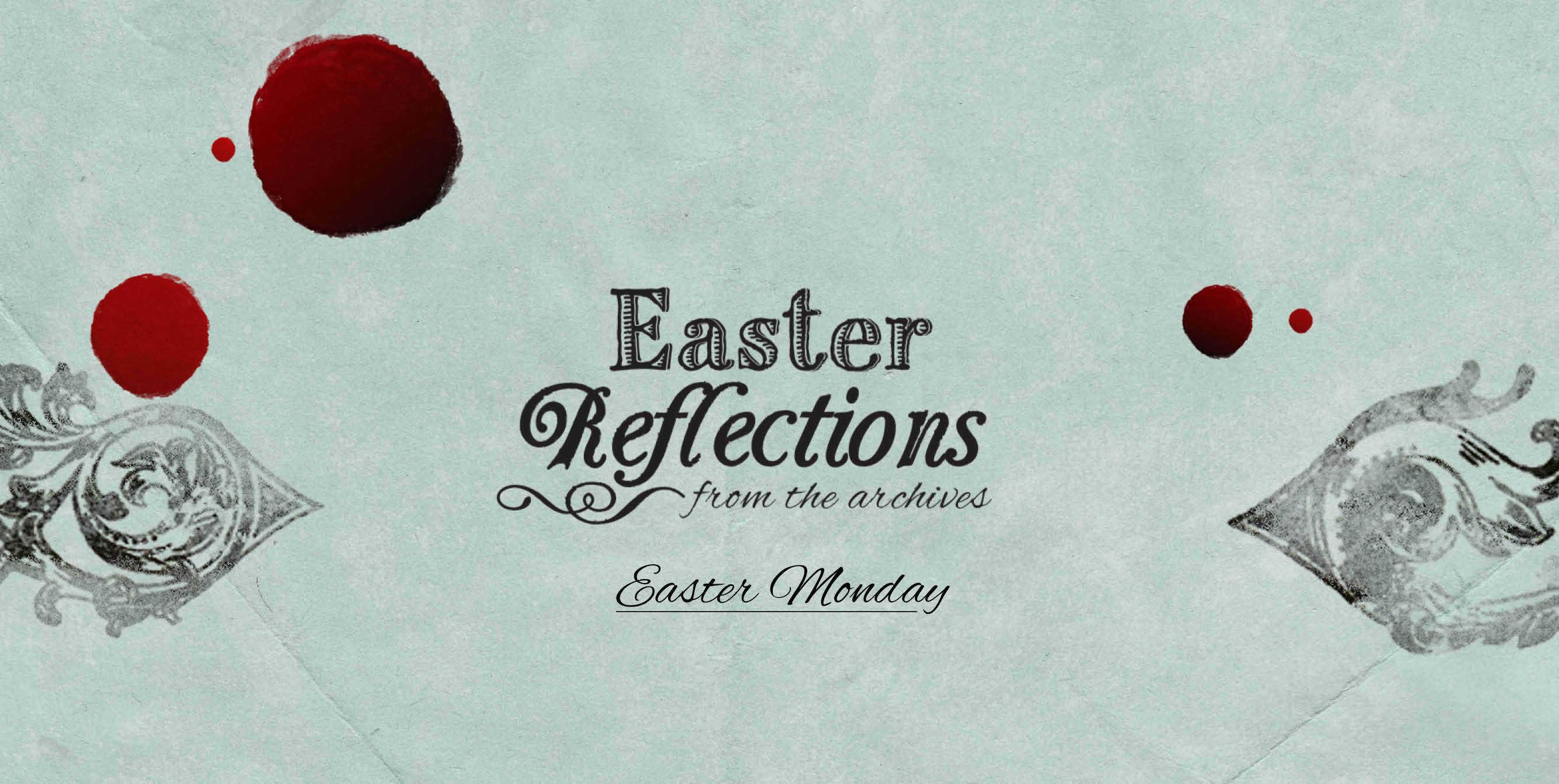 From Break-o'-Day Meditations, Easter Camp 1949
WHOLLY FOR GOD
Sing: "King of my life" (First verse and chorus only).
Read: Psalm 73:23-28.
Alone with God – this is a word of the deepest importance. May we seek grace from God to reach its depths. Then shall we learn that there is another word of equally deep significance – Wholly for God. As we find that it is not easy to persevere in this being "Alone with God," we begin to realise that it is because the other is king: we are not "Wholly for God." Because He is the Only God, and He alone the Adorable One, God has a right to demand that He should have us wholly for Himself. Without this surrender He cannot make His power known. We read in the Old Testament that His servants, Abraham, Moses, Elijah, and David, gave themselves wholly and unreservedly to God, so that He could work out His plans through them. It is only the fully surrendered heart that can fully trust God for all He has promised.
Nature teaches us that if anyone desires to do a great work he must give himself wholly to it. This law is specially true of the love of a mother for her child. She gives herself wholly to the little one whom she loves. And shall we not think it reasonable that the great God of Love should have us wholly for Himself? And shall we not take the watchword, "Wholly for God," as the keynote for our devotions, every morning as we rise? As wholly as God gives Himself to us, so wholly He deserves that we give ourselves to Him.
Let us in the inner chamber meditate on these things alone with God, and with earnest desire ask Him by His almighty power to work in us all that is pleasing in His sight. Wholly for God! What a privilege. What wonderful grace to fit us for it Wholly for God! What separation from men, and work, and all that might draw us away. Wholly for God! What ineffable blessedness as the soul learns what it means, and what God gives with it.

From Bible Study Notes, Easter Camp 1938
The Perils of Canaan.
READING: Josh. 5:13-15; 6:1-5. It is to be remembered that Israel's warfare was not against Canaanites as men, but with the Satanic powers which controlled them. God commanded extermination for two reasons.
1. They were demon-worshippers. 2. They were unspeakably immoral.
For the sake of the human race they must be cut off. Canaan meant MORE conflict, not LESS. Eph. 6:12, 13.
1. THE INITIAL CONQUEST. 5:13-15. JOSHUA.
Beware of Self-reliance.
This was not the conquest of Jericho but of Joshua. In Canaan, Christ is absolute Lord and Master of the campaign. Joshua must yield his sword to the Man with the drawn sword – Christ, and accept His plan of campaign if success is to follow. As Israel begins this war, God reveals Himself as a Man of war. His revelation of Himself is always adapted to our circumstances. He is Captain of the Lord's hosts (not Israel's hosts). Wherever there is a Jericho, the Lord's hosts are present to give victory. What a relief to Joshua when the Captain assumed all responsibility! And what a relief to us when we cast all the responsibility on Christ. But He must conquer us before He can conquer our foes.
II. THE INITIAL MENACE. 6:1-5. JERICHO.
Beware of Self-effort.
Although the Lord had given Jericho to Joshua, v. 2, its walls still remained intact. Jericho was key to Canaan. They could not go back, it must be victory or death. Joshua and Israel stood up to the tremendous test of implicit obedience to the Captain's seemingly absurd plan of attack. (God's method of attack always does seem futile to carnal wisdom.)
i. The Obedience of Faith. March once round the walls for six days and seven times on seventh day. Absurd.
ii. The Silence of Faith, v. 10. No challenge, no taunt. Fools for Christ, they inwardly relied on His promise.
iii. The Patience of Faith, v. 14. "So did they six days." A tremendous test for young men itching to make battle.
iv. The Shout of Faith, v. 16. Before the walls fell. The outward expression of their inward faith.
v. The Glory of Faith, v. 19. All the glory was to be God's. When your Jericho, so impregnable, falls before your shout of faith, see that you give God the glory.
III. THE INITIAL REVERSE. 7:1, 5-11, 24. AI.
Beware of Presumption.
This was the only battle lost in seven years of warfare. Ai, key to the interior of Canaan, small though it was. Let us beware of thinking any sin small.
CAUSES OF DEFEAT:
Presumption, engendered by success. They underestimated the foe "they are but few." They acted in carnal wisdom and sent spies. They acted as though THEY had captured Jericho. The hour when flushed with recent victory is the hour of greatest danger.
Prayerlessness, Joshua prayed after instead of before. He did not consult the Unseen Captain, or He would have revealed the mound in Achan's tent.
Purloining – Achan's sin. Not in ignorance, Secret Sin in the devoted thing. Affected the whole camp. Our individual sin affects the whole church.
CORRECTION OF DEFEAT:
Sin searched out and judged.
Obeyed Captain and sent up whole host. Crushing defeat.
They got the spoil in which Achan would have shared had he been content to wait for God's time.
IV. THE INITIAL COMPROMISE. 9:3-15. GIBEON.
Beware of Snares.
Once again they are flushed with success at Ai. Nations of Canaan, terror-stricken, abandon tribal warfare and unite against Israel. Gibeonites use strategy. Ambassadors sent with old sacks, old wine bottles, old garments, mouldy bread. Israelites were suspicious, but the evidence was too strong. Tragic blunder. "They asked not counsel" v. 14 of their Captain. Satan is more subtle in his wiles than his assaults. Their story was so reasonable, appearance so consistent, that Israel trusted their own discernment. They discovered 3 days later that they were their neighbours – but by that time they had made a league with them. Ever after they were a burden to Joshua and curse to Israel. Beware of snap decisions. Such are some of the Perils of the Promised Land, but over all these we may be "MORE THAN CONQUERORS."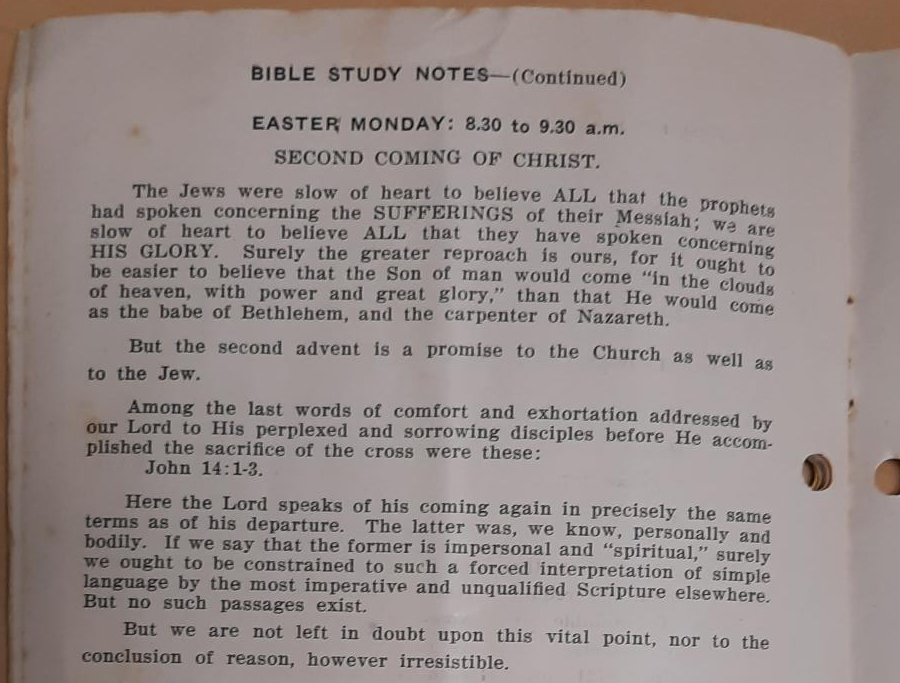 From Bible Study Notes, Easter Camp 1927, Easter Monday
SECOND COMING OF CHRIST.
The Jews were slow of heart to believe ALL that the prophets had spoken concerning the SUFFERINGS of their Messiah; we are slow of heart to believe ALL that they have spoken concerning HIS GLORY. Surely the greater reproach is ours, for it ought to be easier to believe that the Son of man would come "in the clouds of heaven, with power and great glory," than that He would come as the babe of Bethlehem, and the carpenter of Nazareth.
But the second advent is a promise to the Church as well as to the Jew.
Among the last words of comfort and exhortation addressed by our Lord to His perplexed and sorrowing disciples before He accomplished the sacrifice of the cross were these: John 14:1-3.
Here the Lord speaks of his coming again in precisely the same terms as of his departure. The latter was, we know, personally and bodily. If we say that the former is impersonal and "spiritual," surely we ought to be constrained to such a forced interpretation of simple language by the most imperative and unqualified Scripture elsewhere. But no such passages exist. But we are not left in doubt upon this vital point, nor to the conclusion of reason, however irresistible. In the very moment of our Lord's disappearance from the sight of His disciples, "two men stood by them in white apparel.
Acts 1:11.
Titus 2:13. To the same purport is 1 Thess. 4:16, 17
Phil. 3:20, 21 R.V.
1 John 3:2.
Rev. 22:12
For this "blessed hope" we are taught to "watch," Mark 13:33, 35, 37; Matt. 24:42; 25:13; "wait," 1 Thess. 1:10, and be "ready." Matt. 24:44. The last prayer in the Bible is one for Christ's speedy return Rev. 22:20.
By these Scriptures it abundantly appears that the second advent will be personal and bodily: that, therefore, it does not mean the death of the believer, nor the destruction of Jerusalem, nor the descent of the Holy Spirit at Pentecost, nor the gradual diffusion of Christianity, but that it is the "blessed hope" of the Church, the time when sleeping saints will be raised, and, together with saints then living, who will "be changed" (1 Cor. 15:51, 52), caught up to meet the Lord; the time when we who are now the sons of God will be like Him, and when faithful saints will be rewarded for works done after salvation, for His name's sake.
The following Scriptures will further bring into view the contrast between the two advents of our Lord.
Compare:
First advent- Luke 2:7. Heb. 9:26. Luke 19:10. John 3:17. John 12:47
Second advent- Matt. 24:30. Heb. 9:28. 2 Thess. 1:7, 8. Acts 17:31.
These verses show that both the promises to Israel and to the Church imperatively require a return of our Lord to the earth.