Our Manukau Learning Hub represents our commitment to partnering with the local Church. Co-locating with Equippers College our students will have access to Laidlaw's Theology and Counselling programmes, in a modern study space, welcoming environment, in the heart of Manukau. Public transport is close by.
Explore our programmes at the Manukau Learning Hub
---
Plan a visit
There's no better way to find out what our Manukau Learning Hub is like, than to visit it for yourself! Come and be a "student for a day" and experience first-hand what our classes, staff and great community are like. We'd love to meet you!
If you would like to become a "Student for a Day" please contact our Admissions office: [email protected] or 09 837 9790.
---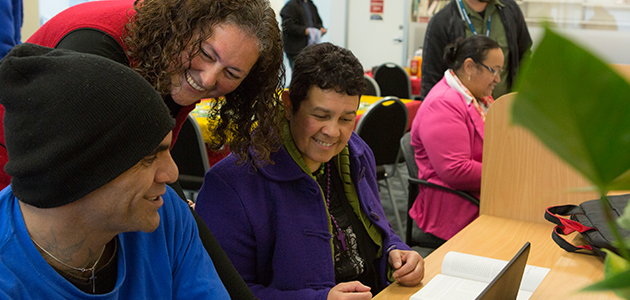 Our Manukau Learning Hub is a diverse community comprised of students and staff who come from different church denominations, cultures, countries and life experiences. We celebrate our unity in Christ and enjoy the richness of our diversity. Our Manukau Learning Hub community is both caring and inclusive, with small classes and great support. Students and staff (and their families) often gather together for meals and conversation, and the opportunities for genuine friendships and meaningful learning are abundant.
No residential accommodation is available at the Manukau Learning Hub, but the campus is situated conveniently near to the Manukau train station and other public transport.

---
Contact Manukau Learning Hub
Co-locating with Equippers College
13 Gladding Place,
Manukau
Auckland 2104
P

0800 999 777

E