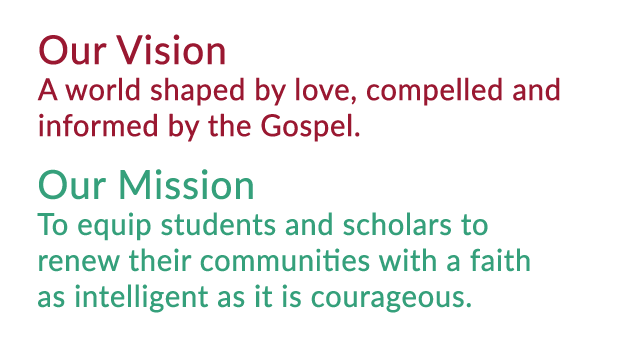 Several key ideas are embedded in this statement: that the college's mission is to equip others; that those people include not only students, but also scholars - a postgraduate community, and the faculty of Laidlaw; that this equipping is done for the purpose of renewal, which links back to the transformational nature of the good news; that the college's ultimate focus is the communities from which its students are drawn, and to which its graduates return; and that any renewal that takes place in those communities will be as a result of engagement by faith - a faith that is informed as well as bold, which speaks to the "head and heart" focus of the college, to growing in knowledge as well as being transformed into Christlikeness.
If a mission statement speaks to an institution's sense of its identity, then a vision statement speaks to the institution's goal - what the institution intends its impact to be in the world. Laidlaw College's vision is a world shaped by love compelled and informed by the gospel. This statement resonates with some of the most radical claims of the New Testament - that because God is love, the only way to know God is through love, and that when we love, we live in God (see 1 John). The key idea behind the Laidlaw vision is that the world can only be transformed by love - and by a love that is informed, and also impelled, by the Gospel. In other words, love must be grounded by faith, and must produce hope (see 1 Corinthians 13:13).
The mission and vision statements have become foundational for Laidlaw College's understanding of its relationship with the church in Aotearoa New Zealand and throughout the South Pacific, as well as its place in society. These statements shape how the college community reviews its curriculum and its operations, and also how the college wants its interactions with the community to be fashioned.
They have also shaped our understanding of how we want to equip our graduates, through a Graduate Profile that reflects the college's mission and vision statements. The Graduate Profile is used to ensure that our programmes, formational practices, and the way the institution functions, are adequate to the task of sending out the type of graduates we hope will shape their communities. Ultimately, our hope is for these communities to be renewed with the love that is at the heart of the gospel that compels us all.