15 December 2016
"I grew up in Gloriavale" is a dramatic opening line to Leah Menage's story! Crossing the stage recently to receive her Bachelor of Counselling degree, Leah's story is one of redemption and hope.
Her mother was left to raise six children after Leah's father died of a heart attack. Leah's mum joined a church in Rangiora run by Neville Cooper, now known as Hopeful Christian. Neville and church members had a vision of becoming an Acts 2 church, selling their possessions, pooling their money and living in community. Land was purchased and families started to move on to the property. Leah was 11 when her family went to live with Neville Cooper.
Those were the early days of what is now known as Gloriavale. The commune was not as developed as presented in recent television documentaries. While there were no uniform blue dresses, the females were not allowed to show any skin on their arms, legs or neck area and were given patterns to make dresses that fitted that criteria. Leader Neville's word was law. He decided the menu (including the eating of raw garlic at dinner), what time you went to bed, and how you were groomed for marriage. He was the authority on matters of Biblical interpretation. It was a 'hell and damnation' message for any who did not follow his teachings. There was no encouragement for people to have a personal relationship with Jesus.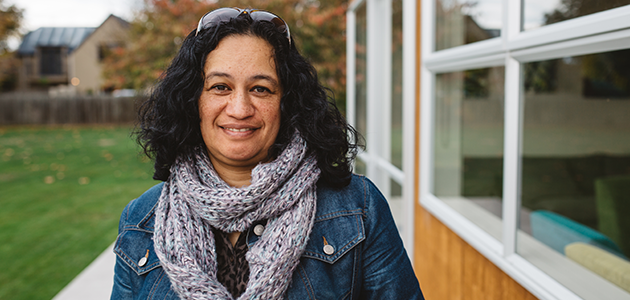 Gender roles were specific. The woman's role was to get married, have children and not seek a career. Leah was not allowed to sit School Certificate but worked in the processing room at age 15, making butter and yoghurt, bread to sell, and bottling fruit.
When Leah was 15 she got caught kissing one of Neville's sons. As a result she was forced to marry him as soon as she turned 16. Her mother was strongly opposed to this but was unable to speak against the community leaders. A month after the wedding, the young couple ran away. Leah's sister had previously fled the commune, and they met her on a shingle road nearby in the middle of the night. It was the most difficult decision Leah has ever made as it meant leaving her much-loved mother behind.
The next decade was a painful and messed up one for Leah. Her marriage ended a few months later. She felt lost, and attempted to look for love in all the wrong places; she tried drugs and got drunk on weekends. At one point she went back to her husband, believing she would be eternally damned if she did not. She had a son to him. In an effort to sort out their marriage, the couple went to join the Hutterites in America but that was a short-lived experience when Leah gave birth to a daughter who wasn't his.
Around this time her brother-in-law contacted Leah's mother and told her that Leah needed her. Her mother left the commune and moved in with Leah. Slowly Leah's life started to come back together. Her mother was a prayer warrior and modelled an unconditional love, in stark contrast to the commune's "God with a stick" teaching.
At age 27 Leah found herself sitting next to American minister Bill Gothard on a plane. He gave her a free ticket to his conference and it was that act that changed her life. At the end of the conference Leah broke down and gave her heart to the Lord. At the same time God told her, "I want you to work with Maori people. I said, 'Not those people'". Although of Ngāi Tahu descent, Leah knew nothing about her culture. All she had experienced were the young Maori she had hung out with who were drinking and on drugs. Still, in obedience to that call, she applied for a job working as a community health worker with young Maori teenage mums at Kokiri Marae in Wellington. It was a role that helped her discover her Maori roots and ignited her passion for helping young people realise their potential. Her shift to Wellington was in the company of husband Roger. They had met a week after he arrived from the UK. Expressing an interest in dating her, Leah told him he would have to come to church. He did, was saved and then baptised at Rangiora Baptist Church.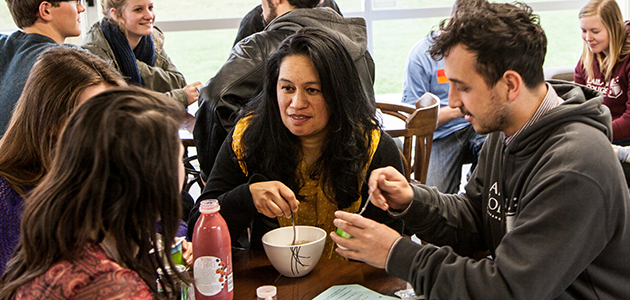 For the next 15 years Leah worked for various iwi providers as a community health worker and parent educator. Her final job was back in Christchurch, working as a nutritional and physical activities coordinator for young mothers. But then the contract got cut, and Leah was out of a job.
With Leah out of work, and unsuccessfully applying for jobs, Roger suggested she study at Laidlaw College – a decision he himself had made as he wanted to pursue pastoral ministry. Leah was unsure if she could do a degree, given her previous interrupted education and stage in life. However, she took the plunge and three years later it's a decision she is glad she made. She has learnt of God's redemptive plan and the narrative modalities learnt fit in well with her story-based culture. She has seen exciting breakthroughs during her placement with Te Puna Oranga counselling service. Working with women who have suffered all kinds of abuse and trauma, Leah helps them to re-story their lives so that they see hope, and realise they are not the problem. It's a work Leah is loving, and Te Puna love her work too – she started a job with them after completing her last assignment!
Opportunities have also opened up for Leah with Ngai Tahu. She is a member of the Maori Women's Welfare league, recently attended the Wahine Toa conference for Maori women demonstrating leadership qualities, and next year is representing Ngai Tahu at an indigenous conference at Stanford University.
Leah's excited about the prospects ahead, of God's call on her life to work with her people. The restoration she has experienced is one she yearns to see in other's lives. Her story is not yet finished…