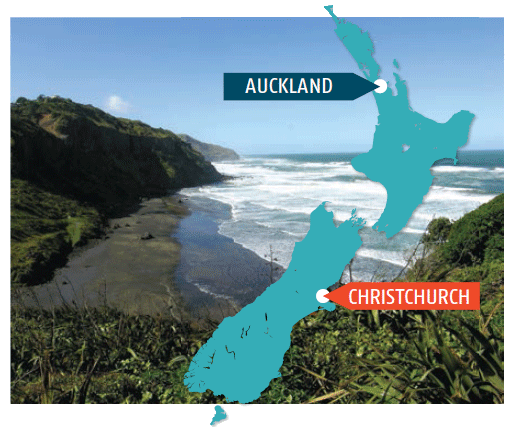 Quick Facts
| | |
| --- | --- |
| Population | 4.3 million (approximately) |
| Capital | Wellington |
| Official languages | English, Maori |
| Currency | New Zealand Dollar |
| Climate | Average summer temperature 23ºC/75ºF; Average winter temperature 14ºC/55ºF. The warmest months are January and February, with the coldest months being July and August |
| Government | Parliamentary democracy using mixed member proportion (MMP) system |
New Zealand is a modern country with a rich cultural heritage that is strongly influenced by the indigenous Maori culture, the past British colony and its more recent migrants, mainly from the Pacific Islands and Asia. Located in the South Pacific Ocean about 2,200 km east of Australia, New Zealand is made up of two main islands known as the North and South Islands.
New Zealand is a place of great natural beauty ranging from white sandy beaches and pristine marine reserves to native sub-tropical forests, active and dormant volcanoes and majestic mountain ranges. The geography of New Zealand means you don't have to travel far to get to these spots, making it a paradise for travellers and adventurers. For those who stay here, short or long term, New Zealand is a safe and friendly environment to live in.
AUCKLAND
With a population of around 1.4 million, Auckland is New Zealand's largest city and the country's economic hub. It is New Zealand's most multicultural region and reflects the colourful and vibrant cultures of its people. In addition to being surrounded by beaches, islands and native bush, Auckland has great cafés, restaurants, museums and galleries, so there is plenty to do and explore.
CHRISTCHURCH
Christchurch is New Zealand's second largest city with the Avon River winding through its centre. Vibrant and cosmopolitan, Christchurch is the gateway to exploring the wild beauty of the South Island with its beaches, ski fields, glaciers, rivers and lakes. It is a great place to live, study and play.